Retirement Planning 2023: 3 Surprising Ways a Virtual Financial Advisor Can Help You Retire Sooner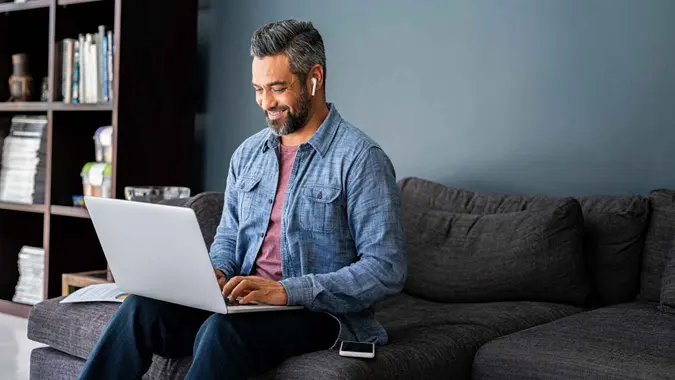 Ridofranz / Getty Images/iStockphoto
Everyone can use financial advice — especially when you're planning for retirement. There's a long list of things you need to consider, ranging from when and where you want to retire to how much money you'll need to pay the bills and fund your lifestyle. Virtual financial advisors might be the right solution, but you'll want to do your research before going this route.
Virtual advisors provide the same types of services as traditional financial advisors, except all communication is done electronically rather than face-to-face. This might take place through video calls, live chat, email or over the phone. The idea is to give you more flexibility on when and where you can discuss your finances and not be tied down to meeting at a certain place and time.
As SmartAsset noted, virtual financial advisors offer a variety of services, including the following:
Retirement planning.
Financial planning.
Investment management.
Estate planning.
Insurance advice.
Among the top players in the virtual financial advisor space are platforms such as Wealthfront, Vanguard Personal Advisor Services and Empower (formerly Personal Capital).
Getting started with a virtual financial advisor isn't that different from doing so with any other kind of advisor. You'll typically begin by submitting information about your finances, according to SmartAsset. Next, you'll tell the advisor about your financial goals and objectives, and the advisor will then analyze your financial situation to come up with a plan to achieve those goals.
Are You Retirement Ready?
If one of your goals is to retire sooner rather than later, a virtual advisor can help in a few key ways. Here are three of them.
1. Lower fees: Virtual advisors often charge lower fees than their traditional counterparts, especially if they don't have to rent office space that increases their own costs. The money you save over the years can be put toward retirement savings or investments that can help you retire sooner.
2. Customized financial advice for different careers: A blog from Wealthtender pointed out that many virtual advisors specialize in working with clients from specific occupations, such as doctors, lawyers, real estate agents, tech workers or small business owners. This lets you tailor a retirement strategy to your career, which might help you build up retirement savings faster than if your advisor recommended a more generic strategy.
3. More time to earn money: With virtual financial advisors, you can meet according to your own schedule, without having to travel to meet face-to-face. The time you save not having to travel to and from meetings can be put to better use — like earning enough money and building enough wealth to help you retire sooner.
More From GOBankingRates