Stretch Retirement Savings: 7 Ways To Make Your Money Last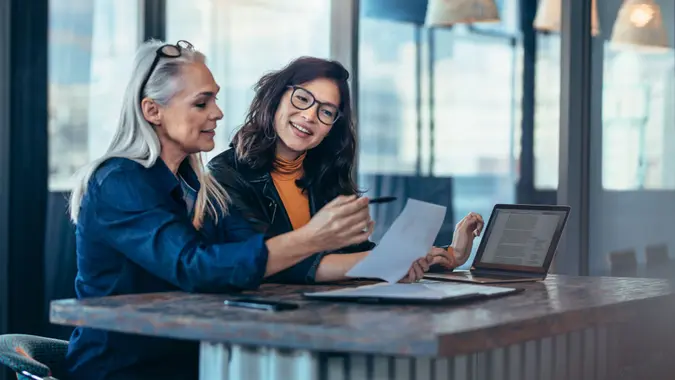 jacoblund / Getty Images/iStockphoto
Retirement can be a financial challenge, even if you've prepared for it. Although Social Security pays a regular income, with an average monthly benefit of just $1,789, it's likely not enough to fully fund your retirement expenses. Since you'll no longer have a regular job, it's imperative to make the money you have last as long as possible.
Depending on your personal financial situation, there are steps you can take to stretch your retirement income. Here are some of the best options.
Downsize
Housing is the single largest expense for most Americans, so it's the easiest way that you can cut your costs in retirement. For example, if you have owned a four-bedroom home your entire life but no longer have kids living with you, downsizing to a two-bedroom or even one-bedroom house can significantly reduce your living expenses.
Even if you've already paid off your mortgage, your maintenance and utility costs will be substantially lower with a smaller domicile. You may even be able to snag a tidy profit if you sell a large home and move into a smaller one. 
Are You Retirement Ready?
Eat at Home
For some American households, eating out is a huge discretionary expense. You may be able to save a large amount of money in your monthly budget just by trimming the amount of time you spend eating in restaurants — or perhaps even eliminating it altogether.
As no one needs to dine out, eating at home is an easy way to save hundreds or even thousands of dollars every month, depending on your lifestyle. Eating at home provides other benefits as well, such as potentially improving your health.
Stay Local
While travel is a dream for many retirees, it often ends up being more expensive than you might imagine. To stretch your retirement dollars, you might start by cutting some of the more extravagant travel plans you may have and staying local instead.
This is particularly true in the current environment, where the combination of high inflation and interest rates and peak travel demand has driven airfare to stratospheric heights. At least for the time being, avoid the high costs of international travel and stay local. As time moves on and you get a better feel for how your retirement budget is working, you may be able to add back in some of your travel dreams.
Are You Retirement Ready?
Wait To File Social Security
Although you might think that claiming Social Security at age 62 — the earliest allowable age — is the best way to make your money last, it might actually be the opposite. By waiting until age 70 — the latest allowable age — your benefits will increase by a significant amount. For every year from age 67 to age 70, for example, your payout will jump by 8%, or 24% in total over those three years alone. This increase is permanent.
No one knows how long they will live, of course, so Social Security claiming strategies are a bit of a gamble. But you'll thank yourself if you live into your late 80s or beyond and you've locked in a higher payout rate.
Rent Out Your Extra Space
If you have a larger home but can't imagine parting with it, consider renting out some of your extra rooms instead. On a nightly basis, you may stand to earn a significant income — or you can choose to rent to longer-term tenants, which will result in lower per-night revenue but perhaps a higher, less stressful total income over time. Either way, you could end up pocketing a fairly large sum every year without having to do much work to earn it.
Are You Retirement Ready?
Look for Savings & Discounts
As a senior, you can score lots of discounts if you just ask. For example, your local theater or restaurant may have special pricing, making an evening out a much more affordable experience. A low-cost membership to a retirement organization like AARP can also be the source of savings and discounts.
Also, don't be shy about using coupons or even downloading apps to your favorite stores or brands, which regularly offer deals to loyal customers for free. 
Stick to Your Budget
Budgeting isn't necessarily fun, but it's the road map that will keep you on track and make you less likely to outlive your money. If you just spend your money as you go without a plan, it's much more likely that you will end up overspending.
When you're retired, that's money that you can't replace very easily. Create a budget that balances your desire to enjoy your retirement with the absolute necessity that you don't run out of money as you're doing it. 
Are You Retirement Ready?
More From GOBankingRates