8 Unexpected Ways To Make Your Money Grow in Retirement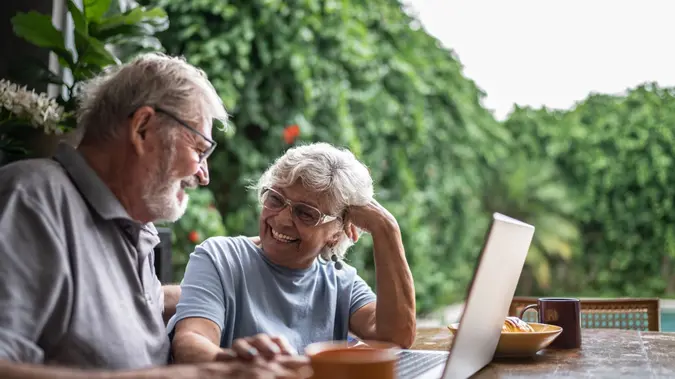 FG Trade / Getty Images
In the not-too-distant past, workers often stayed with the same company for 30 or more years and retired with a solid pension in addition to Social Security. Nowadays, pensions are all but nonexistent, and the Social Security program is in danger of reaching insolvency as early as 2035.
Social Security: Women Get $354 Per Month Less Than Men – Here's Why
With a Recession Looming: Make These 3 Retirement Moves To Stay on Track
In this type of environment, it pays to take your retirement planning into your own hands, starting as early as possible and uncovering as many sources of income as possible. If you're contemplating ways to generate additional money after you retire, check out some of these rather unexpected ways to make your money grow after you're done working.
Delay Social Security
Delaying Social Security might not be the first thing that pops into your mind if you're thinking about increasing your retirement income. After all, how can it be a good thing for your income to delay getting government payouts to which you're entitled? 
The truth is that while your cash flow may suffer in the short-term, over the long run, waiting to claim your Social Security benefits can result in a big payoff. Although you can start drawing benefits as early as age 62, every year that you wait, your payout will increase. If you can wait until age 70 to start drawing benefits instead of age 67 — which is the full retirement age for those born in 1960 or later — you'll end up with monthly checks that are 24% larger. 
Those enhanced payouts will remain in place for the rest of your life, so if you have longevity in your family tree, you could end up scoring a much bigger total payout by waiting.
Draw Equity From Your Home
If you're like many Americans, your home is the largest single asset that you own. But if your mortgage is paid off — or even if you've just been paying on it for 10 or more years — you likely have considerable equity locked away that's not helping your daily cash flow.
There are numerous strategies you can use to pull equity out of your house — from a reverse mortgage to a cash-out refinancing — and each carries its own pros and cons. But finding a way to get money out of your house rather than just letting it sit on a plot of land can really boost your cash flow in your golden years.
Take Our Poll: Are You Concerned the US Debt Ceiling Issue Will Endanger Social Security?
Rent Out Some, or All, of Your Home
If you don't feel comfortable taking money out of your home, why not use it to generate income? If you have extra rooms, try renting them out on Airbnb or to long-term renters to boost your cash flow.
If you're comfortable downsizing, try renting out your entire home and using the proceeds to pay for your new, smaller residence. Then, simply pocket the excess income.
Move to a Cheaper Part of the Country
One easy way to expand your budget without earning any additional money is to move to a more inexpensive part of America. If you live in a big city or on one of the coasts, moving inland or even just to a smaller town can be a great way to lower your cost of living.
In some cases, you may be able to save on state income taxes as well.
Live Abroad
If you're a bit of an adventurer, you can move completely out of the U.S. to lower your cost of living. Many countries across the globe are popular with American expats, from Portugal to Thailand to Panama, both for their lifestyle opportunities as well as their below-average living expenses.
Use Your HSA as a Retirement Account
A health savings account is a great way to use tax-advantaged money to pay for your healthcare expenses. Even better, if you still have a balance in your account by the time you reach age 65, there are no longer restrictions that your withdrawals must be used for health-related expenses.
At that point, your HSA can essentially be used as a retirement account. Note that you will still owe income taxes on a non-healthcare distribution — just as with a traditional IRA — even though you can avoid a penalty on those types of withdrawals after age 65.
Own Dividend-Paying Stocks
Dividend-paying stocks are typically mature, defensive companies that dominate their industries. So-called "Dividend Aristocrats" have increased their dividends for at least 25 years in a row, a testament to their consistent cash flow.
Owning stocks that consistently increase their dividends is a great way to keep your income growing as you move through retirement.
Cash Out Your Life Insurance Policy
If you have a whole life insurance policy, it will likely have a cash value component. By the time you retire, you may have a significant amount of cash value in your policy.
If you no longer have dependents that rely on your income, you might consider cashing out that policy and using the proceeds to help fund your retirement lifestyle.
More From GOBankingRates