5 Up-and-Coming Retirement Locations on the Beach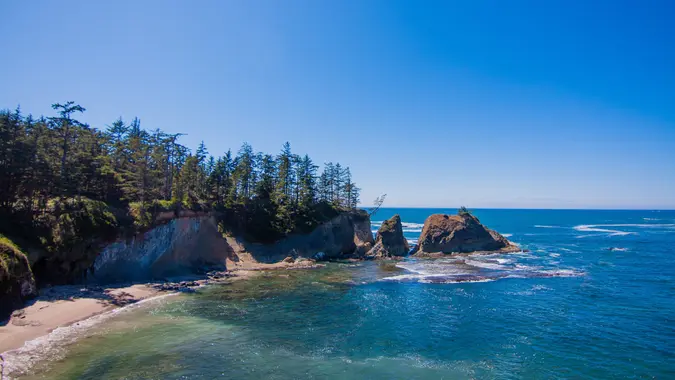 Kyle Gibson / Getty Images/iStockphoto
Leaving it all behind and moving to the beach in retirement might sound like a dream come true. However, taking a permanent vacation to a place that boasts perpetually sunny weather accompanied by sandy beaches and ocean waves could drain your retirement nest egg before you know it.
Retirement at Any Age: Get Retirement Tips That Fit Every Stage of Life
Learn: 5 Things You Must Do When Your Savings Reach $50,000
Fortunately, there are still some affordable hidden gems near the seaside — you just have to know where to look. To help, here are five up-and-coming retirement locations on the beach. 
Freeport, Florida
Freeport is located in the Florida panhandle in the Gulf Coast. Approximately 19% of its citizens are 65 and older, according to the U.S. Census Bureau.
"It has great beaches on the bay that opens up to the ocean," said David Hampshere, CEO of Purple Egg Real Estate. "It's not yet well known but it's starting to boom. It's 30 minutes from Destin, Florida, so it gets outshone because of this. The housing is great, including many brand-new homes with a lot of land. It's a hidden gem."
Gulfport, Mississippi
Gulfport is located on the Gulf Coast and offers pristine white-sand beaches. Retirees, or people over 65, make up 14% of the population.
"If you're looking into a beach property where you can guarantee an ideal retirement lifestyle, then Mississippi is definitely the place of choice," said Shaun Martin, owner and CEO of Cash For Houses: Home Buying Done Right. "Gulfport is exemplary for spending quality time, sailing and even golfing. You can even afford a beachfront house for less than $300K, which is cheaper compared to Hawaii or any other small properties in Manhattan."
Holiday Spending: Get Top Holiday Shopping and Savings Tips
Melbourne, Florida
Almost 21% of the population in Melbourne is 65 and over, which means you'll be in good company.
"Apart from the undeniable cheap cost of living in Melbourne, and its comprehensive health service, Florida's Space Coast is a paragon to beach houses you can acquire for retirement," said Martin. "It's both ideal for calming activities like fishing or snorkeling or just walking on the golden sand coast. Apart from this, you won't have to worry about your retirement funds being compromised due to taxes, because Florida State income tax waives retirement taxes on Social Security, pensions, or even IRA and 401(k). Also, property taxes here are lower compared to other beach areas."
Sarasota, Florida
Sarasota is approximately 60 miles south of Tampa. The city is adjacent to Sarasota Bay, which is an arm of the Gulf of Mexico.
"White, powdery sand beaches, such as those found on Siesta Key, have contributed to Sarasota's status as a desirable location for retirement and tourism," said Dan Close, founder and CEO at We Buy Houses in Kentucky. "About 26.50% of the total population is comprised of people aged 65 and above. In the population of people aged 60 and over, the typical price of a home is $204,000, while the median amount paid each month for rent is $1,060."
Coos Bay, Oregon
Coos Bay is located on Oregon's South Coast and is part of what is known as Oregon's Adventure Coast. Over 27% of the population is 65 and older.
"This picturesque hamlet in the state of Oregon provides retirees with access to a wide variety of opportunities for outdoor recreation, as well as museums, libraries with full services, a variety of restaurants and shops, athletic clubs and cultural events," said Erik Wright, Owner & CEO of the New Horizon Home Buyers. "According to the official website for the city, it is also the regional medical center for the south coast area. Patients of all ages can receive treatment at Bay Area Hospital, which offers geriatric medicine as well as special services for the elderly and disabled."
More From GOBankingRates