Nearly 80% of Americans Overlook This Crucial Factor When Planning Their Retirement, Survey Finds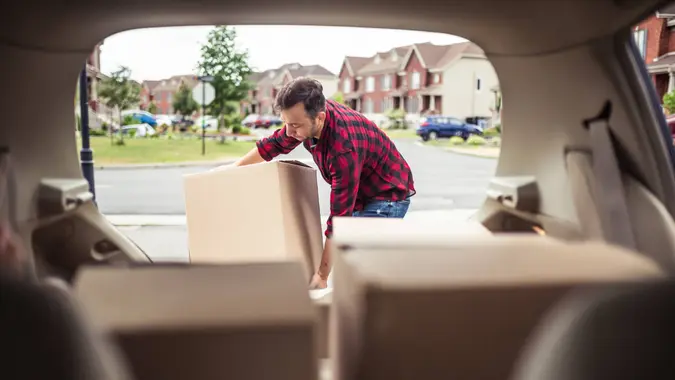 Warchi / iStock.com
Nearly everyone looks forward to retirement. No more alarm clocks. No more stressful days at the office. When you hit your golden years, you'll have time to spend doing whatever you want, whether it's playing golf, traveling or just spoiling the grandkids. But, have you thought about where you'll live in retirement?
In a recent survey, GOBankingRates asked over 500 Americans who are planning to move in retirement what they look for when deciding to relocate — their responses might surprise you.
Only 1 in 5 Americans Want to Move in Retirement Primarily to Save Money
The primary reasons people said they want to move in retirement were to have a change of scenery, enjoy better weather and be closer to family. Seventy-eight percent of respondents gave one of these reasons for relocating. A change of scenery and better climate were each named by 28 percent of respondents, whereas 22 percent would relocate to be closer to family.
Are You Retirement Ready?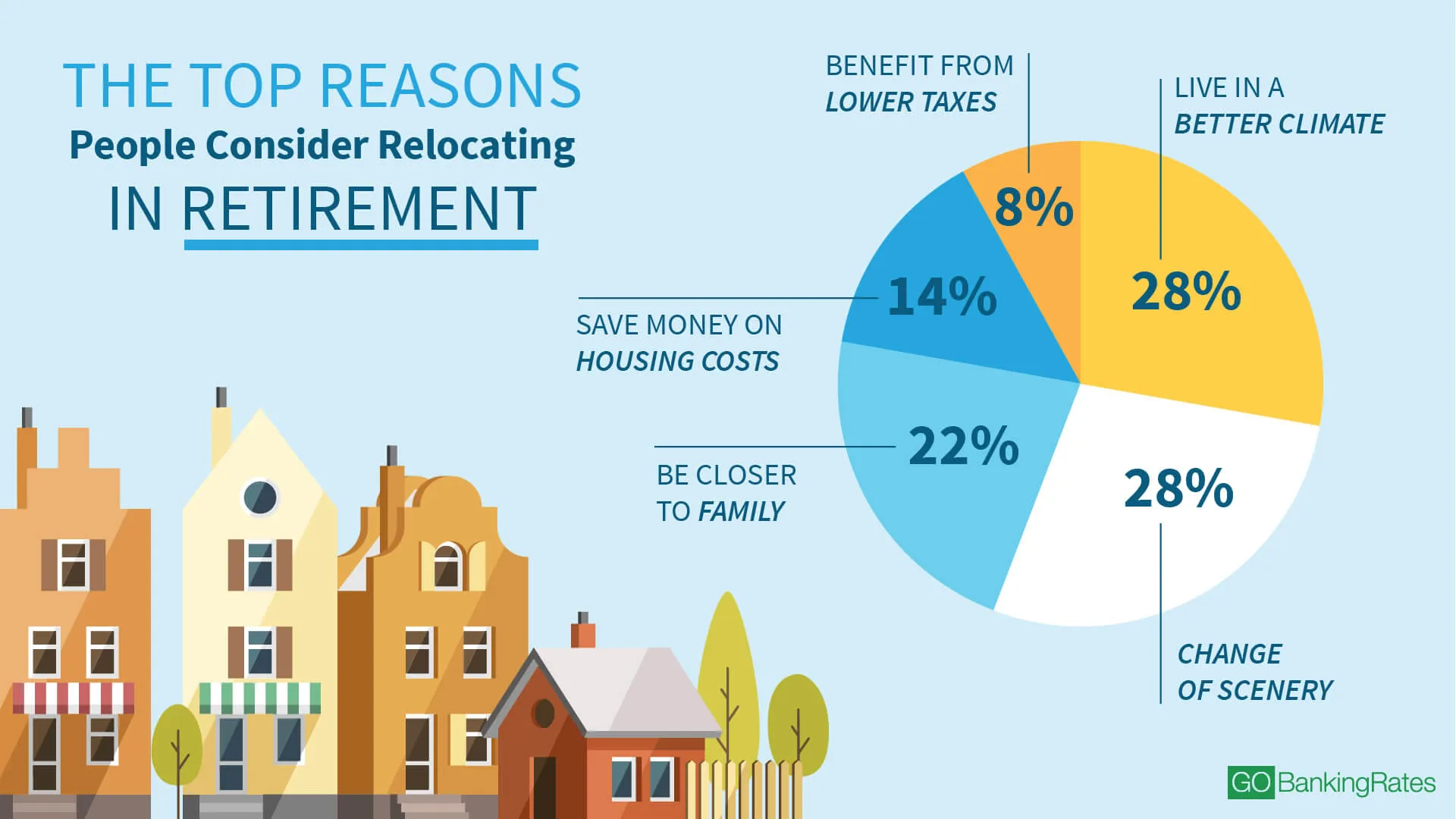 Surprisingly, just 22 percent said their primary reason for moving was to save money on housing and taxes. Fourteen percent said they would move to save on housing costs, and 8 percent said they wanted to benefit from lower taxes.
Age Insights: Seniors 65 and Over More Concerned About Saving Money When Relocating
Those in the 65-and-older age group were the most likely to want to move to save money, with 35 percent of those respondents giving this as their reason for moving.
Question: Of the following, which is the primary reason you're considering relocating in retirement?
Be Closer to Family
Benefit From Lower Taxes
Change of Scenery
Live in a Better Climate and/or Warmer Weather
Save Money on Housing Costs
Ages 18-24
24%
7%
34%
24%
10%
Ages 25-34
15%
5%
32%
34%
14%
Ages 35-44
13%
8%
31%
33%
15%
Ages 45-54
17%
8%
21%
37%
17%
Ages 55-64
25%
9%
25%
26%
15%
Ages 65 and older
32%
11%
14%
19%
24%
Those aged 18 to 24 were the least likely to provide this response, with just 17 percent saying they would relocate to save money on housing costs. The respondents' ages were positively correlated with the percentage of people who chose costs as their reason to relocate. Women and men named costs as their primary reason at nearly the same rate, at 21 and 23 percent, respectively.
It's no wonder that older adults consider moving as a way to save money in retirement. Recent GOBankingRates research indicates that 21 percent of current retirees think that affording a high cost of living is the toughest financial hurdle in retirement.
Are You Retirement Ready?
The 8 percent of people who said they wanted to move due to high taxes might want to consider relocating to Alaska, Wyoming or Delaware, according to research that identifies the most tax-friendly states for retirees. Stay away from Nebraska, which has the highest taxes for retirees.
The West Coast Is the Best Coast for Retirement — or Is It?
When asked, "Which area of the country sounds most appealing for retirement?" 22 percent of respondents said the West Coast. The Southeast was preferred by 18 percent of respondents, the East Coast by 17 percent, and the Southwest and Midwest by 13 and 11 percent, respectively. Nineteen percent said they'd prefer to retire "anywhere in another country."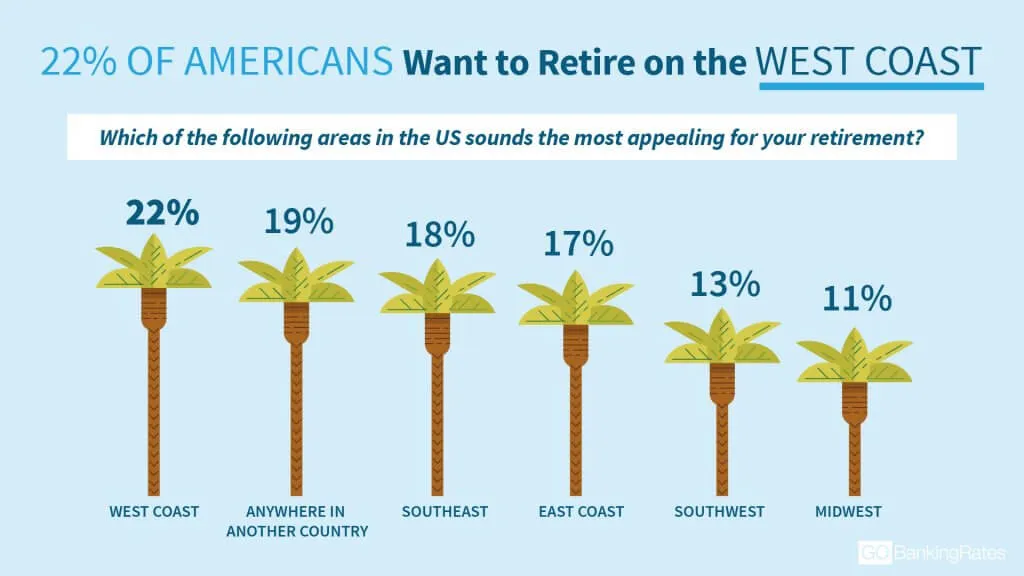 More women than men would like to go west, with 24 percent of women saying they'd like to relocate to the West Coast for their golden years, compared to 19 percent of men.
However, the West Coast might not be the best place to retire to if you're concerned about costs — especially if you want to live in a major city. In a GOBankingRates study that identified the best and worst cities to retire rich, San Francisco; Fremont, Calif.; San Jose, Calif.; Irvine, Calif.; Honolulu; Oakland, Calif.; Los Angeles; Seattle; and San Diego all ranked among the 10 worst cities due to high living expenses. 
Are You Retirement Ready?
Age Insights: Older Adults Prefer to Retire in the Southeast and Southwest Regions
Although the West Coast seems to be a popular retirement destination, adults ages 65 and older were more likely to choose the Southwest and Southeast regions as their top places to retire in.
Where Do Americans Want to Retire?
Anywhere in Another Country
East Coast
Midwest
Southeast
Southwest
West Coast
18-24
22%
21%
7%
12%
6%
32%
25-34
17%
19%
10%
17%
17%
20%
35-44
24%
13%
16%
18%
5%
23%
45-54
21%
13%
16%
27%
10%
12%
55-64
12%
15%
9%
20%
24%
20%
65 and older
0%
16%
11%
26%
29%
18%
Those who would prefer to retire in another country tend to be among the younger respondents. Twenty-four percent of those aged 34 to 44 said they would like to leave the U.S. when they leave their job, as did 22 percent of those aged 18 to 24. None of the respondents who are 65 or older said they want to retire outside the U.S.
Younger respondents were more likely to say they'd like to retire on the West Coast, with 32 percent of 18- to 24-year-olds and 20 percent of 35- to 44-year-olds choosing that answer. Those who are 45 to 54 years old — or over 65 — were the least likely to select the West Coast, at 12 percent and 18 percent, respectively.
Click to See: Best and Worst Cities to Retire Rich
The Ideal Retirement Location Has Beaches, Lakes and More
Nearly half (47 percent) of Americans say they want their retirement locale to have beautiful beaches, coastlines, lakes or other picturesque features. Quality, affordable healthcare and outdoor activities were each named by 16 percent of respondents as being desirable.
Are You Retirement Ready?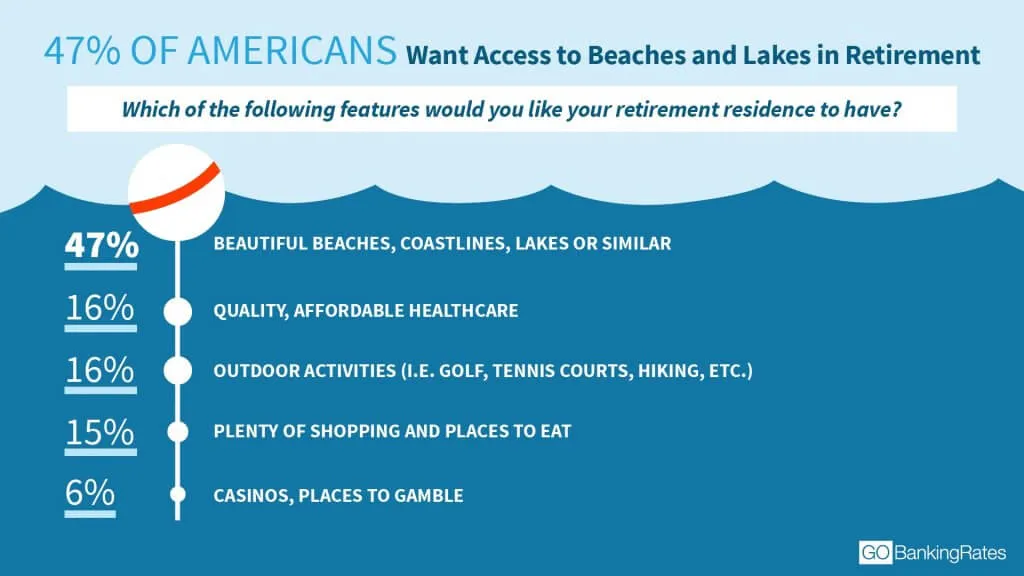 Nearby shopping and dining options were cited by 15 percent of respondents. Just 6 percent said they wanted their retirement community to have casinos or other places to gamble.
The prospect of living near the beach or a lake was the most appealing to every age group. The 55-to-64 age group was the most enthusiastic about living near the coastline, with 58 percent naming this as important. Forty-nine percent of those aged 35 to 44 also chose this option.
Outdoor activities — like golf, tennis and hiking — were important to those aged 25 to 44. Casinos and gambling were more attractive to those aged 25 to 34 than to any other group.
Age Insights: Adults Ages 45 to 54 Are More Concerned About Quality and Affordable Healthcare
Healthcare was more important to those aged 45 to 54 (31 percent) and over 65 (26 percent) in the survey. Only 10 percent of those aged 55 to 64 would relocate to find quality, affordable healthcare.
Q: Which of the following features would you like your retirement residence to have?
Beautiful Beaches, Coastlines, Lakes or Similar
Casinos, Places to Gamble
Outdoor Activities (i.e., Golf, Tennis Courts, Hiking, etc.)
Plenty of Shopping and Places to Eat
Quality, Affordable Healthcare
18-24
45%
5%
16%
17%
17%
25-34
44%
8%
18%
15%
16%
35-44
49%
7%
21%
11%
11%
45-54
38%
6%
16%
9%
31%
55-64
58%
6%
10%
17%
10%
65 and older
31%
5%
15%
23%
26%
Are You Retirement Ready?
Paying for healthcare is the most difficult financial hurdle for retirees, according to GOBankingRates research, yet the percentage of people (16 percent) who named quality, affordable healthcare as being important to their retirement locale is surprisingly small. Fidelity Investments estimates the cost of healthcare in retirement for someone retiring today to be over $250,000, meaning that affordable healthcare should be a bigger priority in choosing where to live.
If the cost of senior care is a concern, consider relocating to one of the states where it's least expensive, such as Louisiana, Alabama or Texas. Avoid the states where it's most expensive, which are Alaska, Massachusetts and North Dakota, according to GOBankingRates research.
No matter the reason behind choosing to relocate in retirement, consider the financial impact your choice will have. Look at the cost of housing and taxes — and the cost of living in general — before you make the move.
Check out the data visualization below for an interactive picture of what different age groups want in their retirement:
More on Retirement Planning
Are You Retirement Ready?
We make money easy. Get weekly email updates, including expert advice to help you Live Richer™.
Methodology: GOBankingRates conducted this poll through Survata from July 26, 2018, to Aug. 2, 2018, and collected responses from 504 people. The poll posed the following six questions with multiple-choice answers: 1) Do you plan on relocating in retirement? 2) Of the following, which is the primary reason you're considering relocating in retirement? 3) Which of the following areas sounds most appealing for your retirement? 4)Which of the following features would you like your retirement residence to have? 5) In your best estimate, how much money will relocating cost you? 6) Approximately, how much money have you saved for retirement?