Why Does Everyone Want To Retire in Florida?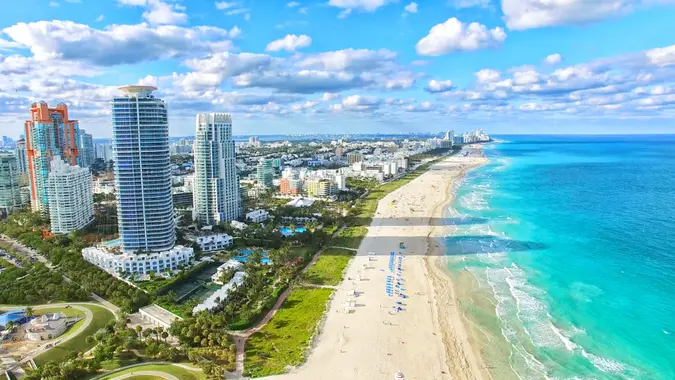 Mia2you / Shutterstock.com
According to the U.S. Census Bureau's July 2022 Population Estimates, more than 21% of Florida residents are over the age of 65. That statistic comes as no surprise as the Sunshine State has long been considered a top spot to live out one's golden years.
But why does everyone want to retire in Florida?
Cost of Living
Tom Blake, the founder of This Online World, is attracted to the state's relatively low cost of living.
"As a whole, the state ranks 31st for cost of living," he said, "so it's far from the cheapest state to live in. However, I find that cities and regions of Florida differ quite significantly in terms of prices."
Like any other state, Florida features some areas that are more affordable than others. Fortunately, it boasts several cities where you can live on under $3,000 per month in retirement. For example, if you're a beach lover, budget-friendly Melbourne could be the place for you. Or, if you'd like to live within driving distance of several major metros, Lakeland may work well.
"Many areas in northern Florida, like Jacksonville and Daytona Beach, are cheaper than the state average," Blake said. "I spend a few months per year in northern Florida, and I find that gas, groceries and accommodations are significantly more affordable than [in] South Florida and other states I've been to."
Real Estate
While soaring real estate prices have impacted the Sunshine State along with the rest of the nation, it's still generally cheaper to buy a home there than in states such as Massachusetts or California. For example, according to Zillow, the median home value in Florida is approximately $388,000. It's roughly $580,000 in Massachusetts and $738,000 in California.
Are You Retirement Ready?
However, if you can afford to pay seven figures for a home, Florida has several luxury neighborhoods to consider. Posh places like Jupiter Island or Golden Beach feature gorgeous tropical views and upscale shopping and dining experiences.
Taxes
Forrest Baumhover, CFP, and author at TeachMePersonalFinance.com, is already retired in Florida after a career in the military. One of his favorite things about living there is that he doesn't have to pay state income tax. Not paying a state tax on your retirement income can help you stretch your money further and help you live a richer life.
In addition, Florida doesn't impose estate, inheritance or gift taxes. That means you can share your wealth freely now and after death without you or your loved ones worrying about the expense.
Weather Helps Your Wallet
Florida fits the bill if you don't want to shovel snow or wear layers of clothing for months every year — which saves you money on winter gear. While the state does have a rainy season (the summer months), you're sure to see the sun on most days, which means outdoor activities are always an option. Some of those — like swimming or jogging — cost nothing.
Lifestyles for Every Budget
There's a lot to do and see in Florida. You can hit the beach, a golf course or a theme park. If you live in a retirement community, you also can enjoy the activities community leaders organize, such as exercise classes, group crafts or potluck dinners.
Are You Retirement Ready?
Pro Tip: As you figure out your perfect retirement home, be sure to factor in things like the area's amenities, your potential future needs and the community's rules (think homeowner's association). If you have a furry friend, you also want to ensure they're welcome.
Affordable Travel Options
Florida has several major airports, so it's easy to jump on a plane to visit loved ones or explore new places. Flights to Europe, the Caribbean or South America can be cheaper from Florida than from most other places in the U.S.
Plus, you can board a cruise ship at ports in Cape Canaveral, Ft. Lauderdale, Jacksonville, Miami and Tampa. Seniors typically can get great cruise discounts.
Prepare for Expenses
Living out the rest of your days in the Sunshine State may sound appealing, but there are also some reasons you may not want to retire in Florida. For example, homeowner's insurance and healthcare can be more expensive there. Plus, your property could sustain damage in a hurricane.
Pro Tip: You can make retiring in Florida easier on your wallet by budgeting for unique expenses (think hurricane deductible) in advance and taking advantage of property tax breaks, like the homestead exemption.
More From GOBankingRates
Are You Retirement Ready?