Why You're Probably Wrong About What Retirement Will Cost, According to Experts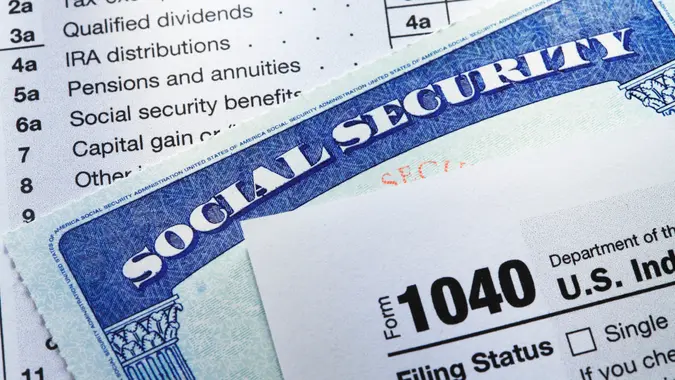 DNY59 / Getty Images/iStockphoto
When it comes to retirement planning, it can be tough figuring out exactly how much money you need to live comfortably. According to a recent GOBankingRates survey, around 38% of American adults think they could live on $500,000 or less once they retire. Another 30% say $500,000 to $1 million is enough.
But the reality may be a little different. The true cost of retirement depends on a variety of factors, such as the age you retire at, your expected longevity, your anticipated expenses and any other investments you might have. Not only that but many people don't realize that retirement often comes with additional costs — ones that can cut into your savings or disrupt your retirement plans altogether.
Here are some of the most common assumptions people make about retirement and how much you might actually need, according to financial experts.
What's the True Cost of Retirement?
"The 'true cost' of retirement isn't a one-size-fits-all number," said James Allen, certified financial planner and founder of Billpin.com. "It's a moving target, a sum that varies based on your lifestyle, location and personal aspirations. The old rule of thumb was to aim for a nest egg that is 25 times your annual expenses. However, I'd argue that this might be a bit conservative given the increasing longevity and rising costs of healthcare."
Social Security: 20% Cuts to Your Payments May Come Sooner Than Expected
Are You Retirement Ready?
Dr. A.L. Blue, a financial advisor and the CEO at Blue Wealth Solutions, said, "The amount needed for a comfortable retirement varies based on individual circumstances and lifestyle preferences. It is essential to consider factors such as living expenses, healthcare costs, inflation and desired retirement activities."
To determine your retirement costs, it's a good idea to create a retirement plan that accounts for any fixed and variable expenses you might have once you leave the workforce. If you err on the side of caution by using higher estimates, you'll have a better idea of what it'll cost for you to maintain a comfortable standard of living during your retirement years.
Common Expenses People Fail To Consider When Retiring
As you start building your retirement plan, it's important to remember that retirement comes with many oft-overlooked costs. Here are some of the biggest ones.
Long-Term Care and Other Health-Related Expenses
For most people, Medicare coverage kicks in once they turn 65 years old. While Medicare can cover many medical expenses, you still might be hit with a premium. For Medicare Part A, the monthly premium can range from $0 to $506. For Medicare Part B, the monthly premium typically starts at $164.90. This doesn't account for Medicare Advantage plans or Part D, which covers prescription drugs.
There's also long-term care to consider.
"In addition to the normal retirement expenses, you need a plan for long-term care," said Jay Zigmont, Ph.D., CFP and founder of Childfree Wealth. "Long-term care in a skilled nursing facility in the U.S. averages over $108,000 annually. Men will spend 2.2 years in care, and women will spend 3.7 years, on average. Medicare will only cover up to 100 days of care, and you need to spend nearly everything you have before qualifying for Medicaid. You need to have a plan for long-term care as Medicaid care is not the best and can drain your nest egg."
Are You Retirement Ready?
Home Maintenance Costs
"Ah, the hidden icebergs of retirement," Allen said. "Many retirees own their homes but fail to account for the ongoing costs of upkeep. It's akin to owning a classic car: It's not just about the purchase, it's about the maintenance."
Even if you no longer have a mortgage, you'll still need to pay for certain home-related expenses. Besides maintenance, this includes homeowners insurance, property taxes — which tend to increase each year — and potentially HOA fees.
Leisure and Entertainment
Once you retire, you'll have a lot more free time to pursue your hobbies and interests. For some people, this means traveling more or taking on a new recreational activity. For others, it simply means completing some projects they've been putting off. For still others, it could very well mean hosting more get-togethers with friends and family members.
But almost all of these things cost money. A common issue with people on the verge of retirement is that they don't account for these expenses. Quite the opposite, in fact, as many people believe they'll be able to cut down on spending once they retire.
"Some people think they can retire because they plan to do a lot of financial gymnastics to downsize and change their lives. They plan to reduce a lot of their ongoing expenses and they assume that everything else will stay the same," said Christopher Manske, founder and president of Manske Wealth Management. "For example, these people imagine that they will live in a smaller home, drive a used car and give up the season box seats to the ballet while all other parts of their life remain static. Unfortunately, my experience suggests that this is unrealistic."
Are You Retirement Ready?
Instead, Manske added, "You'll have costs associated with socializing and entertaining that you don't have now because all the hours you currently spend working now will be spent on activities that probably cost money."
Taxes
For many retirees, taxes are a lot lower during retirement than they were previously. But that doesn't mean you'll be exempt from taxes altogether. Your tax rate depends on your financial situation and, though you may have certain tax exemptions at your disposal, you could end up paying more than you think.
As an example, take a look at your retirement accounts and how much you need to withdraw each year.
"If you follow the safe withdrawal rate of 4%, someone with $1 million in retirement savings can pull out $40,000 for their expenses each year and have a low likelihood of running out of money over 30 years," Zigmont said. "Remember that you will likely have to pay taxes on that $40,000 unless it is all in Roth accounts, which means you will have a bit less to spend."
Miscellaneous Costs
Other commonly overlooked retirement costs include:
Increased costs of everyday goods and services like utilities, food, gas and entertainment
Financial support for a spouse, child or grandchild
Emergency expenses
Is $1 Million Enough To Live Comfortably During Retirement?
This depends on several factors, such as your goals, lifestyle, inflation rates and where you live.
"For many people, $1 million would not be enough to retire with the same lifestyle they have become accustomed to," said Andrew Creme, financial consultant at the Andrew Creme Wealth Team. "If you use a typical 4% safe withdrawal number, that means that for every $1 million invested at retirement, you should be able to withdraw $40,000 each year from that account without depleting the $1 million over time.
Are You Retirement Ready?
"If you also add an average Social Security benefit of $22,000 to that $40,000, it would mean an individual could have a retirement income of $62,000 with $1 million."
According to a recent GOBankingRates study, there are certain states in which this amount of money — $40,000 to $62,000 a year — would be enough. This includes places like Oklahoma, Mississippi, Georgia and Ohio. But in other states — e.g., Arizona, Rhode Island, Maryland and Alaska — this might not be enough.
Whether you're only a few years away from retiring or you still have a ways to go, it's never too late to start planning ahead. Create a custom financial plan that works for you and don't be afraid to adjust it over time.
More From GOBankingRates