Could Social Security Checks Be Stopped With a Government Shutdown?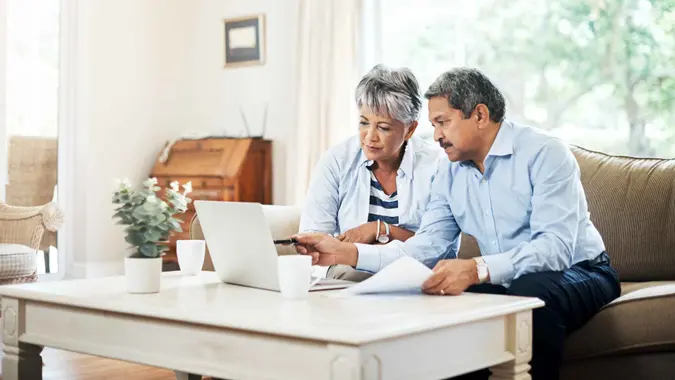 shapecharge / Getty Images
Whenever there's the threat of a government shutdown — and it seems to happen with increasing frequency these days — you can usually count on chatter about Social Security checks being stopped or delayed. That's the case now, as lawmakers face a Sept. 30 deadline to either fund the government or shut it down.
After being asked by readers about the possibility of Social Security payments being halted in the event of a government shutdown, the Verify fact-checking website reached out to several experts to see if that's the case.
Their answer?
No, Social Security payments will not be stopped — all beneficiaries will continue getting their checks as usual. But there are other problems that could impact Social Security if the shutdown lasts long enough.
As for the checks: Social Security benefits are among those that keep being paid during a government shutdown because they're "authorized by Congress in laws that do not need annual approval," David Wessel, a senior fellow at the Brookings Institution, told Verify.
Verify also reported that Social Security, Medicare and other entitlement programs fall under a "mandatory spending" category rather than "discretionary" spending — and mandatory spending programs continue to function during a government shutdown.
Government shutdowns typically mean that all but "essential" federal agencies stop their work, USA Today reported. Because Social Security is an essential agency, recipients will continue to get their checks during a shutdown.
Are You Retirement Ready?
But if the shutdown drags on long enough, it could still have negative consequences for Social Security recipients, according to Max Richtman, president and CEO of the nonprofit National Committee to Preserve Social Security and Medicare.
"Depending on how long a shutdown might last, customer service for Social Security claimants and beneficiaries could be significantly disrupted," Richtman wrote in an op-ed piece for The Hill earlier this month.
A shutdown would force "beleaguered" Social Security Administration employees to continue working without pay until the shutdown ends, he added. They would also be limited to performing only the most basic tasks.
"Non-automated and non-exempted SSA operations would come to a screeching halt," Richtman wrote. "Current work backlogs would begin to grow again. If that happens, seniors hoping to submit new Social Security claims, replace Social Security cards, or report a change in status may experience delays until the shutdown ends."
That will bring no joy to Social Security beneficiaries who already face customer service issues with the agency.
Earlier this year a group representing SSA employees issued a warning that the agency's "staffing and funding crisis" could lead to "more Americans being denied the benefits they deserve."
The warning was given during a June 2023 gathering on Capitol Hill in Washington, D.C., according to a press release from the American Federation of Government Employees (AFGE), a labor union that represents 750,000 federal and D.C. government workers.
"Due to over a decade of Congressional underfunding we are now an agency in crisis," Jessica LaPointe, president of AFGE Council 220 representing SSA field office employees, said during the gathering. "The fabric of America's social safety net is deteriorated, and you and your loved ones and our nation's most vulnerable are at risk of falling through."
Are You Retirement Ready?
More From GOBankingRates