Nearly Half of Gen Z Believe They Won't 'Get a Dime' of Social Security — How Other Generations Compare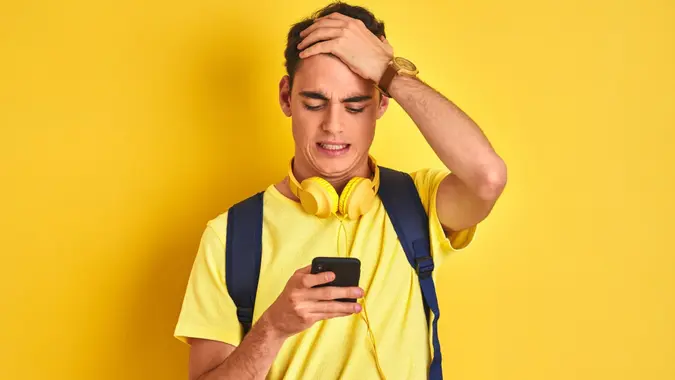 AaronAmat / iStock.com
The future of Social Security weighs heavily on the minds of most Americans, with the vast majority worrying the program will run out of money during their lifetimes, according to a new survey from Nationwide. Young people have a particularly negative view, as nearly half of Gen Z respondents harbor doubts that they will get any Social Security benefits at all.
The Nationwide Retirement Institute 2023 Social Security survey, which polled 1,806 U.S. adults, found that all generations are worried about Social Security running out of money. Almost three-quarters of Gen Z (74%) and millennials (73%) fret about it, while a slightly smaller percentage of boomers (71%) do. More than eight in 10 Gen Xers (82%) fret that Social Security will run out of money.
Meanwhile, 45% of Gen Zers believe they "will not get a dime" of the Social Security benefits they have earned, according to the study. More than three-quarters of both Gen Z and millennials anticipate that they'll need to keep working in retirement because Social Security will not pay enough.
These worries are understandable, considering Social Security will lose a major funding source in about a decade. That source is the Old Age and Survivors Insurance (OASI) Trust Fund, which is expected to run out of money in 2033 if not sooner. When it does, Social Security will have to rely solely on payroll taxes, which pay about 77% of current benefits. Some retirees could face a cut of more than $17,000 a year, according to one estimate.
Are You Retirement Ready?
Despite the concerns, most Social Security experts wave off the idea that Social Security will go broke anytime soon. They point to the fact that the program still gets roughly three-quarters of its funding from payroll taxes. That will remain the case for the foreseeable future.
"Nearly four out of five Americans say that the Social Security system needs to change, while at the same time our research shows that most people don't understand how the current system works," Tina Ambrozy, Nationwide's senior vice president of Strategic Customer Solutions, said in an Aug. 22 press release. "Social Security is a complex system, and it can be difficult to know what you are entitled to. The past ten years of research have been about providing insights to aid that effort, and while we have made notable progress, we still have work to do."
The Nationwide survey found that more than half of respondents lack sufficient knowledge about what percentage of their income is or will be replaced by Social Security in retirement. More than two-thirds (70%) don't know that Social Security is protected against inflation through annual cost-of-living adjustments.
On a positive note, a rising percentage of younger Americans now seek the advice of financial professionals to help them better prepare for retirement. More than two in five Gen Zers (43%) and 39% of millennials plan to ask a financial professional about Social Security benefits, the Nationwide survey found. That compares to only 22% of Gen X and 6% of boomers.
Of Americans currently consulting with a financial professional, more than half (53%) said they are getting advice on how and when to file for Social Security benefits. That figure is well up from 35% in 2014. More than two-fifths (43%) now expect their financial professional to provide Social Security advice — a 14-point increase from a decade earlier.
Are You Retirement Ready?
"A decade of research into Americans' views on Social Security confirms that working with a trusted financial professional isn't just beneficial, it's vital to maximizing your benefits — especially as retirement approaches," Ambrozy said. "Social Security education is an empowerment tool and a proven strategy for creating financial resilience."
More From GOBankingRates