If Trump Wins, What Does He Want for the Social Security Program?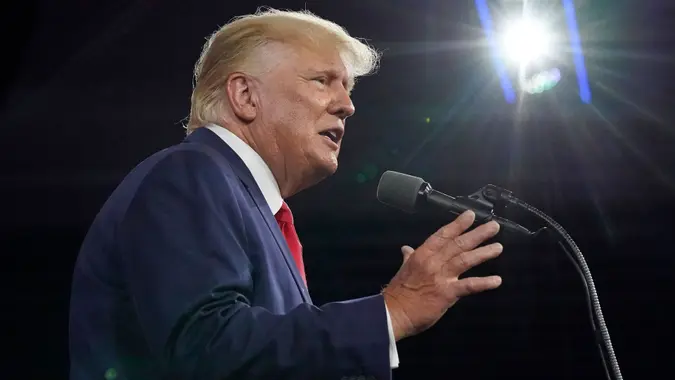 John Raoux/AP/Shutterstock / John Raoux/AP/Shutterstock
Former President Donald Trump is running for the office again, and one of the most important topics during this coming election will be how to deal with Social Security and Medicare costs. With the Social Security Administration saying that the trust fund is projected to run out by 2033, and with many Republicans calling for cuts to the program, where does Trump stand?
While he has not proposed any direct cuts to Social Security throughout his early campaign, we can look back at his previous statements about Social Security to try to find out exactly where he stands. 
Here's a quick history of how Trump has proposed dealing with Social Security and where he's at today.
Trump Used To Be in Favor of Social Security Cuts
Trump has been on record several times stating that Social Security needs an overhaul. In his 2000 book, "The America We Deserve," Trump called Social Security a "huge Ponzi scheme."
In that book, he proposed to raise the retirement age to 70, which he said could add $3 trillion to Social Security within 10 years. All while cutting taxes for the middle class.
As recently as 2020, during his second presidential bid, Trump said in a Fox News Town Hall, "Oh, we'll be cutting, but we're also going to have growth like you've never had before."
Are You Retirement Ready?
It seems that Trump knows Social Security needs addressing, but he has walked back those statements on several occasions. His most recent position seems to be to avoid making any changes to entitlement programs at all.
As a Presidential Candidate, Trump Says He Will Protect Medicare and Social Security
In a video message in January 2023, Trump said he would protect Medicare and Social Security programs. With a message heavily focused on Democratic spending, Trump warned Republicans, "Do not cut the benefits our seniors worked for and paid for their entire lives. … Save Social Security; don't destroy it."
This comes as an apparent switch in policy as many previous Trump statements have suggested that cuts to both Social Security and Medicare would be on the table.
While it's hard to keep track of his stance on Social Security cuts, it seems that once he's on the campaign trail, he's on board to protect Social Security at all costs. Even back in 2016, he stated that he would like to "do everything within my power not to touch Social Security, to leave it the way it is."
If Trump (or Biden) Do Nothing, There Will Be Cuts to Social Security
With a promise to "save Social Security" and leave entitlements alone, it may seem like Trump is poised to protect the benefits of seniors, but this may not be the case.
As the Wall Street Journal recently pointed out, even if Biden and Trump leave Social Security alone, the fund will run out of capital within 10 years, requiring a 23% cut to benefits across the board. This will severely hurt seniors that depend on that income to live.
Are You Retirement Ready?
What Are Trump's Options To Fix Social Security?
Social Security and other entitlements are political landmines that both parties are trying to avoid stepping on, but Trump continues to blast opponents for their willingness to make changes.
There are a few options that Trump could potentially pursue, most of which would be politically painful:
Do nothing. As mentioned earlier, doing nothing to the current program lets Trump avoid dealing with the problem, as the fund is projected to run out in 2033, well after he vacates office.
Increase payroll taxes. This has been done in the past. An increase in payroll taxes could help bolster the Social Security fund and protect future paychecks.
Increase retirement age. Right now, the full retirement age is 67, which allows seniors to collect the full benefit from Social Security. If retirement age were increased to 70, this would mean fewer funds paid out overall and could help protect the fund. But this would mean many would need to work longer to earn their full benefits.
All of these options would hurt seniors or workers in one way or another.
Bottom Line
Trump seems to be on team "don't change anything" when it comes to Social Security, and he continues to put his opponents on blast for any statement that points toward program changes. But no changes will still hurt future retirees. Since his stance has changed several times over the past few decades, it remains to be seen what strategy — if any — Trump would support for the upcoming Social Security crisis.
More From GOBankingRates
Are You Retirement Ready?