Manchin Says There Is a 'Better Program' Than Social Security and Medicare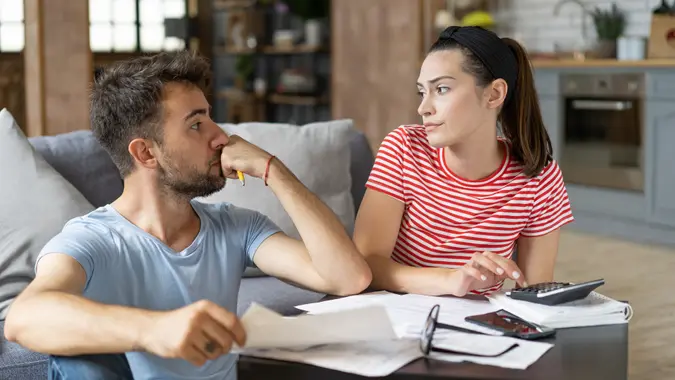 valentinrussanov / Getty Images
The debate over Social Security reform has largely been framed as a partisan one, with Democrats more apt to maintain the status quo and Republicans more apt to push for fiscal changes to the program. But like many things in the nation's capital, that take is not entirely accurate.
Social Security: Proposal for $2,400 Extra in Checks Expanded and Reintroduced in Congress
With a Recession Looming: Make These 3 Retirement Moves To Stay On Track
Within the last week, two U.S. senators who normally side with Democrats have indicated a willingness to take a look at areas where Social Security can be tweaked to put it on more secure financial footing.
One of them is Sen. Angus King, an independent from Maine who caucuses with Democrats and is working with Republican Sen. Bill Cassidy of Louisiana on a bipartisan plan to make Social Security more financially stable. The other is Sen. Joe Manchin, a West Virginia Democrat and key Senate swing vote who last week suggested he is also open to Social Security changes — as long as they don't involve cuts to the program.
"I just think: 'Is there a better program? Is there a better way younger people can invest and have something for retirement?'" Manchin told Fox Business. "[The] only thing I'm telling you I'm not going to discuss is cutting Social Security and Medicare for those people that are receiving and have been depending on it, that have worked hard and earned it. Now with that, you have to look at everything. How do you sustain what you have?"
After some initial backlash to those comments, Manchin spokesperson Sam Runyon told USA Today that "Manchin's record on protecting Medicare and Social Security is crystal-clear, and he reiterated his continued support for both programs when speaking to (Fox host) Neil Cavuto today."
Meanwhile, Machin's website says Social Security and Medicare "are off the table in the debt limit discussions."
Social Security has come under increased scrutiny due to worries over how the program will be funded in the future. As previously reported by GOBankingRates, Social Security's Old-Age and Survivors Insurance (OASI) Trust Fund is expected to run out of money as early as 2032. When that happens, the program will be solely reliant on payroll taxes for funding, which might cover only about 75% of benefits.
Lawmakers have put forth various proposals to address the problem. These typically involve some combination of raising the full retirement age, cutting monthly benefits and increasing Social Security payroll taxes.
Last week, King and Kennedy put forth two more ideas. One is to create a sovereign-wealth fund that could be funded with $1.5 trillion or more in borrowed money. If the fund fails to generate an 8% annual return, both the maximum taxable income and the payroll tax rate would be increased to ensure Social Security stays on track to be solvent for another 75 years.
Another idea is to change the formula that calculates monthly Social Security benefits from one based on a worker's average earnings over 35 years to a formula based on the number of years spent working and paying into Social Security.
Take Our Poll: Are You Concerned the US Debt Ceiling Issue Will Endanger Social Security?
Discover: 20 Ways To Increase Your Savings and Retire With Peace of Mind
Any of these ideas would require bipartisan support to make it into law. The Republican-controlled U.S. House would need to approve legislation, and so would the Senate, where Dems hold a razor-thin edge. Then President Joe Biden would need to sign the legislation.
More From GOBankingRates