Why You Might Regret Claiming Social Security at 67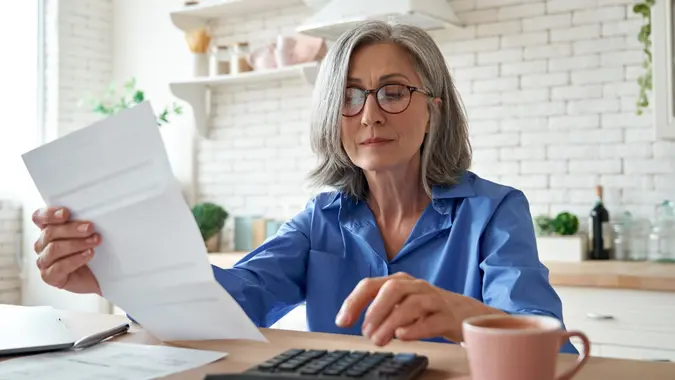 insta_photos / Getty Images/iStockphoto
The full retirement age to collect 100% of your Social Security benefits depends on your birth year, but that will change in 2027. Beginning then, the FRA for everyone will be set at 67 years old, regardless of when you were born. Currently, 67 is the full retirement age only for those born in 1960 or later.
When the full retirement age does settle at 67 years old, you can expect that a lot of people will start claiming benefits at that age. For many, it will be a financial mistake. The longer you wait to file for Social Security, the bigger your monthly payment. That's the case all the way up to age 70, when there is no more financial incentive to wait.
You can collect benefits as early as age 62, and about one-third of seniors do just that, The Motley Fool reported. In some cases, it might make sense to collect Social Security early, such as if you need to pay down excessive debt, or your life expectancy is much lower than normal due to a medical condition.
But for the vast majority of seniors, claiming benefits earlier than you need to — including at age 67 — could be something you'll come to regret. The reason has to do with money. For every year you wait to claim, up to age 70, your monthly benefits increase by about 8% a year, according to a blog on the Alerus Financial website.
Are You Retirement Ready?
"That's a guaranteed return of 8% per year of deferral after your FRA, which could be more than you might receive with any other fixed products right now," Alerus noted. "It's definitely more than the cost-of-living adjustments (COLAs) that Social Security beneficiaries have been getting for the past decade, which have averaged about 1.5% a year."
The extra money will come in especially handy if you live a long life. The average U.S. senior who reaches age 65 can expect to live another 19.6 years, according to data from the Centers for Disease Control. If you claim benefits at age 67 instead of waiting another couple of years, you could face nearly two decades of lower monthly payments.
That money adds up over time — especially for younger people, many of whom might live to be 100 or beyond based on longevity trends, according to a blog on the Merrill Edge website.
Younger people also face the prospect of lower Social Security payments than their older peers because of the looming depletion of the program's Old Age and Survivors Insurance (OASI) Trust Fund, which could run out of money as early as 2033.
When that happens, Social Security would have to be funded solely through payroll taxes, which cover only about 77% of current benefits. This means future Social Security recipients might already face a cut in benefits, which puts even greater importance on delaying benefits past age 67.
Are You Retirement Ready?
One of the best moves you can make now is to save as much as you can in 401(k) and other retirement accounts so you don't have to rely too heavily on Social Security. Without financial pressure to claim Social Security early, you can maximize your benefits by waiting until after age 67 to file.
"Maximizing the income you get from all your sources will go a long way toward helping you live the life you want in retirement," Jeremy Kaneer, director of Retirement and Personal Wealth Solutions at Bank of America, said on the Merrill Edge blog. "And regularly reviewing your strategies as your expenses and financial priorities change can help you keep that retirement goal on track."
More From GOBankingRates