What To Know About Social Security When You're at Retirement Age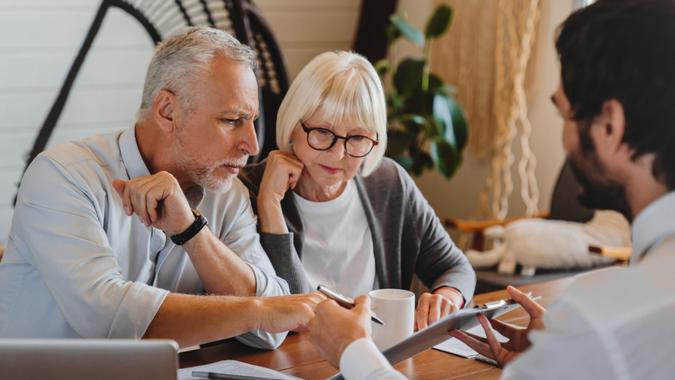 Inside Creative House / Getty Images/iStockphoto
As retirement age starts to get closer, it's inevitable that a lot of questions start coming up. Many of these questions will likely involve Social Security benefits, when you're eligible to receive them, when you should start receiving them, and how to factor them into a manageable budget to make the most of your life after retirement.
See: 10 Reasons You Should Claim Social Security Early
Wow: Jaw-Dropping Stats About the State of Retirement in America
While there's no one-size-fits-all solution for these questions — given that everyone's personal needs, budget and circumstances will vary — there are some guidelines to follow. Here's a look at some things to keep in mind when you've reached retirement age, and how to best tailor them to suit your needs.
What Age You Have To Be
The age you're allowed to receive Social Security benefits isn't cut and dried at all. While the retirement age is still considered 65, or 67 if you were born after 1960, benefits can start to be received anywhere from age 62 through age 70.
Granted, when you decide to start collecting will ultimate affect the amount you receive. The earlier you take them, the smaller the increments. If you take them later, the amount you'll receive increases. There's no right or wrong approach, but it should be something that's taken into careful consideration when deciding.
When To Stop Working
While it's often the case, the age you start collecting benefits might not necessarily be the same age that you actually stop working. How you choose to approach this situation will also affect the amount of money you receive. 
Your Social Security payments are ultimately determined by the top 35 years of earnings during your professional life. If you stop working before the age that benefits kick in, those years are marked as zero income, which could lower the benefits you receive. Conversely, the longer you work high-income jobs, those lucrative years can replace earlier, lower-income years, which will raise your benefits.
POLL: How Much Do You Expect Your Tax Refund To Be This Year?
When To Enroll in Medicare
Regardless of when you plan to let your benefits start kicking in and decide to stop working, it's still recommended that you apply for Medicare within three months of turning 65. If you start receiving benefits on or before that birthday, you'll be automatically enrolled. 
However, if you're putting off benefits for a year or more, enrolling in Medicare later could make certain aspects of your benefits more costly, starting with a late-enrollment penalty. Another consideration is whether you or your spouse are still working somewhere with an employer-provided group health care plan. That could save you a late-enrollment penalty depending on when that employment ends. 
Your Spouse's Situation
Speaking of a spouse's employment, there are additional things to take into consideration if you're married. For example, higher earners are generally encouraged to delay Social Security due to the increased payment you'll receive. This is also true if a higher-earning spouse dies first, which means their former partner is entitled to a larger payment as well. 
In some cases, spouses who've since divorced can also collect based on their previous earnings. However, that can vary wildly depending on where you live as well as other factors. 
What Your Health Looks Like
With so many decisions to make about when to start collecting Social Security, the question of your personal longevity does inevitably come into play. Obviously, no one can know for sure what the future holds, but based on some recent diagnoses and factors like blood pressure, cholesterol levels, weight and family history can help give you an idea. 
Often, when you start collecting benefits should be be informed by what kind of outcome you can expect given your personal health.
How You'll Be Taxed
While all sorts of factors will go into determining the actual amount you start receiving, you may end up owing taxes on it come April. While the first 15 percent of your benefits won't be taxed regardless, there is a formula to keep in mind that can help you get a better grasp of what's to come. Take your adjusted gross income, add any non-taxable income like municipal bond interest, and add that to half of your total Social Security benefits. The total will determine the taxes you pay.
While taxes on benefits are normally reserved for higher-income recipients, tax rates do change, so remember that the lower your overall income evaluation is, the less likely you'll take a hit on them in the future.
More From GOBankingRates