Social Security Benefits Won't Be Impacted by Government Shutdown — but Food Stamps Are a Different Story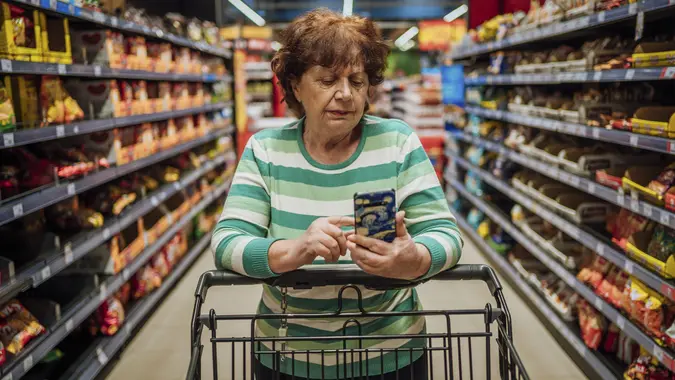 LordHenriVoton / iStock.com
With the U.S. government under the threat of a government shutdown (again), there is much trepidation (again) about the impact it will have on social safety net programs. The good news is, mandatory spending programs such as Social Security and Medicare won't be affected, experts say, which means beneficiaries will get their checks as usual. But food stamps and other nutrition programs could take a big hit.
The government is due to run out of money on Sept. 30. If Congress doesn't come up with a spending bill by then, you could see large swaths of the government put on hold until an agreement is reached.
Among the benefits that could get halted are food stamps, formally known as Supplemental Nutrition Assistance Program (SNAP) payments.
In a Sept. 25 White House press briefing, U.S. Secretary of Agriculture Tom Vilsack told reporters that the SNAP program "will continue — at least for the month of October." However, if the shutdown were to extend longer than that, "there would be some serious consequences to SNAP," he added.
Vilsack didn't go into further detail on what those consequences might be, though presumably some payments would be delayed.
Of more immediate concern is what will happen to the Special Supplemental Nutrition Program for Women, Infants, and Children (WIC), which provides federal funding for supplemental foods, health care referrals and nutrition education for qualifying women and their children.
Are You Retirement Ready?
More than half of newborns in the U.S. are impacted by the WIC program, Vilsack said at the press briefing. Nearly 7 million pregnant moms, new mothers and young children count on it for nutrition assistance support.  "With a shutdown, what we would see across the United States is a denial of those benefits and opportunities," Vilsack said. "In some cases, it would be literally within a matter of days after the shutdown … The vast majority of WIC participants would see an immediate reduction and elimination of those benefits, which means the nutrition assistance that's provided would not be available."
Even before the threat of a shutdown, the WIC program has been targeted by fiscal hawks for deep cuts. According to a recent report from the Center on Budget and Policy Priorities (CBPP), a funding bill proposed by House Republicans would either reduce or eliminate WIC benefits for about 5.3 million low-income Americans.
"Not only would it also result in roughly 600,000 eligible people nationwide being turned away from WIC, but it would weaken the program's science-based benefits by sharply reducing the fruit and vegetable benefit that was increased two years ago on the recommendation of the National Academies of Sciences, Engineering, and Medicine," the CBPP stated.
Meanwhile, a government shutdown would also have a domino effect on other food assistance programs, CNN reported. Food banks won't be able to place new orders, and existing deliveries could be disrupted as well.
A shutdown would also lead to a delay in federal reimbursements to the Meals on Wheels food-delivery program for seniors. Certain community-based programs might have to suspend or shut down their meal services. Even those that remain in operation might have to expand waiting lists, cut the number of meals they deliver or reduce the number of days they deliver.
Are You Retirement Ready?
More From GOBankingRates