Social Security COLA Drop from 8.7% to 3% (or Less) in 2024 Not as Scary as It Sounds — Here's Why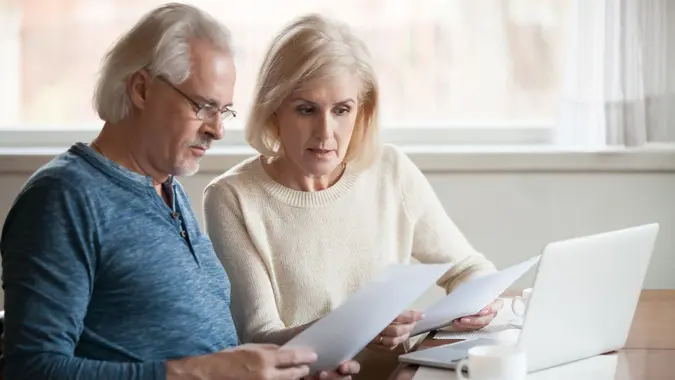 fizkes / iStock.com
The U.S. inflation rate has seen a sharp decline over the past year, falling to 3% in July 2023 after pushing above 9% only 13 months earlier. If inflation remains at 3% or lower during the rest of the third quarter, then the Social Security cost-of-living adjustment (COLA) for 2024 will also be 3% or less.
For Social Security recipients, this means they can expect a much lower increase in their monthly payment in 2024 than they received this year, with a COLA of 8.7%. As previously reported by GOBankingRates, a COLA of 3.0% would raise the average monthly benefit in 2024 by about $53.60 from current levels — well down from this year's average increase of $146 a month.
This could prove problematic for Social Security recipients if the prices of essential items like food, housing and healthcare continue to rise at a faster rate than overall inflation. On the other hand, many seniors might come out ahead in 2024. It all depends on how the 2024 COLA stacks up against 2024 inflation.
The exact COLA for 2024 won't be known until Oct. 12, MarketWatch reported. That's when the September inflation numbers come out. The Social Security Administration bases its annual COLA calculation on the percentage increase in the Consumer Price Index for Urban Wage Earners and Clerical Workers (CPI-W) in the third quarter compared with the prior year.
Are You Retirement Ready?
Given current inflation trends, it's a near certainty that the 2024 COLA will be much lower than the 2023 COLA — something that has many seniors and senior advocates worried about the potential impact on their finances.
But those worries might be misplaced. Sometimes the COLA works in the favor of Social Security recipients, and sometimes it doesn't. You don't have to gaze too far into the past to see how these trends can go from one extreme to the next.
For example, seniors lost a lot of buying power in 2022 when that year's 5.9% COLA was almost immediately nullified by an inflation rate that spent most of the year above 7%. In 2023, however, the 8.7% COLA has coincided with an inflation rate that started the year below 7% and has only declined further since then.
MarketWatch estimates that 2024 could "be one of those years in which the COLA will be slightly higher than actual inflation."
If that's the case, then many seniors will once again see a boost in their buying power — at least in terms of the size of their checks vs. the overall inflation rate. But their actual buying power won't be known until Medicare Part B premiums are announced. These premiums are automatically deducted from most beneficiaries' Social Security checks, and those deductions can have a major impact.
"In many years, the Part B premium increase can take most, or even all, of the COLA, leaving little else to cover other rising prices," Mary Johnson, The Senior Citizens League's Social Security and Medicare policy analyst, said in a statement earlier this year.
Are You Retirement Ready?
More From GOBankingRates