Social Security Is 'Dangerously Inadequate' In One Very Outdated Way — What's Being Done To Fix This Underrated Problem?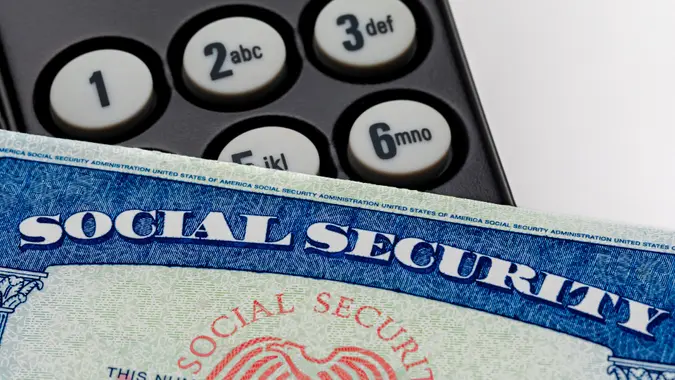 JJ Gouin / iStock.com
Social Security beneficiaries who have complained about poor telephone support from the agency now have an answer as to why: The Social Security Administration's phone systems experienced "an increasing number of service disruptions" at the end of 2022 as it maintained operations under a temporary platform, according to a new audit report from the SSA's Office of the Inspector General.
From May 2021 through December 2022, 40 telephone service disruptions occurred on the SSA's national 800-number and field office systems, the report said. Most disruptions occurred from October through December 2022 and involved the 800-number. The disruptions resulted in "dropped calls, increased wait times and, in some instances, unavailable automated services." The reason wait times increased was because SSA employees couldn't take calls during several of the outages.
In addition, some features were unavailable to callers, such as "estimated wait time" and "call back assist," both of which are used to help callers avoid waiting on the phone to speak with an SSA employee. The rate of unanswered calls for those who opted to speak with an employee during each of the service disruptions ranged from 32% to as high as 80%.
The disruptions came during a period of limited in-person services following the onset of the Covid-19 pandemic, CNBC reported. This turned out to be bad timing because phone services were the "primary option" for the public to interact with SSA employees.
The "official" average phone wait times are about 35 minutes, according to Kathleen Romig, director of Social Security and disability policy at the Center on Budget and Policy Priorities.
Are You Retirement Ready?
"Most people I've talked to have experienced longer wait times than that," Romig told CNBC.
As noted in the SSA report, the agency for many years operated three telephone systems for its headquarters, but is now in the process of replacing them with a "modern, unified" telephone system through its Next Generation Telephony Project (NGTP).
The NGTP is expected to improve phone customer service by merging SSA's three telephone systems into a single, uniform platform designed to be more efficient, stable and functional. But the pandemic delayed this upgrade.
As of May 2023, the SSA still had not implemented the NGTP. Although it has strengthened its temporary platform to "help increase stability" until the NGTP can be implemented, the agency doesn't have a Service Level Agreement (SLA) in place with the telephone service contractor, which has contributed to other problems. The SSA doesn't plan to pursue an SLA, either, because doing so would require additional negotiations with the vendor.
The phone disruptions compounded a slew of customer service issues the SSA has experienced in recent years due to budget cuts and staff shortages. A Money.com article called Social Security's customer service "dangerously inadequate" based on conversations with Chad Mullen, the AARP's government affairs director.
"For folks who really are depending on Social Security to just get by, to pay the bills, to eat — we're talking extraordinarily long periods of time just to find out if they're going to qualify for that benefit," Mullen told Money.
As previously reported by GOBankingRates, a labor union representing Social Security Administration employees issued a warning that the agency's "staffing and funding crisis" could lead to "more Americans being denied the benefits they deserve."
Are You Retirement Ready?
Jessica LaPointe, president of the American Federation of Government Employees' (AFGE) Council 220, which represents SSA field office workers, called the SSA "an agency in crisis" during a recent gathering on Capitol Hill in Washington, D.C.
"The union that represents a majority of SSA workers has called you here today to sound the alarm that the Social Security Administration is in a state of emergency," LaPointe said. "The fabric of America's social safety net is deteriorated, and you and your loved ones and our nation's most vulnerable are at risk of falling through."
More From GOBankingRates