6 Shakeups to Social Security Expected in Summer 2023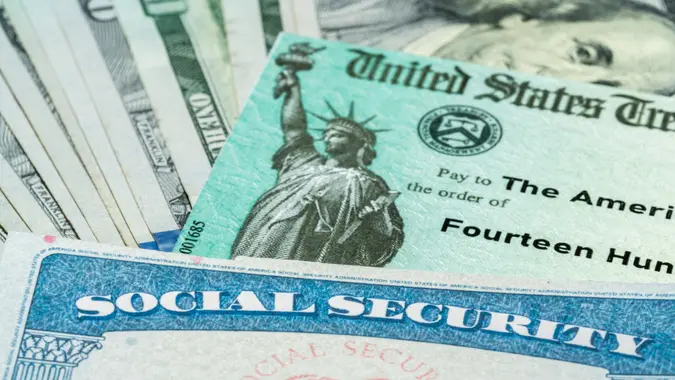 BackyardProduction / Getty Images/iStockphoto
Social Security is one of the hottest topics of this election season, and there are some big, proposed changes coming.
The White House released a 2024 budget proposal that included additional funding and benefits for Social Security and Medicare beneficiaries. While the Social Security Trust Fund is projected to be drained in 2034, the proposal doesn't anticipate cutting benefits for current recipients.
With huge changes coming, a looming deficit and high inflation, Social Security is going to be a focal point this summer as lawmakers debate the budget proposal and try to protect retirement income for millions of Americans. Here are six big changes to Social Security that are possible and will be fine-tuned in the coming months.
Social Security Is Paying 8.7% More
This year saw one of the biggest jumps in Social Security payouts since the 1980s. With inflation running red hot in 2022, the Social Security Administration increased the average payout to recipients by 8.7%.
David Berns of Truadvice Wealth Management thinks this is a positive move, because "Social Security is the only inflation-adjusted investment that we have backed by the U.S. government. … With beneficiaries receiving an 8.7% increase for 2023, this tells us the Fed and administration [are] aware of the current inflation rate."
Are You Retirement Ready?
The new average Social Security monthly payment (among all recipients) is now estimated at $1,827. This is a $146 increase over the previous average monthly payment of $1,681.
New payments started at the beginning of 2023, and new retirees will see this reflected as well. So if you're looking to start claiming benefits this summer, expect a decent bump over previous projections.
Biden Vows To Reject Any Social Security Cuts
In his 2024 budget proposal, President Biden reiterated that he will reject any proposal to make cuts to Social Security. The proposal, which spans 184 pages and covers a lot of spending plans, states, "The administration is committed to protecting and strengthening Social Security and opposes any attempt to cut Social Security benefits."
This most likely will be debated this summer, as some Republicans have proposed cuts to the program, or even outright getting rid of it.
No matter what gets debated and proposed, if it includes cuts to the Social Security benefits, Biden will veto it.
Take Our Poll: Are You Concerned About the Safety of Your Money in Your Bank Accounts?
Retirement Age Might Be Raised
The full retirement age is currently 66 or 67 (depending on your date of birth), but a bipartisan group of lawmakers is looking to propose an increased retirement age to help shore up the deficit in Social Security benefits.
Are You Retirement Ready?
Raising the full retirement age to 70 would effectively cut lifetime benefits by almost 20%, which is the deficit needed to be overcome before Social Security reserves run out in the next decade. As elections approach, this summer will be the time for proposals to be put forth and debated ahead of 2024 budget approval.
High-Income Earners Might Pay More Taxes
As part of the 2024 budget proposal, the Biden Administration protects workers making less than $400,000 per year, stating that "no one earning less than $400,000 per year will pay a penny in new taxes." But there are new taxes proposed for high-income earners and wealthy taxpayers.
Medicare taxes would be increased on individuals making over $400,000. This increase would raise the tax rate from 3.8% up to 5% on (unearned and earned) income over $400,000, helping fund Medicare benefits further.
In addition, there is a proposed wealth tax on individuals worth over $100 million, levying a 25% minimum tax on income.
This will be hotly debated as "taxing the rich" is always a touchy subject, and this summer might have some of the biggest debates around this subject.
Better Customer Service Might Be on the Way
Another aspect of the proposed 2024 budget plan is a 10% increase — $1.4 billion — to the annual operating budget of the Social Security Administration. This would vastly improve the customer service delivery, including the ability to add staffing to handle service requests by phone and email.
Are You Retirement Ready?
The added funding is also aimed at helping the SSA process more benefits claims and reducing wait times. The 10% increase is to be funded with the wealth tax, so this will be a hotly debated topic in the coming months.
National Paid Family Leave Is on the Table
Most Americans don't have long-term paid leave benefits, and the current Family Medical Leave Act (FMLA) benefits stipulate only unpaid leave. Biden's budget proposal addresses this with a line item for paid family and medical leave at a national level.
The program would be administered by the SSA and provide partial wage replacement for up to 12 weeks for several reasons, including:
Care for and bond with a new child
Care for a seriously ill loved one
Heal from their own serious illness
Address circumstances arising from a loved one's military deployment
Find safety from domestic violence, sexual assault or stalking
Bottom Line
Election season is heating up, and this 2024 budget proposal is going to be making waves throughout the summer, with debates around what stays and what goes bound to happen in the coming months. If you are collecting Social Security already, you've seen a recent increased payment — but there are more changes coming soon. Keep an eye on this proposal for further development, as they could directly impact your Social Security income.
Are You Retirement Ready?
More From GOBankingRates