Social Security Isn't Safe Anymore — McCarthy Claims Debt Ceiling Raise 'Isn't the End'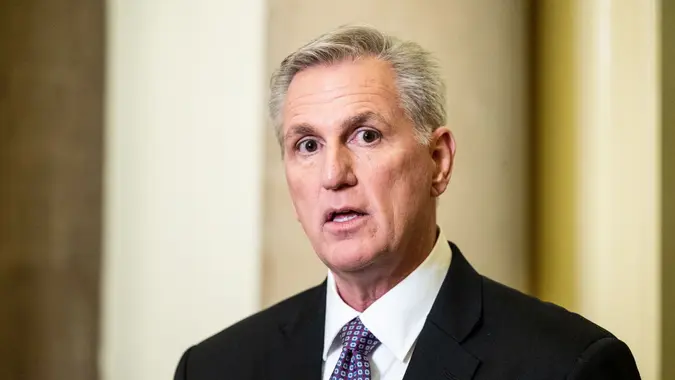 Michael Brochstein/SOPA Images/Shutterstock / Michael Brochstein/SOPA Images/Shutterstock
Last week's resolution of the debt ceiling crisis brought relief to millions of seniors who worried how a potential government default might impact their Social Security benefits. That problem was averted on Saturday, when President Joe Biden signed a bill to suspend the debt limit through Jan. 1, 2025.
With no default imminent, Social Security recipients don't have to stress about their benefits being cut or delayed — at least for now. Longer term, however, there's still a chance that lawmakers will target Social Security for cuts. That possibility was raised by U.S. House Speaker Kevin McCarthy (R-Calif.), the key Republican player in debt ceiling negotiations with Biden.
The two sides agreed to cut funding for some federal programs, though Social Security wasn't one of them, in exchange for raising the debt limit. But as Salon reported, McCarthy told Fox News that the debt limit bill was only "the first step" in a broader GOP agenda that includes further cuts.
"This isn't the end," McCarthy said. "This doesn't solve all the problems."
Among the problems he cited were all the other federal budget items that the GOP targeted for cuts but that Biden "walled off," the American Independent reported.
Are You Retirement Ready?
"We only got to look at 11% of the budget to find these cuts," McCarthy told Fox News. "We have to look at the entire budget. … The majority driver of the budget is mandatory spending. It's Medicare, Social Security, interest on the debt."
The Speaker also said he planned to "announce a commission" that would include lawmakers from both sides of the political aisle. One of their tasks will be to look at further budget cuts.
McCarthy didn't provide specifics on how the commission might work, who might sit on it or which cuts they might target. However, the fact that he mentioned Social Security and Medicare as "majority" drivers of the budget caught the attention of Democrats.
"The Speaker is once again making it clear that Republicans cannot be trusted to protect these lifesaving programs and that's why voters will relegate them back to the minority next year," Viet Shelton, a spokesperson for the Democratic Congressional Campaign Committee, told the American Independent Foundation.
Bipartisan commissions tasked with cutting the budget have been proposed before — and it wasn't even that long ago. During the Obama administration, the Simpson-Bowles commission recommended Social Security cuts.
As recently as 2021, U.S. Sen. Mitt Romney (R-Utah) worked with Democratic senators Joe Manchin of West Virginia and Mark Warner of Virginia and other lawmakers on a similar commission to investigate where federal spending could be slashed. The Romney legislation, known as the TRUST Act, was accused by some critics of being little more than a "ploy" to cut Medicare and Social Security behind closed doors, according to Salon.
Are You Retirement Ready?
Social Security and Medicare together account for nearly one-third of the federal budget, the American Independent reported, citing data from the U.S. Department of the Treasury. Proposals to cut Social Security usually include either lowering payments to beneficiaries or raising the full retirement age.
But cutting benefits will be a tough sell because the vast majority of Americans prefer that Social Security be left alone.
A March poll conducted by The Associated Press-NORC Center for Public Affairs Research found that 79% of respondents oppose reducing the size of Social Security benefits, while two-thirds are against raising monthly premiums for Medicare.
More From GOBankingRates
Are You Retirement Ready?