Social Security Payments Could Stop in July If Debt Ceiling Not Settled, Say Experts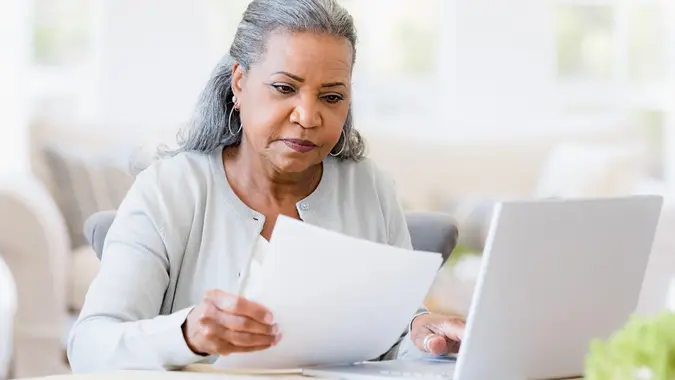 SDI Productions / iStock.com
Worries are mounting that Social Security recipients could see their payments halted if U.S. lawmakers don't come up with a debt-ceiling compromise in time to avoid a government default. Payments could stop as early as July, according to some experts.
Treasury Secretary Janet Yellen told Congress earlier this month that the U.S. could default on its debt by June 1. Although Congressional leaders have been meeting with each other and President Joe Biden to negotiate a plan to lift the debt ceiling, no agreement has been reached so far.
In a column this week for Forbes, former Social Security claims specialist Rae Hartley Beck wrote that if the debt ceiling still hasn't been raised by the end of June, the Treasury Department "may not have the staff available to make the July Social Security payments. In fact, it might be entirely shut down."
That's a scary scenario for the roughly 67 million Americans who receive Social Security benefits — and one just about all lawmakers say they will not let happen. Whether there's anything they can do to prevent it during a default is another story.
Are You Retirement Ready?
Social Security payments are subject to conflicting laws, according to Mary Johnson, Social Security and Medicare policy analyst at The Senior Citizens League, a nonpartisan advocacy group.
Under the Social Security Act, beneficiaries are entitled to their full scheduled benefits, Johnson told CBS News last week. However, another law — the Antideficiency Act — bans any government spending above available funds. Complicating matters further is that there are no legal guidelines on actions the Social Security Administration should take to ensure benefits are paid in full and on time.
"The reality is that the Secretary of the Treasury, who is responsible for the payments, has recently stated that 'it is unlikely' that the federal government could continue to pay Social Security benefits," Nancy Altman, president of Social Security Works, told CBS News. "That has to be the authoritative voice on the issue."
As Beck pointed out in her Forbes column, there's really no precedent when it comes to defaults because Congress "has never not raised the debt ceiling." An unnamed SSA analyst told Beck that Social Security benefit payments would "most likely" continue, and the SSA would keep processing applications and appeals.
Are You Retirement Ready?
In addition, the SSA "would continue providing limited services in a similar fashion to what happens during government shutdowns," Beck wrote. "In those cases, SSA keeps processing everything except benefit verification letters and Social Security card applications."
Even so, if no compromise is reached at least by late June, then "beneficiaries should consider preparing for a worst-case scenario where July payments are delayed," Beck added.
What should you do to prepare for such a scenario?
A good first step is to "be very careful about anything that is paid automatically" based on your Social Security payment, Johnson told CBS News. "That may not get there in full or on time if the debt limit isn't raised on time."
More From GOBankingRates
Are You Retirement Ready?