Social Security Scams: Why Younger Generations Are Surprisingly Victims More Often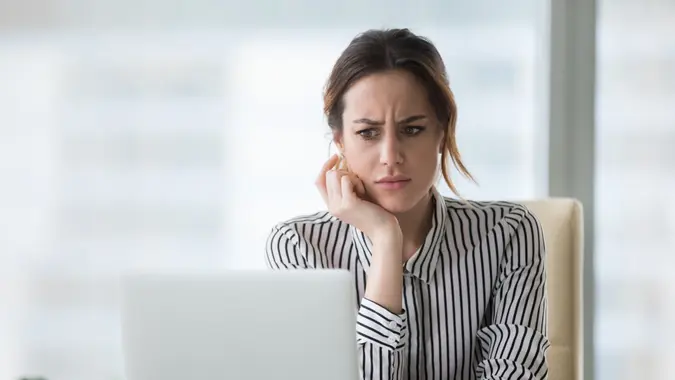 fizkes / Getty Images/iStockphoto
In a recent survey conducted by GOBankingRates, those who reported Social Security fraud were mostly part of the younger generations. Millennials aged 25-44 reported the highest rate of being victims at 24.82%, while Generation Z ranked highest for their parents and family to be victims at 24.65%.
Steve Grobman, chief technology officer at McAfee, acknowledges that Social Security scams are on the rise. "In the third quarter of 2020, the Federal Trade Commission reported 112,776 Social Security scams. In 2021, the agency received more than 568,000 reports of Social Security-related scam attempts totaling more than $63.6 million in losses to victims."
And in 2022? The loss is estimated at $8.6 billion. So what's going on, and why are younger people more prone to falling victim to Social Security Scams? For some valuable insight, we asked the experts.
What Are Social Security Scams?
Paul Bischoff, a privacy advocate from Comparitech, broadly states that there are two leading Social Security scams. The first one is the theft of Social Security numbers (SSN) to abuse them. "If a scammer can trick you into handing over your SSN, they can use it to apply for credit in your name, steal your benefits, and sign up for utilities and other services."
The second type of Social Security scam is when a person poses as someone who works for the IRS or SSA to reach out to you because there is a "problem" with your account. This type of scam seems more natural when a scammer pretends to represent legal entities you trust regarding financial affairs.
Are You Retirement Ready?
It's not just adults who are getting their SSNs stolen either. Some thieves use SSNs that belong to children, which ruins their credit before they even have a chance to start building it.
Red Flags To Be Aware Of
Chris Hauk, consumer privacy champion of Pixel Privacy, says the best way to spot this type of fraud is by knowing how the proper agencies will communicate with you if there is an issue. "The SSA will never ask for personal information over the phone or via email or text. They will also never take a threatening stance while communicating with you," Hauk said.
However, because many millennials were born with advanced technology compared to boomers and Gen X, they may not be aware of proper communication since they've personally never had to do it another way.
Speaking of email, Grobman encourages you to read through online communication to ensure you're not responding to a phishing email. Some straightforward signs are that communication is filled with grammatical and spelling errors while asking for your SSN. Another way to spot a scammer is to see if their logo is not only correct, but a current one the company is using. You can also check the email sender address to make sure it looks legitimate.
Phishing always centers around links that you're supposed to click. "A few ways to check whether a link someone sent you is legitimate is to hover over the link in the email to display its URL. Often, phishing URLs contain misspellings, a common sign of phishing," said Grobman.
Are You Retirement Ready?
Signs You May Be a Scam Victim
Here are some signs that you should be aware of. 
Changes to Your Credit Score
If you remember your credit score being higher, check your credit report. This will show if any accounts have been opened using your identity. This can also show you if an application was submitted but denied since lenders leave hard inquiries anytime someone submits their SSN for a financial product or account.
Unfamiliar Bills Show Up
A random bill from a subscription service, utility provider or another company you're unaware of can be a sign that someone signed up or opened an account using your SSN.
Bank Notifications for Transactions You Didn't Make
If a notification from your bank is sent to your phone that leaves you questioning, find a secure connection and check your account to see if there is any suspicious activity.
Payments Made in Untraceable or Irrevocable Ways
Gift cards, wire transfers, cash, and cryptocurrency as payment methods are a clear sign you are being scammed. Payment apps like Venmo, PayPal, and Cash App can also be used against you to transfer money from your checking to the scammers.
Steps for After Social Security Fraud
Grobman advises that your first stop should be filing a police report and a FTCFTC (FTC) Identity Theft Report. "This will help if someone uses your Social Security number to commit fraud since it will provide a legal record of the theft."
Next, call your bank and ask for their fraud department, then notify them of your situation. A great way to prepare is to list fraudulent transactions and their amounts so that a bank representative can find them easily. You should also call the businesses where the fraud occurred to see if they can provide additional information about the person committing the transaction. For example, if they purchased something for delivery, they might have their personal information, such as a name and address that can help aid police in the investigation.
Are You Retirement Ready?
You should also freeze your credit so you'll be notified if someone tries to open an account using your information. A credit freeze will prevent this, so take advantage of it. And don't forget to reach out to the SSA and IRS in case someone uses your information to file a tax return that's not yours.
How To Keep Your Money Safe
Do not share your personal or financial information unless you know what it's being used for. Signing up for a financial account in person is different than signing up for a random new bank account with someone you've never heard of before. 
Also be sure to regularly check your credit and account statements. Take time at least once a week to review your account and ensure the information is correct. Scammers often charge a small amount to test the availability of funds before spending a substantial amount.
Finally, utilize privacy measures. Use your PIN only if directed. You can use wallets that protect your credit and debit cards when not being used. Ask for two-factor authentication. Last but not least, sign up for all notifications you can receive when there is a drop in your credit score or a transaction that leaves you with a lower balance.
More From GOBankingRates