Social Security: 8 Types of People Not Eligible To Receive Benefits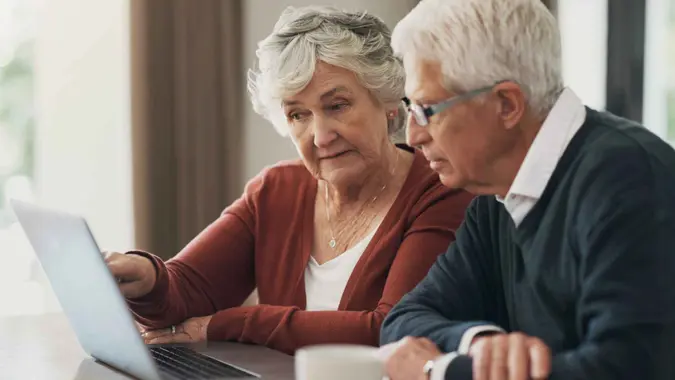 shapecharge / Getty Images
Nearly 67 million Americans get Social Security benefits in one form or another, which is likely to get bigger as more people enter the system and those already in it live longer. According to the AARP, about nine out of 10 U.S. workers ages 21 to 64 are in "covered" employment, meaning they pay into Social Security through payroll or self-employment taxes.
But not all Americans qualify for Social Security – even those who have worked in the United States. There are groups of non-covered workers and others who don't qualify for Social Security benefits for various reasons, so it's important to check your eligibility before applying for Social Security.
Below are eight types of people not eligible to receive Social Security.
1. Those Who Don't Meet Age Requirements
The Social Security Administration puts age restrictions on all of its benefits. For example, to qualify for Social Security retirement benefits, you have to be at least 62 years old. To qualify for spousal benefits, you must be either 62 or older or care for a child who is younger than 16 or has a disability and is entitled to receive benefits on your spouse's record, according to the SSA. If you don't meet these requirements, you're ineligible.
Are You Retirement Ready?
2. Those Who Didn't Work Long Enough
You need 40 Social Security credits to be eligible for retirement benefits. These are earned by paying Social Security tax on your income; you can reach up to four a year. In 2023, $1,640 in earnings equals one credit, so you'll earn four credits after making $6,560 for the year, according to the AARP. You are only eligible if you have worked longer to earn 40 credits.
3. Those Who Didn't Pay Into the System
Social Security is largely a self-funded program, meaning you pay into the system to earn benefits. You need to pay Social Security taxes to qualify for benefits. When you work for an employer, your taxes are automatically deducted from your paycheck. If you're self-employed, you're responsible for paying Social Security payroll taxes, typically through quarterly estimated taxes. But if you've been self-employed your entire career and have yet to pay taxes, the SSA won't have a record of any contributions and you'll be ruled ineligible.
4. Those Who Are Covered by Other Government Pension Plans
State, county and municipal employees who are covered by state-funded pension plans rather than Social Security are usually not eligible for Social Security because they have yet to pay into the Social Security system.
5. Those Covered Under Older Federal Rules
The AARP noted that certain U.S. government employees hired before 1984 are covered under the old Civil Service Retirement System. Similarly, some railroad employees are covered by a separate pension system that dates back to the 1930s. These people are not eligible for Social Security.
Are You Retirement Ready?
6. Those Who Don't Meet Citizenship Requirements
Foreign nationals who work in the U.S. for their home governments or international organizations such as the United Nations might not be eligible for Social Security benefits.  
7. Retirees Who Live in Certain Countries
Most expat retirees can collect Social Security, but not all can. Even if you are an American citizen who spent decades paying into the system, you might not be eligible for benefits if you retired to live in the following countries:
Azerbaijan
Belarus
Cuba
Kazakhstan
Kyrgyzstan
Moldova
North Korea
Tajikistan
Turkmenistan
Uzbekistan
8. Those Jailed for a Certain Period of Time
USA Today reported that people who have been convicted of a crime and incarcerated for more than 30 days have their Social Security benefits suspended. When the person is released, their payments can be reinstated but they won't ever get the benefits that were withheld when they were jailed.
More From GOBankingRates
Are You Retirement Ready?