KeyBank Review 2022: Noteworthy Checking Accounts for Balances of All Sizes
GOBankingRates Score
Keybank National Association
Quick Take:
KeyBank is a full-service financial institution, but its primary strength lies in its checking accounts. The bank ranks 8th in the GOBankingRates study of
Best Checking Accounts
with the Key Smart Checking account. With choices that include basic fee-free checking and an online-only option as well as relationship accounts, KeyBank provides a robust selection of checking products customers can use singly or in combination with other accounts for maximum control over their finances. The following KeyBank reviews look closer at what the bank has to offer.
APYs
Benefits
Products
Customer Service
How did we calculate this?
Pros
Fee-free overdraft protection available
Upgraded ATMs accept cash deposits
Free ATM withdrawals at 1,000 branches, 40,000 KeyBank ATMs and nationwide Allpoint ATMs
Cons
Higher-tier checking accounts have high monthly maintenance fees and high balance requirements to waive them
Interest-bearing checking accounts earn only

0.01%

APY
Must live in one of 15 states served to bank with KeyBank
KeyBank Overview
KeyBank is headquartered in Cleveland, Ohio and is currently the 19th-largest bank in the United States, ranking as one of GoBankingRates' Top 100 Banks, as well as number one in GOBankingRates' annual Best Regional Bank rankings. This bank offers a multitude of personal and business financial products, plus investment and insurance products backed by its 190-year history. 
KeyBank has over 1,000 full-service branches in the 15 states of Alaska, Washington, Oregon, Idaho, Utah, Colorado, Michigan, Indiana, Ohio, Pennsylvania, New York, Vermont, Maine, Massachusetts and Connecticut.
Key Features
The following top features set the bank apart from other competitors.
APYs
KeyBank's APYs are typically fairly low, though you can earn higher yields if you invest at least $25,000 in a Gold Money Market account. You can invest in a CD to earn APY regardless of term and deposit amount. Advantage, Privilege and Privilege Select checking accounts earn APY, and the basic savings account earns APY.
Benefits
The bank's free EasyUp program automates saving every time you use your KeyBank checking account debit card to make a purchase. It's a good way to automate your savings plan to grow your emergency fund or set money aside for a large purchase. 
The KeyBank mobile app is worth mentioning. It can handle most banking tasks such as mobile check deposits, account balances and setting up bill payments. You can also sign up for a free Key Financial Wellness Review through the app to schedule a consultation by phone or in person to set up a financial plan.
Products
KeyBank has a well-diversified range of bank accounts to choose from. They include:
Checking Accounts
With five different choices, including the online-only KeyBank Hassle-Free Account with no monthly service fee, KeyBank offers some of the best checking account options. Whether you're looking for a basic account with no monthly fee or a checking account that earns some interest, KeyBank has the solution.
There are no service fees on the two non-interest-bearing accounts, Key Smart and Hassle-Free. The main difference between the two accounts are checks — Hassle Free is a checkless account that requires use of the online platform and electronic bill pay. Key Smart is more full-featured, allowing for paper checks. Neither account has minimum balance requirements and both can be opened with just $10. 
For individuals who need more than basic features from a checking account and plan on holding higher balances, Advantage, Privilege and Privilege Select accounts all earn APY but come with a monthly maintenance fee of $18, $25 or $50.
The fees can be waived when you set up a KeyBank mortgage automatic payment deduction of at least $500. Or, for Advantage accounts, you can maintain a combined balance of $10,000 or have at least $1,000 per month in Key@Work direct deposits.
Privilege account holders with at least $25,000 in combined balances can avoid the monthly maintenance fee. To avoid the $50 fee for Privilege Select accounts, a combined balance of $100,000 is required.
Savings Accounts
KeyBank bank offers three savings account options — a standard savings, a kids' account and a health savings account. Key Active Saver is the basic savings account that can be opened with $10. The $4 monthly maintenance fee can be avoided if you have a KeyBank checking account.
KeyBank's savings accounts offer a minimal amount of interest at APY.
A KeyBank savings account isn't the best option to grow your savings aggressively but can be useful to ensure you avoid overdraft fees. You can sign up for overdraft protection and link your KeyBank checking and savings account. There is no charge for a transfer to cover the balance if your account falls into the red. Refer to GOBankingRates' Best Savings Accounts for banks offering higher yields. 
Money Market Accounts
Money market accounts are a good choice for customers who need to make an occasional payment or write a check directly from their account. You have two money market accounts to choose from: Key Silver Money Market Savings and Key Gold Money Market Savings. The Key Gold account offers slightly better rates than you'll earn with Key Silver, but it requires a much higher minimum opening deposit. 
You can open a Key Silver account with just $50. To waive the $12 monthly fee, maintain a balance of at least $5,000, have monthly transfer activity of at least $25 or link a KeyBank interest-bearing checking account.
You'll need $25,000 to open a Key Gold account and maintain at least that amount to avoid the $18 monthly maintenance fee.  However, it may be worth it because you can earn a higher APY.
CDs
A certificate of deposit can grow your funds faster than a regular savings or money market account. Choose between KeyBank's short-term, tiered or jumbo CD.
You can open a short-term or tiered account with a minimum of $2,500; jumbo CD accounts require a minimum deposit of $100,000. Short-term CDs have terms of seven days to less than six months. Tiered CDs have terms of six months to 10 years, and jumbo CD terms start at seven days and range up to 10 years. At this time, all CDs earn APY, regardless of term and deposit amount.
Customer Service
KeyBank provides a few options when you're in need of support. Help is available via online assistance, live chat and a 24/7 customer service number of 1-800-KEY2YOU (539-2968).
KeyBank vs. Competitors
If you're not sure of whether KeyBank is the right financial institution, here's a comparison to similar competitors.
KeyBank vs. PNC Bank
PNC, like KeyBank, has a long history of serving bank customers and their communities. Its Virtual Wallet product makes PNC a good choice for customers who need an uncomplicated way to manage their budgets.
However, it's the bank's preferred checking account and the only PNC checking account you can open online. KeyBank's selection of checking accounts makes it a far less restrictive choice.
KeyBank vs. Wells Fargo
Wells Fargo remains one of America's "Big Four" banks, and as such, it has among the most comprehensive selections of account types. It also has about 5,300 branch locations throughout the U.S., so it's a better choice for anyone who prefers to do their banking in person but doesn't live in one of the 15 states KeyBank serves.
But the same type of customer is likely to consider good customer service a priority, and that's an area where KeyBank shines.
KeyBank vs. US Bank
As America's fifth-largest bank, U.S. Bank is significantly larger than KeyBank. That shows in its services, like an advanced mobile app you can query about your account using natural language. U.S Bank's national presence is bigger than KeyBank's to cover individuals who don't live in the states KeyBank serves.
How KeyBank Stands Out
KeyBank has an online-only Hassle-Free checking account for customers who don't need a bank with physical branches.
Anyone else in the 15 states where KeyBank operates can bank online or in person at one of 1,000 full-service branch locations. A network of over 40,000 KeyBank and Allpoint ATMs let you access your money on the go. 
How To Apply
Once you've decided which account you want to open, check the opening deposit requirements to make sure you have the funds. You can use cash if you're opening the account in person. Otherwise, you'll need an existing bank account or a credit or debit card.
Most accounts can be opened online in less than 15 minutes, but you'll need to visit a branch to open a KEY4KIDS savings account. For any account, you'll need the following:
Driver's license or other state ID
Social Security number or other tax ID
Who KeyBank Is Best For
KeyBank is ideal for anyone who typically maintains a balance large to avoid the sometimes steep monthly maintenance fees. However, a high balance isn't essential — customers who stick with the basic checking and savings accounts can avoid monthly fees altogether.
Add to that a large network of free ATMs and variety of CD terms, and it's clear that KeyBank is worth a close look by anyone considering a switch.
Final Take
As one of America's largest financial institutions, KeyBank has a large selection of checking, savings and money market accounts, as well as CDs. If you live within the service area, KeyBank may be the ideal financial institution for you.
KeyBank FAQ
Here are the answers to some commonly asked questions about KeyBank.
How do I check my balance with KeyBank?

You can check your balance using online or mobile banking, by calling 800-KEY2YOU (800-539-2968)and following the voice prompts or by visiting a branch.

What are the pros and cons of KeyBank?

KeyBank offers plenty of account options and a large network of ATMs. However, branches are limited to only 15 states and interest rates aren't as competitive.

Is Chase better than KeyBank?

KeyBank is better if you're looking for a smaller, regional bank. If you prefer a bank with a national presence, Chase is the better option.

Is KeyBank a reliable bank?

KeyBank is an established banking institution that's been operating for over 190 years. It's the 19th-largest bank in the United States.
Rates are subject to change; unless otherwise noted, rates are updated periodically. All other information on accounts is accurate as of Aug. 1, 2022.
Editorial Note: This content is not provided by KeyBank, PNC, Wells Fargo or U.S. Bank. Any opinions, analyses, reviews, ratings or recommendations expressed in this article are those of the author alone and have not been reviewed, approved or otherwise endorsed by KeyBank, PNC, Wells Fargo or U.S. Bank.
Our in-house research team and on-site financial experts work together to create content that's accurate, impartial, and up to date. We fact-check every single statistic, quote and fact using trusted primary resources to make sure the information we provide is correct. You can learn more about GOBankingRates' processes and standards in our editorial policy.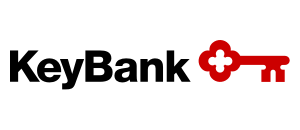 Take Advantage of our Best Offer(s)