MySavingsDirect Review: Boost Savings With Higher-Than-Average Interest Rates
MySavingsDirect
Our Take: MySavingsDirect won't overwhelm you with choices, but what it offers comes with a better-than-average annual percentage yield. Interest is compounded daily, so you'll earn more interest than similar accounts that only compound monthly.
Rates
Fees
Customer Service
Ease of Use
How did we calculate this?
Pros
No fees
No minimums
High APY of

4.35%

 compared with other financial institutions
Cons
Can only deposit and withdraw money by transfers through an external bank account
About MySavingsDirect
MySavingsDirect is an online banking division of New York-based Emigrant Bank, which was founded in 1850 as a mutual saving bank for Irish immigrants. Today, Emigrant has more than $6 billion in assets. GOBankingRates has ranked MySavingsDirect as one of the Best Savings Accounts.
MySavingsDirect Products
MySavingsDirect doesn't have a lot of products compared with other banks. Here's a rundown of what you can expect to find:
Product
Features
Savings Account

No minimum balance requirement
No fees or service charges

Certificates of Deposit

Terms range from 60 to 120 months
Interest compounded daily

Precious Metals

Purchase bullion bars and coins
No limits on purchases as long as you have sufficient funds
Store with the bank or ship precious metals to home
You won't find a wide range of savings products at MySavingsDirect, but what you do get comes with attractive interest rates that can boost your savings compared to other savings accounts.
MySavingsDirect Savings Account
MySavingsDirect has only one primary savings account, but its above-average interest rates and no fees or service charges make it an attractive option. Here's more:
Features
No minimum balance requirement
No fees or service charges

4.35%

 APY
Interest is compounded daily and credited monthly
Joint owners allowed on accounts
Named one of the Best Savings Accounts in GOBankingRates' annual rankings
Pros:
Interest compounded daily
Can have more than one checking account linked to MySavings account
Direct deposit is available
Cons:
Must wait 60 days before linking a second checking account
MySavingsDirect CD Accounts
MySavingsDirect has a surprising variety of CD terms. All of its certificates of deposit come with competitive interest rates and daily compounding interest.
Features
$1,000 minimum deposit
Terms from 60 months to 120 months for highest APY
APY of 0.70% for most terms
30-month term available at 0.55

%

APY
Interest compounds daily
FDIC insurance
Pros:
Cons:
CDs available only to MySavingsDirect account holders
Penalties for early withdrawal
Banking Experience
Banking with MySavingsDirect is great for someone who likes a set-it-and-get-it experience. There's no branch to visit or mobile app for banking on the go. Instead, you manage your money through the bank's website and can reach out to customer service over the phone as needed.
Customer Service
MySavingsDirect's customer service agents are available seven days a week from 8 a.m. until 11:30 p.m. EST. Call 877-752-1919 from the U.S. or 1-914-923-6716 internationally. You also can contact them through email or regular mail.
Accessibility and Branch availability
MySavingsDirect is an online bank, so you can't visit a local branch. All transactions take place through the bank's website.
Mobile and Digital Experience
MySavingsDirect does not have a mobile app. To access your account, log in through the bank's website. The site uses two-step verification to protect your account. You can register your device to skip the passcode requirement.
Convenience
Customers who prefer branch or ATM banking should probably skip MySavingsDirect. But if you like the idea of an online savings account, MySavingsDirect is an easy and convenient place to park your money and let it grow. When you need access to the cash, you can transfer it to your linked account straight from your MySavingsDirect online account.
How To Open An Account
To open a MySavingsDirect account, you must be at least 18 years old and have a valid tax identification number, legal address and personal checking account in the U.S. Here's what you need to do:
Click "Open Now" on the bank's home page.
Enter your personal information.
Fund your account using your current bank's routing and account numbers.
Read the provided account disclosures.
Submit the completed application.
Customer service representatives are available if you need help completing the application.
Key Information

Customer Service Number: 877-752-1919

Routing Number: 226070403
MySavingsDirect Fees
MySavingsDirect does not charge monthly maintenance fees. There may be charges for ancillary services, but you only pay for these services if you use them.
Balance confirmation letter: $30
Additional copies: $5
Legal fee for processing subpoenas and levies: $100
MySavingsDirect also charges an early withdrawal fee for cashing in a certificate of deposit before the maturity date. For a CD with a term of less than one year, this fee is equal to the amount of 90 days' worth of interest. The fee increases to 180 days' worth of interest for CDs with terms of one year or more.
You can avoid the few fees charged by the bank by not using the ancillary services that come with a fee and by letting your certificates of deposit reach full maturity.
MySavingsDirect vs. Competitors
Before opening an account with MySavingsDirect, it helps to see what competitors have to offer. Here's a quick rundown:
| Bank | Best For |
| --- | --- |
| MySavingsDirect | Customers who are happy with their checking accounts but want above-average APY for savings products and the ability to invest in precious metals |
| DollarSavingsDirect | Customers who want more savings options, including short-term CDs |
| Ally Bank | Online banking customers who want a full menu of banking products and services |
MySavingsDirect vs. DollarSavingsDirect
MySavingsDirect and DollarSavingsDirect are both divisions of Emigrant Bank and offer similar savings products with higher-than-average interest rates. In terms of savings accounts, the main difference is that DollarSavingsDirect offers CDs with shorter terms, including one with a 12-month term. So it might be a better option for customers who want a greater variety of CD products.
MySavingsDirect vs. Ally Bank
MySavingsDirect is better suited for customers who already have a checking account and want a different bank to hold their savings. Ally Bank is more like a traditional bank in that it offers a full lineup of banking products — including checking accounts, retirement accounts and loans — making it a better choice for those who like to do all their banking in one place.
Final Take
MySavingsDirect's online savings account boasts a competitive APY that beats many of the more well-known banks. You won't have to pay any monthly fees and there is no minimum deposit, so it's a flexible option no matter how many funds you have available.
Editor's Favorite

MySavingsDirect is a great option if you want to build an emergency fund in an account that is separate from your regular banking account. The account is linked to your checking account, so you'll have access to the money should you ever need it. But since you have to wait for the transfer to process, you might have less temptation to spend it unnecessarily.
MySavingsDirect FAQ
Here are the answers to some commonly asked questions about MySavingsDirect.
Is MySavingsDirect FDIC Insured?

Yes, MySavingsDirect is FDIC insured to the maximum allowed by law, which is $250,000 for all individual accounts and an additional $250,000 for all joint accounts.

How do I open a MySavingsDirect account?

To open a MySavingsDirect account, you must apply through its website since there are no physical branches available to visit.

How do I know when my account is open?

After you submit the online application, you should see a confirmation page telling you the status of your application. In most cases, you get an immediate response.  If the bank needs more information, you might have to wait two or three days to get the decision.

How do I access my money?

When you open a MySavingsDirect account, you link it to an account at another bank. You can then transfer funds to the external account to access it.

How do I make deposits into MySavingsDirect?

You can make your initial deposit into your MySavingsDirect account with a check. All other deposits must be transferred from your linked external account.

Does MySavingsDirect offer free money for signing up for an account?

MySavingsDirect does not currently offer free money for new accounts. However, the bank offers a high APY that can potentially pay you more over time than you'd earn through a sign-on bonus.
This article has been updated with additional reporting since its original publication.
Rates are subject to change; unless otherwise noted, rates are updated periodically. All other information on accounts is accurate as of Dec. 16, 2020.
This content is not provided by MySavingsDirect. Any opinions, analyses, reviews or recommendations expressed in this article are those of the author alone and have not been reviewed, approved or otherwise endorsed by MySavingsDirect.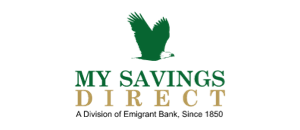 Take Advantage of our Best Offer(s)