Regions Bank Review 2022: Account Options for Every Need
GOBankingRates Score
Regions Bank
Quick Take: Regions Bank is a good option for those in the South, Midwest and Texas who are looking for a one-stop financial institution. In the 15 states it serves, it offers plentiful branch access. However, it's not the bank for those seeking low fees and high yields. The following Regions Bank review will cover categories such as account types, competitors and more.
APYs
Benefits
Products
Customer Service
How did we calculate this?
Pros
Plentiful branch access across 15 states
Multiple account options available
Certain deposits available same-day
Cons
Most banking accounts carry fees that require balances or activities to avoid
Rates are low, particularly on CDs
Regions Bank Overview
Deciding where to bank is not a decision to take lightly. With 1,500 branches and 2,000 ATMs across 15 states, Regions Bank offers banking options throughout the Southeast and Midwest, including Texas, and it boasts $163 billion in assets. With its wide variety of account options, you can tailor what Regions' offers to your specific needs.
Key Features
The following Regions Bank review will look into why the bank received a 4.7 out of 5 stars in the GOBankingRates study.
APYs
Regions Bank's interest rates aren't its strongest feature. The Preferred Checking Account gives you the option to earn nominal interest of . The same goes for the savings and money market accounts. However, account holders receive a 1% annual savings bonus of up to $100 per year with LifeGreen and Now Savings. CDs pay somewhat better, going up to , but they also require a longer commitment.
Benefits
Regions Bank offers approximately 1,500 branch locations and about 2,000 ATMs. Branches are available throughout the South, Midwest and Texas. If you're not near a branch, online and mobile account access is available with features such as account management, bill pay, Zelle, remote check deposit and Regions Now Card® reloads.
Products
​​One of Regions Bank's primary strengths is the wide variety of account options available.
Checking Accounts
Regions Bank offers six checking account options, each designed to serve a specific need. All accounts have a $50 minimum to open. The Simple Checking Account includes a low, flat monthly fee of $5-$8 that cannot be waived. The eAccess Account is for people who primarily bank online. The $8 fee can be waived by making 10 Regions CheckCard or credit card transactions per month.
The Checking Account offers direct deposit and unlimited check writing. This account carries an $8-$11 monthly fee but it's waivable with a $1,500 balance or qualifying direct deposits. The Preferred Checking Account gives you the option to earn interest. However, there's an $18 monthly fee unless you hold $5,000 in the account or $25,000 in all Regions accounts combined, or certain qualifying mortgage accounts.
The Checking Account for Students doesn't require a monthly fee. The 62+ Checking Account includes bonus features for seniors but has an $8-$11 monthly fee that can be waived with a $1,500 balance or qualifying ACH direct deposits.
Savings Accounts
All four savings accounts have a $50 minimum to open online, or $5 minimum to open in a branch. The Regions LifeGreen savings account has no monthly fee when linked with a Regions checking account. The Regions Savings account's $5 monthly fee is waivable with a $300 minimum balance. The Now Savings account requires a Regions Now Card and a minimum $10 balance, but no monthly fee. For minors, the Savings for Minors account for kids below 18 has no monthly fee.
An interesting aspect of Region Bank's savings accounts are the extra perks. Account holders receive a 1% annual savings bonus of up to $100 per year with LifeGreen and Now Savings. And all accounts are enrolled in the Relationship Rewards program. The main drawback to having a savings account with Regions Bank is the interest rate of only APY.
Money Market Accounts
A Regions Money Market account combines some checking account features with the chance to earn APY. The rate isn't the most competitive but the flexibility of a money market account may be worthwhile. 
Regions has two money market options for you. The basic Regions Money Market has a minimum opening balance of $100 and a monthly fee of $12 for balances under $2,500.
The Platinum Relationship Money Market requires the same $100 opening balance but avoiding the $15 monthly fee requires keeping the balance at $15,000 or pairing it with a Regions checking account.
CDs
Regions offers standard CD accounts with maturities from 7 to 89 days for balances of at least $2,500, 90 days for minimum balances of $500, promotional CDs for balances of $10,000 or more and a special CD offering its best promotional rates. However, rates on standard CDs are exceedingly low, ranging from to .
Customer Service
You can reach Regions Bank customer service at 800-734-4667 or visit one of the 1,500 branch locations throughout the South, Midwest and Texas.
How Regions Stands Out
The undeniable strength of Regions Bank is its broad and diverse product line. Regions Bank offers a full suite of financial accounts and services, making it a potential one-stop shop for customers in its service area.
Regions Bank vs. Competition
Regions Bank is regional but offers a product line that goes toe-to-toe with national competitors. Here's how Regions Bank stacks up against some of the most well-known names in American banking.
Regions Bank vs. Bank of America
Although Regions Bank offers access to financial advisors, Bank of America's Merrill Lynch subsidiary is one of the most well-known advisory firms in the world. You can choose to work with a professional advisor or manage your own account through the Merrill Edge program, which offers no-commission trading. Regions Bank offers two types of money market accounts and six different checking accounts, which is a wider array than what Bank of America offers.
Regions Bank vs. Chase Bank
Chase Bank has the edge over Regions when it comes to the reach of its branch network, which includes 4,700 offices spread out throughout the country. The bank also offers a wide range of rewards credit cards with tie-ins with major partners like Southwest Airlines and Marriott. Regions bank offers incentives like an annual savings bonus and checking account rewards, while Chase does not. 
Regions Bank vs. Wells Fargo
Wells Fargo has slightly lower fees on its banking accounts and also offers a robust rewards program. Regions Bank has a broader product array than what's available at Wells Fargo.
How To Apply
You can open Regions Bank checking and savings accounts online, in addition to the basic money market account. For other types of accounts, such as CDs, IRAs or the Premium Money Market, you'll have to visit a branch.
Who Regions Is Best For
Regions Bank is best for anyone in search of a bank with branches, simply to take advantage of the personal counter service. However, there are plenty of account options available for nearly anyone to benefit from banking with the financial institution.
Final Take
While Regions offers a wide variety of products and accounts, it doesn't have competitive rates for all the products it offers. Its CD rates, for example, are below national average rates. Fees are also quite high, on average. Regions is especially well-established in Alabama, Arkansas, Florida, Louisiana, Mississippi and Tennessee, where 80% of its deposits are held. If you live in one of these states and are looking for a full-service bank with robust online and in-branch services, consider Regions.
Regions Bank FAQ
Here are answers to some of Region Bank's more commonly asked questions.
Is Regions Bank a good bank?

Regions Bank is a great option, especially if you live in the South, Midwest or Texas and are looking for a one-stop financial institution.

What are the disadvantages of Regions Bank?

Bank fees tend to be quite high. In addition, interest rates aren't as competitive as other financial institutions.

What is the rating of Regions Bank?

Regions Bank received a credit rating of BBB+ from Standard & Poor's for senior unsecured debt and an A2 for short-term debt.

Which bank is better Regions or Wells Fargo?

Wells Fargo has a wider range of products and branches nationwide. However, Regions Bank could offer a smaller, more personal banking experience.
John Csiszar contributed to the reporting for this article.
Rates are subject to change; unless otherwise noted, rates are updated periodically. All other information on accounts is accurate as of Aug. 2, 2022.
Editorial Note: This content is not provided by Regions Bank. Any opinions, analyses, reviews, ratings or recommendations expressed in this article are those of the author alone and have not been reviewed, approved or otherwise endorsed by Regions Bank.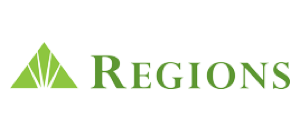 Take Advantage of our Best Offer(s)