How To Find and Use Your Regions Bank Login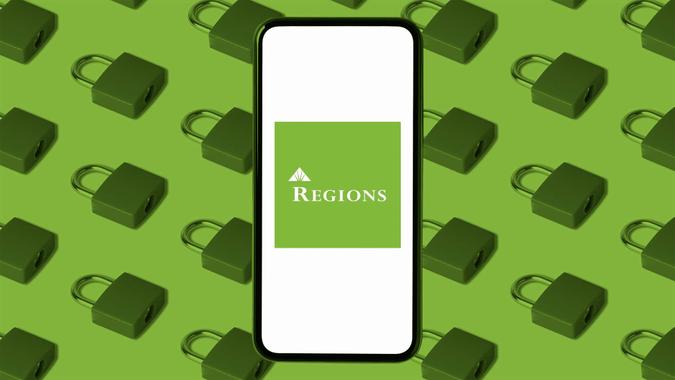 Regions Bank serves customers in only a few areas of the U.S.: the South, the Midwest and Texas. Even though it maintains a regional focus, Regions is among the largest providers of consumer banking services in the country. Its offerings include personal checking accounts, business accounts and wealth management services. 
Keep reading to learn how you can enroll in online banking and use your login at Regions Bank.
How To Log In to Your Regions Bank Account From a Computer
If you're already enrolled in online banking at Regions, logging in from a computer is a simple, four-step process: 
Go to the Regions Bank login page.

Enter your username.

Enter your password.

Click the "Submit" button.
How To Enroll in Online Banking
You'll need to register your account first if you're a new online customer. If you want to enroll your personal checking or savings account in online banking, you can sign up in just a few minutes by following this 12-step process:
Go to the Regions homepage.

At the top of the page, click on "Enroll in Online Banking."

Provide the requested personal information, including your Social Security number, email address and phone number.

You'll be asked to choose whether you need to enroll in personal banking, business banking or both. Select the personal banking option.

You'll be asked to select the type of account you have. Select the checking/savings option.

Choose a method to verify your personal information, using either your ATM/CheckCard number or your customer number. If you don't have either handy, call 1-800-REGIONS.

For cardholders, enter your ATM/CheckCard number, your PIN, the card's expiration date and the CVV number. Otherwise, simply enter your customer number.

Read and accept the agreement on electronic communications and disclosures.

Read and accept the terms and conditions.

Create an online ID and password.

Select and answer three security questions.

You'll receive a confirmation of your enrollment. At this stage, you can change the display name in online banking or set a nickname for your account(s).
Once enrolled, complete steps 1 through 4 above to log in to your account.
Check Out: Regions Bank Review — Account Options for Every Need

How To Log In to Your Regions Bank Account From a Mobile Phone or Tablet
You can download the Regions Bank app from the App Store or Google Play. Once you open the app, you can log in by entering your online ID and password and then clicking the login button. 
For subsequent logins, you can log in with your fingerprint if your phone has that capability. The iOS app also offers users the option to log in via facial recognition.
How To Retrieve a Forgotten Username or Password
If you've lost your password, here's the process to reset it at Regions Bank: 
Visit

the bank's

Forgot Your Password page

.

Enter your online ID.

Select your account type.

Enter your Regions account number.

Enter your Social Security number.

Click the "Continue" button.
You'll then be prompted to change your password. 
If you don't have a Social Security number, you can still retrieve your password by providing your online ID, ATM/CheckCard number and PIN instead. 
If you need to retrieve your online ID, simply provide your email address and Social Security number at the bank's ID recovery page.
Discover: Newest Regions Bank Promotions — Best Offers, Coupons and Bonuses
How To View Your Regions Bank Statement Information 
Your Regions Bank statement information is stored in your online account. To access it, follow these steps: 
Log in to online banking.

Select "Online Statements" from the account menu.

Find your desired statement in the list of available options.

Click on your chosen statement to view the PDF, which will open in a new browser tab or window.
You can view, save or print a Regions Bank online statement for approximately seven years. 
Also See: Here's Your Regions Bank Routing Number
How To Contact Regions Bank If You Have Trouble With Your Account
Regions Bank offers a wide variety of different financial products, and many of them have their own dedicated customer service phone lines. However, if you're looking for general customer service, here are two numbers you'll want to know: 
Customer service center: 800-734-4667
Online banking support: 800-472-2265
Automated services are available 24/7. If you'd like to speak to a banker, phone hours are 6 a.m. to 7 p.m. Central time Monday through Friday and 8 a.m. to 2 p.m. on Saturdays.
You can also contact Regions via secure email if you're logged in to your account, or via an online form. If you want to reach out via social media, you can contact Regions on Twitter and Facebook.
What Are the Benefits of Online Banking?
Online banking is a major convenience for most customers. Rather than having to visit a branch or wait on the phone, customers can look up most account information at a glance on the website or via the mobile app. At Regions, many banking transactions can also be handled digitally, such as making a deposit on the mobile app.
More on Regions Bank
More on Using Your Bank Login
This content is not provided by Regions Bank. Any opinions, analyses, reviews or recommendations expressed in this article are those of the author alone and have not been reviewed, approved or otherwise endorsed by Regions Bank. Information is accurate as of Jan. 20, 2022.