Biden Wants Semiconductor Companies To Pay for Your Child Care — How Much Could It Save You?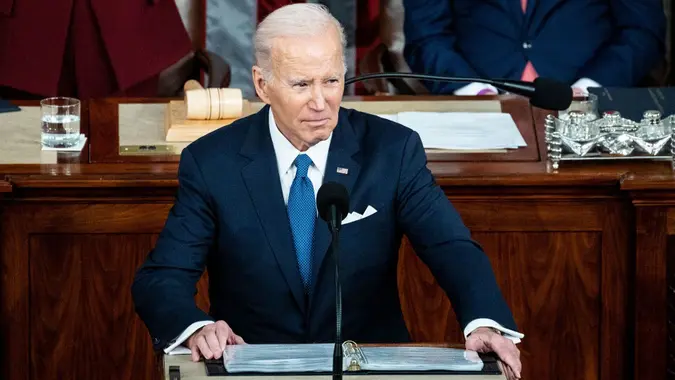 Michael Brochstein/SOPA Images/Shutterstock / Michael Brochstein/SOPA Images/Shutterstock
Semiconductor companies who want funding from the CHIPS and Science Act — signed into law last year — will have to provide employees access to affordable childcare, the Department of Commerce announced Feb. 28.
See: Biden Prioritizes Schools, Childcare, Small Business with $2.04 Trillion COVID Strategy Plan
Find: 3 Signs You're Serious About Raising Your Credit Score
"Applicants requesting over $150 million in direct funding must also submit plans to provide both their facility and construction workers with access to affordable, accessible, reliable, and high-quality childcare," the Department of Commerce said in a statement.
Applicants requesting less than $150 million are "very strongly encouraged to provide access to childcare."
There is $52.7 billion specifically set aside in the CHIPS and Science Act for American semiconductor research, development, manufacturing and workforce development.
The department added that this requirement will be essential to getting people — especially women — into the workforce.
Indeed, according to the CHIPS fact sheet, a 10% decrease in the cost of childcare leads to a 0.5% to 2.5% increase in maternal employment.
Make Your Money Work for You
In turn, applicants for funding are required to submit a plan to provide access to childcare that is "affordable, accessible, reliable, and high quality." In addition, it should be "within reach for low- and medium-income households, be located at a convenient location with hours that meet workers' needs, grant workers confidence that they will not need to miss work for unexpected childcare issues, and provide a safe and healthy environment that families can trust."
As The New York Times noted, there is a critical shortage in childcare in some areas where semiconductor companies are set to build new plants — for example, in the Syracuse, New York area. Micron announced a $100 billion chip making investment in the region last year. There, the demand for openings in childcare facilities is three times the size of the capacity, according to The New York Times.
According to the Economic Policy Institute (EPI), childcare is unaffordable for typical families in New York, as infant care for one child would take up 22.1% of a median family's income. For low-income families, childcare would eat up 62.7% their earnings.
The EPI added that, according to the U.S. Department of Health and Human Services (HHS), childcare is affordable if it costs no more than 7% of a family's income. By this standard, only 9.4% of New York families can afford infant care. On a broader level, per CNBC, the average annual cost of childcare in the United States topped $10,000 in 2022.
Make Your Money Work for You
Take Our Poll: Do You Think Bankruptcy Is an Acceptable Way To Escape Student Loan Debt?
More: How Millennial Women Can Take Control of Their Debt
The administration said it will release further details about childcare requirements in the next few weeks, the Washington Post reported.
More From GOBankingRates
Make Your Money Work for You