What Does It Cost To Be a Parent in 2022?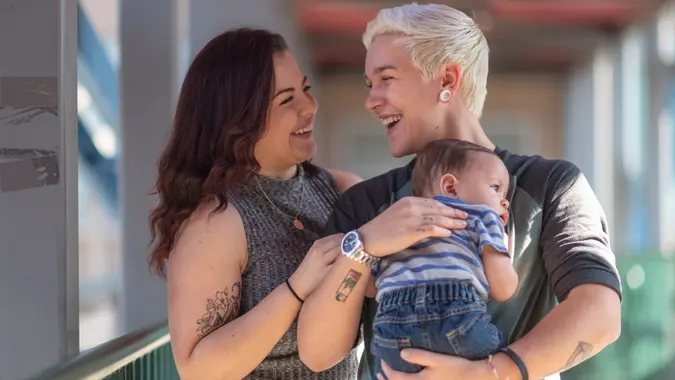 FatCamera / Getty Images
Being a parent is expensive — so much so that some Americans are opting out of having kids or having fewer kids than they want due to financial concerns. A 2018 New York Times survey of young adults who said they had or expected to have fewer children than they considered ideal cited financial reasons as some of the top causes for this decision.
According to the survey, 64% said that child care is too expensive, 49% were worried about the economy, 44% said they can't afford more children, 43% said they waited because of financial instability, 39% said it's because they don't have enough paid family leave and 38% said it's because they don't have paid family leave at all.
Considering how much it costs to raise a child, having financial concerns is warranted. According to the latest data from the U.S. Department of Agriculture, it would cost parents $233,610 to raise a child born in 2015. Adjusted to 2022 dollars for inflation, that amounts to $296,188.
Here's a breakdown of the cost to be a parent in 2022.
Basic Expenses
The USDA found that the biggest expense for parents is housing, accounting for 29% of the total cost. In 2015, the USDA estimated that the annual cost of housing a child in an urban area was $3,900, while the average cost of housing a child in a rural area was $2,400. Adjusted to 2022 dollars, that amounts to $4,945 and $3,043 per year, respectively.
Make Your Money Work for You
The next largest expense is food, accounting for 18% of total costs. These costs vary by age. Here's a look a the average annual costs as of 2015:
0- to 2-year-olds: $1,580 ($2,003 in 2022 dollars)
3- to 5-year-olds: $1,690 ($2,143 in 2022 dollars)
6- to -8-year-olds: $2,280 ($2,891 in 2022 dollars)
9- to 11-year-olds: $2,680 ($3,398 in 2022 dollars)
12- to 14-year-olds: $2,780 ($3,525 in 2022 dollars)
15- to 17-year-olds: $2,790 ($3,537 in 2022 dollars)
Other costs that parents need to factor in include transportation (15% of total costs), healthcare (9% of total costs), clothing (6% of total costs) and miscellaneous expenses, such as recreation and entertainment (7% of total costs).
Child Care and Education
Another major expense is child care and education, accounting for 16% of a parent's total budget, according to the USDA estimates.
A 2022 Care.com survey found that more than half of parents (59%) said they're more concerned about child care costs now than in years prior. It also found that 51% of parents are spending more than 20% of their household income on child care, and 72% of parents report spending 10% or more. In order to afford child care, many parents have had to make adjustments, including taking on a second job (31%), reducing hours at work (26%), changing jobs (25%) and leaving the workforce entirely (21%), the survey found. ​​
The cost of child care will vary depending on how you plan to go about it. Will one parent stay home, and therefore lose any income they may have been bringing in? Can a family member provide free child care? Will you hire a nanny? Will you send the child to daycare? What about after-school care?
Make Your Money Work for You
As of 2021, the average weekly costs for child care were $694 for a nanny, $226 for a child care center, $221 for a family care center and $261 for an after-school sitter, according to Care.com.
It's also worth noting that the USDA total cost estimate of raising a child does not include college costs. The average in-state student attending a public four-year institution spends $25,487 for one academic year, while the average student attending a private institution spends $53,217, according to the Education Data Initiative. Multiplied by four years, that amounts to an extra $101,948 for a public, in-state college education and $212,868 for a private college education.
How To Financially Prepare To Raise a Child in 2022
Although all of those numbers are jarring, there are ways to prepare your finances so you're ready for what's to come. Morgan Stanley offers the following suggestions:
Have at least three to six months of expenses saved in an emergency fund.
Budget for all of the necessary expenses, adjusting as your child gets older and needs change.
Don't buy every baby gadget you see — many are unnecessary.
Figure out child care plans early so you know how much to budget for this expense.
Start saving for college ASAP. Options include a 529 plan, Coverdell Education Savings Account (ESA) or a custodial account.
More From GOBankingRates