Meghan Markle's Due Date Approaches: How Much Does It Cost to Have a Baby in the UK vs. the US, Anyway?
It's cheaper to give birth in the UK, even if you aren't royal.
A consultant-led vaginal delivery costs approximately $7,700, and a C-section birth will cost somewhere around $9,700, in the Lindo Wing in London.
In Los Angeles, the cost of a C-section birth without insurance is about $21,986.
Expectant mothers in Birmingham, Alabama, are looking at a price tag of about $11,665 for the same procedure.
The Duchess of Sussex is expected to deliver her first child any day now, and the world is waiting with bated breath to catch a glimpse of the royal bundle of joy. However, Buckingham Palace announced on April 11 that Prince Harry and Meghan Markle "have taken a personal decision to keep the plans around the arrival of their baby private."
In the meantime, Prince Harry and Markle recently made a retreat to Hampshire for a three-day babymoon — a relaxing excursion, which is said to have cost the royal coffers approximately $43,000.
With Markle due to go into labor at any given moment, a lot of people are considering the question of how much her delivery might cost — particularly because money is really no object — compared with a delivery in the U.S. The question of precisely where the Duchess of Sussex will choose to deliver her baby is also up in the air currently, according to Global News.
See: The Royal Baby Is Almost Here — and the Nursery Might Not Be Ready in Time
Where Will Meghan Markle Give Birth?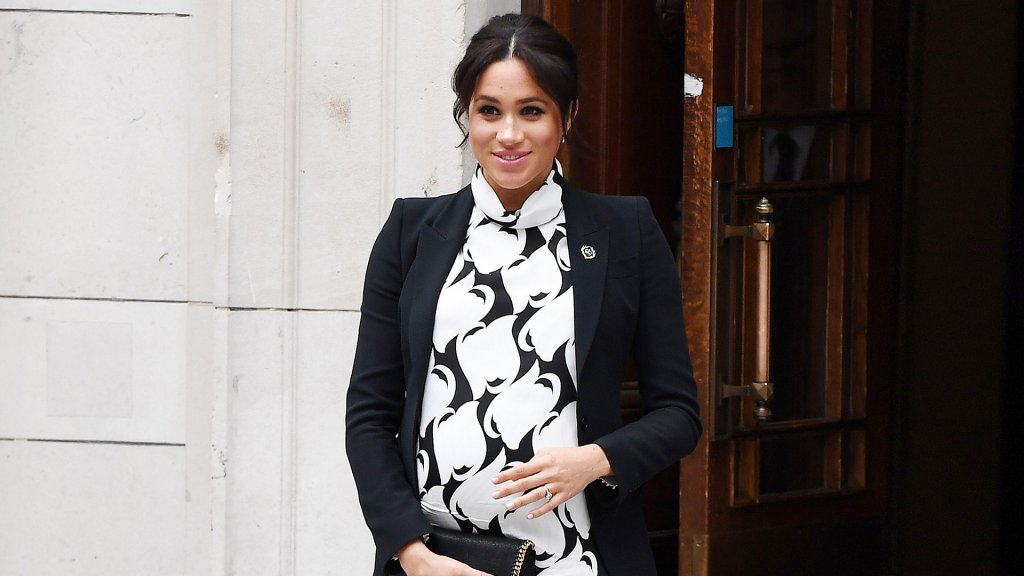 Royal experts seem to contend that Markle will buck tradition, opting out of delivering the royal baby at the Lindo Wing at St. Mary's in London — the same venue where Princess Diana and the Duchess of Cambridge, Kate Middleton, gave birth. Although Markle may elect to choose a maternity ward closer to her new home of Frogmore Cottage in Windsor, the Lindo Wing remains the most experienced facility in terms of privacy and protection.
Find Out: Is It Cheaper to Have a Baby or Adopt?
The Cost of Having a Baby in the UK vs. in the US: $9,700 vs. $22,000
According to the Lindo Wing maternity care pricing chart, a consultant-led vaginal delivery costs approximately $7,700, while a C-section birth will cost somewhere around $9,700. Additional costs concerning the particular demands of the royal family are unlikely to have been included in these cost estimates, should any such exist.
Although these numbers might seem staggering, when you consider that the system is administered by the British National Health Service, part of the universal healthcare system, they are still lower than you might expect in American hospitals, particularly if the expectant mother doesn't have medical insurance.
See: What Prince William and Kate Middleton's Son's Birth Would Have Cost in the US
The data from the FAIR Health Consumer cost estimator tool suggests that giving birth for U.S. residents varies vastly depending on where you live. In Los Angeles, for example, the cost of a C-section birth sans insurance is a whopping $21,986, when you account for pre- and post-delivery care. By contrast, new parents in Birmingham, Alabama, are looking at a price tag of $11,665 for the same procedure. With insurance, you can expect to pay about half as much.
These sums can seem positively princely, especially given the fact that most of the people paying them don't come from royal blood — or royal payrolls.
While British tabloids and other media outlets scramble to find details about which route Meghan Markle and Prince Harry might take in choosing a place to welcome their child into the world, one thing is certain: The little one is coming soon and will hold the attention of Anglophiles worldwide, likely with fewer money worries than most Americans or Britons.
Now, check out the cost breakdown of buying a dog versus having a kid.
More on Money
We make money easy. Get weekly email updates, including expert advice to help you Live Richer™.