The Most Affordable, and Expensive, Sports Your Kids Can Play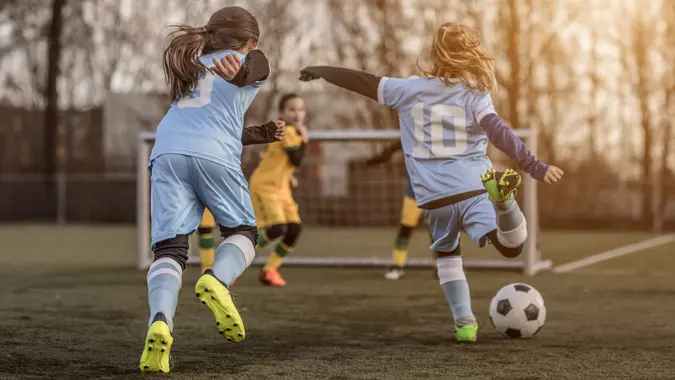 Lorado / Getty Images
There's nothing cuter than watching your little ones in their first sporting endeavors as they run around the soccer field, try to bounce a basketball without it rolling away, or take a mighty swing at that softball perched on a tee. Your kids are developing more than moments in time to capture on video, too. In fact, the President's Council on Sports, Fitness & Nutrition says children who play sports have less stress and anxiety and more self-confidence, a lower risk of suicide and less substance abuse, better weight management, improved cardiovascular fitness, and a reduced risk of cancer and diabetes.
See: 10 Ways To Teach Kids How To Save at Any Age
Learn: Thinking of Becoming a Parent on Your Own? These Are the Costs You Need To Prepare For
With the benefits of creating healthy habits early in life, why not start your child in sports? Some parents might consider cost a barrier to play, but not at all sports cost a bundle — at least not at the recreational level.
It's when kids start playing at a more competitive level that the costs multiply rapidly. Parents pay hefty amounts for registration fees, hotels, transportation, and offseason private coaching or lessons. In all, a joint study between the Aspen Institute's Project Play and the Utah State University's Families in Sports Lab estimates that the cost of participation in youth sports for families is $30 billion a year.
Make Your Money Work for You
But don't let that huge figure dissuade you from getting your kids involved in sports. For some of them, the starting expenses aren't overwhelming, and here we'll break down the most affordable and most expensive sports your kids can play.
Find: High-Paying Jobs for People Who Love Sports
Getting Started
For some sports, all your kids will need is a good pair of sneakers or cleats to get started. There's no need to invest in top-notch equipment while your youngster is still in the learning stage with a sport. Entry-level gear, second-hand stuff from a store such as Play It Again Sports or gently used items found online or Facebook Marketplace are adequate in the beginning, and you often can find usable equipment for more advanced players, too.
Check with your city or town for information on youth sports opportunities. Many run programs for kids that won't break the bank. GOBankingRates sourced some sample registration costs or fees to give you an idea of the cost of sports in diverse regions, but they can vary widely.
Discover: Most Successful Athlete From Every Decade
Soccer
The American Youth Soccer Organization says youth participants need shin guards and soccer shoes for practice and games, and the group also recommends that each child have a soccer ball to practice at home. New shoes start at just less than $20, shin guards cost about $10 and balls are about $15.
Make Your Money Work for You
Signup fee: $25 per session through the city of San Diego
Tip: Ask your local sporting goods store if a reduced-price, starter package is available for the shoes, shin guards and ball.
For Those Who Do Make It Pro: The 41 Highest-Paying Positions in Sports
Tennis
If you've got some tennis experience, you can teach your youngster the basics of the game. Your city or public high school probably has courts you can use at no charge, too. It's great parent-child bonding, and you'll both get exercise chasing the balls. Junior tennis rackets start at about $20, or about $30 for bigger kids who can handle an adult-sized model. Tennis balls cost $3 or so for a can of three. The cost of tennis will rise very quickly if your child decides to play at a competitive level.
Lesson fee: $12 per hour for a group lesson through the city of Atlanta
Tip: If tennis is a hit in your house, invest in pressureless tennis balls. They won't lose their bounce like standard balls, so they'll enjoy a long shelf life. Cost is about $20 for a bag of 18.
Basketball
Basketball is one of the easiest sports for kids take up. They need athletic shoes, a basketball and a place to shoot, with local playgrounds and parks often providing the hoop. A solid ball for outdoor play costs about $25 but cheaper balls are available.
Make Your Money Work for You
Signup fee: This winter, the city of Chicago offered free two-ball basketball programs at a variety of local sites. In Minneapolis, basketball programs were as low as $20.
Tip: Ask if your registration fee includes a required team shirt or if you'll pay an additional price.
Helpful: Budgeting Tips for Single Moms
Softball and Baseball
Both sports require a collection of basics: cleats, gloves, batting helmets, balls and a bat. You'll spend hundreds of dollars each for the best bats and the best gloves, but if your child is a rec-league player, there's no need to go wild on the gear. Gloves start at about $30, helmets at $25, cleats at about $20 and tee-ball bats at $30. Baseball or softball pants will also be needed. Plan on at least $20.
Signup fee: The fee varies widely by region, city or town, and league. Cost for Spring 2022 in Cary, North Carolina, is $60 for residents. In the Steel Lake Little League in suburban Seattle, the price ranges from $65 to $200, depending on the child's age.
Tip: Ask about discounts for multiple kids in the same family.
Flag Football
NFL Flag is the official flag football program of the NFL, and it has more than 500,000 participants on 1,600 teams in all 50 states, according to the league. Because there's no tackling in flag football, the equipment list is limited to flag football belts and a mouth guard, for the most part. No helmets, shoulder pads or other protective accessories are needed, and NFL Flag estimates that the cost to play flag football is about $300 less than tackle.
Signup fee: The cost of NFL Flag programs vary. The Spring 2022 registration fee for Hyperdrive Flag Football in Surprise, Arizona, is $129, and kids receive an official jersey and set of flags.
Tip: If there's no NFL Flag program in your area, call your city's parks and recreation department or the high school athletic department for information on local flag football offerings.
Take a Look: Athletes With Major Business Empires Outside of Sports
Skiing and Snowboarding
Winter sports are fun — but expensive. Kids need a lot of gear for these sports: skis or a snowboard, helmet, goggles, ski poles, gloves and ski pants. The Aspen Institute study puts the equipment costs at nearly $1,200 alone.
Estimated cost: After the gear comes lessons, lift tickets and the cost of getting to and from the mountain. Skiing and snowboarding costs about $2,250 per child in 2019, the year the Aspen Institute did its survey.
Tip: Don't invest in equipment until your child decides if skiing or snowboarding will stick. Ski shops often offer season-long rentals, which will be less expensive and less time-consuming by renting on a daily basis.
Read: Money-Saving Expert Says These Are the 4 Tips Every Mom Needs To Know
Hockey
Stepping into the rink can crack parents' budgets before they even realize it. Necessities of the game like skates, shin, elbow and shoulder pads, hockey pants, gloves, sticks, caged helmets and mouth guards can run into the hundreds per season. Hockey skates start at about $100 and go up from there — and remember how fast kids' feet grow. Add in the cost of skating lessons, membership and league fees, too.
Estimated cost: The Aspen Institute's study showed that parents with a child in ice hockey spent on average $2,583 per year in 2019. Among the 21 sports reviewed, it was the most expensive.
Tip: Some hockey leagues — as well as leagues in other sports — offer scholarships. Don't hesitate to ask if the price is out of reach.
More From GOBankingRates
Make Your Money Work for You