Consumer Price Index: You Paid More For Bacon in December, But Less for Fruits and Veggies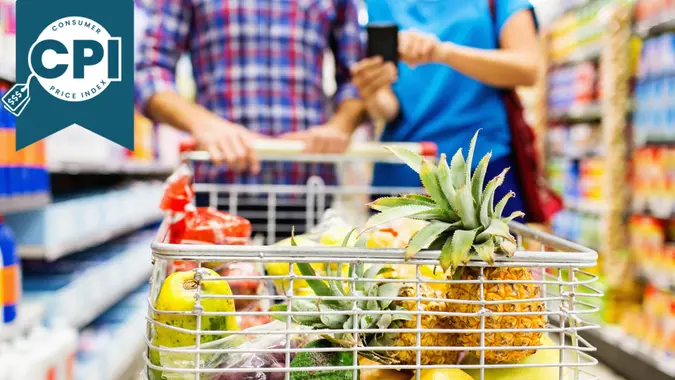 londoneye / Getty Images/iStockphoto
Food price inflation slowed in December 2022, although it continues to rise at a higher rate than most consumer goods, while prices of meat, poultry and eggs shot up for the month after declining in November.
Learn: What Does December's Consumer Price Index Report Mean For You? Experts Weigh In
Discover: How To Get Free Gift Cards From Your Everyday Purchases
Consumer Price Index: December Inflation By The Numbers
The food index increased 0.3% in December, according to the latest Consumer Price Index for All Urban Consumers, which was released on Thursday, Jan. 12. That was down from a 0.5% gain the previous month but lagged behind the 0.1% decline in overall inflation. For the full year, food prices rose 10.4% vs. the overall inflation rate of 6.5%.
The latter figure was the lowest in more than a year, which could be a sign that the Federal Reserve's series of interest-rate hikes might finally be contributing to cheaper consumer prices.
The food-at-home index rose 0.2% in December, down from a 0.5% gain in November and the smallest increase in at least seven months. On an annual basis, food-at-home prices climbed 11.8%. Most food-at-home categories saw no growth or price declines in December. For example, the price of cereals and bakery products was flat for the month. Prices for dairy and related product prices declined 0.3%, while the fruits and vegetables index fell 0.6%.
Make Your Money Work for You
However, those declines were offset by higher prices of meats, poultry, fish and eggs. This category saw a 1.0% jump in December after falling 0.2% in November. Much of the December increase was caused by the bird flu, which contributed to supply shortages and pushed up prices of chicken, turkey and eggs.
The food-away-from-home index climbed 0.4% in December, down slightly from a 0.5% gain in November. As with food at home, the food-away-from-home category notched its lowest increase since at least June 2022. Year-over-year, food-away-from-home prices climbed 8.3%.
Take Our Poll: Are You In Favor of More Inflation Relief in 2023?
Despite the recent slowdown in food prices, groceries continue to be a money drain on American consumers. A recent analysis of more than 150,000 stores conducted by Datasembly found that grocery inflation came in at 16.3% in 2022, up from 6.2% in 2021 and 1.1% in 2020.
Frozen food reported the highest inflation rate at 21.3%, while alcohol had the lowest at 4.2%.
Among the states, these had the highest rates of grocery price inflation in 2022:
Connecticut and Louisiana: 19.5%
Idaho: 19.3%
Iowa: 19.2%
Mississippi: 19.0%
Make Your Money Work for You
The states with the lowest rate of grocery price inflation in 2022 were all on the East Coast and included Maryland (14.5%), North Carolina (14.6%), Pennsylvania (15.1%) and Maine (15.4%).
More From GOBankingRates
Make Your Money Work for You