Don't Shop at Whole Foods on These Days of the Week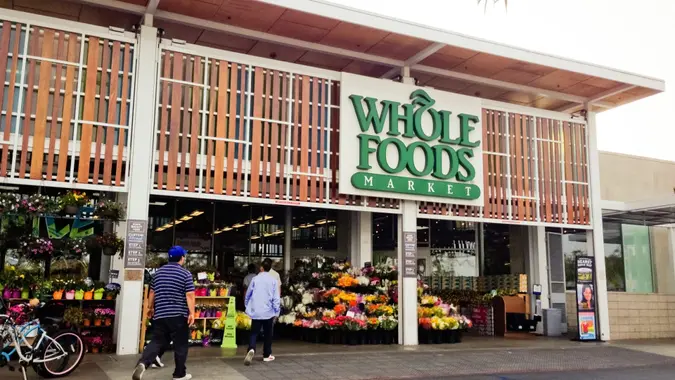 anouchka / Getty Images
One of the first natural food grocery store chains in the United States, Whole Foods was originally founded in Austin, Texas in 1980. Since then, it has expanded throughout the country and beyond to Canada and the United Kingdom. Now, there are over 500 locations in these countries overall.
Learn: How To Get Cash Back on Your Everyday Purchases
Whole Foods is still a great place to shop for organic and natural foods, but like other major grocery stores, there are certain days of the week that are better to shop at than others. On certain days, it might be better to avoid going altogether — largely due to longer checkout lines, more crowds, and potentially limited stock on the shelves.
If you're thinking about shopping at Whole Foods, these are the best and worst times to go, as well as some ways to save money and time on your shopping trip.
Best Days To Shop at Whole Foods: Wednesdays and Fridays
Two of the best days to hit up Whole Foods are Wednesday and Friday — just not after work. One reason for this is that there tend to be fewer customers on these days.
"The two best days to shop are Wednesday and Friday," said Melissa Cid, consumer savings expert at MySavings.com. "New sales start every Wednesday, [so] shop early and you'll be rewarded with stocked shelves and minimal crowds during your midweek trip. Friday's are a great time to shop fresh perishable foods like meats, fish, produce, and breads as the store prepares for the impending weekend rush."
Make Your Money Work for You
Samantha Landau, consumer expert at TopCashback.com, added, "At Whole Foods, Wednesday is the best day to shop. On Wednesday, the sale cycle is updated with new weekly deals and discounts. Additionally, this is the day that Whole Foods prepares fresh batches of all of their prepackaged foods and pre-cut veggies."
Keep in mind that certain locations might have their own delivery days and times. "If you're looking to shop specific products as soon as they hit the shelf, you'll need to talk to your grocery manager to inquire about delivery days," said Cid. "This varies by location and local supply chain."
Worst Days To Shop at Whole Foods: Saturdays and Sundays
If the middle of the week tends to be the quietest time to go shopping, then it stands to reason that the weekends are the busiest.
"If possible, avoid the weekend rush when you are more likely to come across empty shelves, crowds, and picked-over meats and produce," said Cid.
This isn't unique to Whole Foods either. Many retailers and supermarket chains are simply at their busiest on Saturdays and Sundays. After all, these are the days when most people are off from work and are hitting the stores for their shopping needs.
You may also want to avoid shopping on weekday evenings as more people head to the grocery store right after work to pick up food for the day or week. If you do go out during these times, you could also get stuck in rush-hour traffic or longer queues.
Make Your Money Work for You
Tips To Save Time and Money at Whole Foods
Looking to save more time or money at Whole Foods? Here are some strategies:
Price compare. Certain items are more expensive at Whole Foods than they are elsewhere, but you can still score some great deals. "You can absolutely save money at Whole Foods," said Cid. "My go-to item is brown eggs, which I've found to be cheaper than anywhere else, even Walmart."
Shop the 365 brand. "Whole Foods' 365 brand has great deals that beat [other] store brand products in both value and quality," said Cid.
Plan your meals out ahead of time. Planning out your meals for the week (or longer) and creating a detailed grocery list around that can help ensure you get only what you need. It can also limit impulse buying. Plus, it can lower the chances of you forgetting something and having to come back later — and potentially purchasing more things you don't actually need.
Check out the current deals. Whole Foods sometimes has deals going on that result in lower prices on everyday essentials and ingredients. If you're an Amazon Prime member, you could get even more savings. "If you have Amazon Prime, you can score an extra 10% off your storewide purchases at Whole Foods just by scanning your Amazon app at checkout," said Landau. "You should also check your email for exclusive weekly grocery deals for Prime members."
See if your local Whole Foods is busy online. If you want to know how busy your local grocery store is before you go, do a quick Google search to see if there's a "Popular times" chart. This will give you an idea of how busy the store is right now and when might be better to go.
Use rebate. "Check Ibotta and Fetch rebate apps often for special cashback deals on select products at Whole Foods, and sign up for Social Nature for possible free product coupons that you can redeem in-store," suggested Cid.
Use cash back. With a cash-back rewards credit or debit card, you can earn a small amount back on qualifying purchases — such as groceries. Once you've accumulated a certain amount, you can redeem those points for cash. "Since prices have increased, you'll want to maximize your savings with your credit card," said Landau. "Review the terms of your credit card's program to determine which spending categories give you the most cash back, rewards points or miles per dollar spent — and make sure to use that card when shopping for those items."
More From GOBankingRates