New Costco Sandwich Costs the Same as 6 Hot Dogs — Why It Likely Won't Last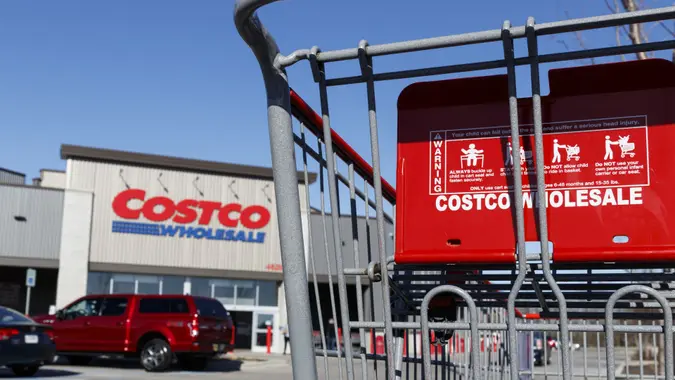 jetcityimage / Getty Images
Eating at Costco has become something of a national pastime. There are countless YouTube reaction videos of influencers trying the warehouse's food court menu, and everyone from Thrillist to Redbook have written articles ranking the eats like they're some kind of foodie delicacy. A journalist with the New York Post even found a way to eat three-course Costco meals "without paying a dime."
See: Costco's Best Deals? Employee Reveals 10 Standout Buys for Your Money
Find: 3 Ways Smart People Save Money When Filing Their Taxes
But while the Costco food court has become a prized possession for card-carrying members, much of it thanks to the iconic $1.50 hot dog combo, the warehouse retailer is coming under fire for its latest menu item: a $9.99 roast beef sandwich on a hoagie roll spotted at a store in Lynwood, Washington.
In case you're doing the math, the $9.99 price (though on par with many other sandwich shops) is the same as six — nearly seven — Costco hot dog combos. It's also the same as one whole pizza or two rotisserie chickens, both also popular buys at the warehouse. The pricing discrepancies have come under fire from a number of shoppers who took to Reddit to analyze the comparative costs. That reddit post has since gone viral, netting more than 500 comments.
Make Your Money Work for You
"The roast beef [sandwich] creates a too glaring disparity between their other food court offers that are on point with the understood value statement of shopping at Costco," wrote one person.
"I think this might be market testing to see if people will buy more expensive food court items," added another.
One poster also theorized there would be backlash against the pricing — and that the sandwich would probably disappear from the menu. "I would expect this to be a poor seller and get scratched from the lineup quickly," they stated.
Still another noted that if the price jump is something Costco is planning to extend to more of its bargain bulk items, they might lose out on customers: "If Costco's cost structure in this roast beef creeps into the aisles or bumps food court items, especially the hot dog… I'd just assume start giving more of my money to 99 Ranch, Lotte, H-Mart, Food Lion, Harris Teeter, Lidl and Aldi."
Take Our Poll: How Much Salary Would Buy You Happiness?
More: 5 Most Overpriced Costco Items, According To Superfans
Make Your Money Work for You
As Business Insider reported, this wouldn't be the first time a food court item tanked due to price. They recalled when Costco introduced a "Shake Shack-style" burger in 2017 for $4.99 — and were met with an uproar from shoppers. The burger was quickly nixed, which may become the fate of this latest sandwich, too, if the past is any indication.
More From GOBankingRates
Make Your Money Work for You