Save Big on Groceries Without Clipping a Single Coupon
You don't have to spend hours searching for coupons save money on groceries.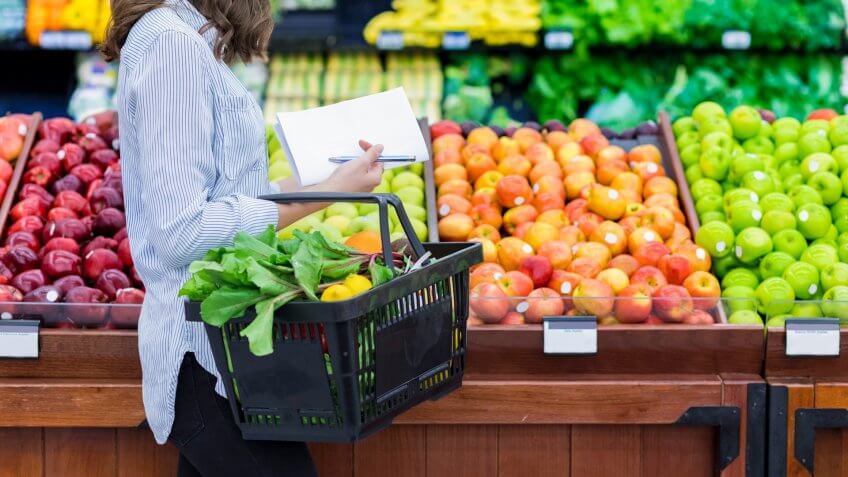 Steve Debenport / iStock.com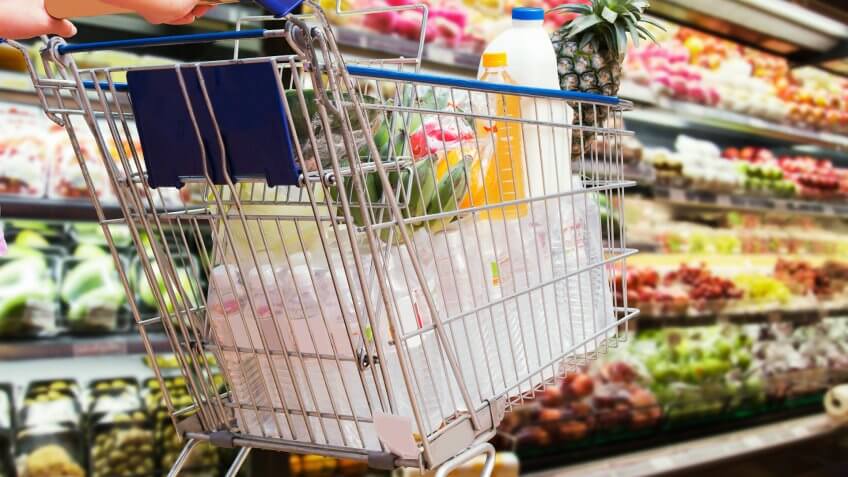 pixfly / Shutterstock.com
Stock Up During Sales
"One of the best ways to save money without coupons is also one of the easiest," said Josh Elledge, founder of SavingsAngel, a deal, coupon and grocery-savings website. "Stock up when prices are low."
Grocery items typically go on sale every eight to 12 weeks, he said. So when your favorites are marked down, use the opportunity to get several rather than just one at the lower price. "Use long shelf life and your freezer to your advantage because it may not be on sale again for four months," he said.
Also check grocery store weekly ads for special offers that let you get a free item when you purchase several of another item — such as a free gallon of milk when you buy four boxes of cereal.
"Sometimes those can be a real bargain, especially if the cereal is already on sale and milk in your area is pricey," Elledge said. "At the least, you'll net a savings of 50 cents or better off each box of cereal by getting the milk free."
Read More: Not Freezing These 16 Foods Is Costing You a Small Fortune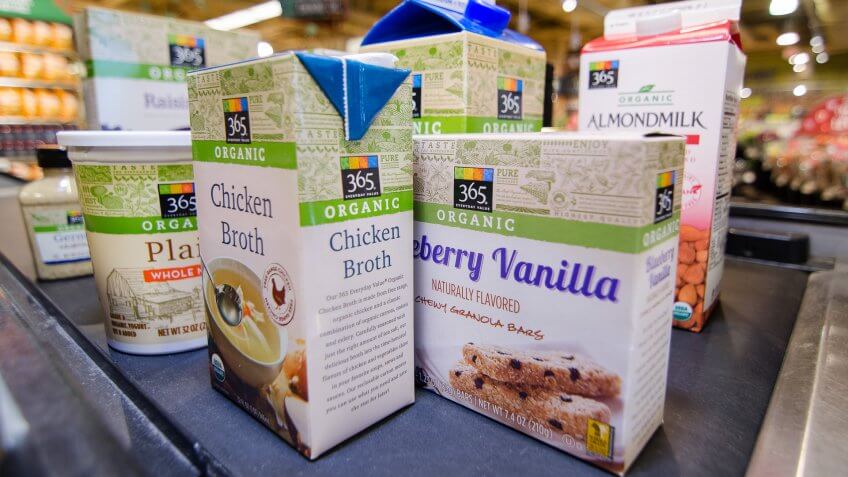 ©Whole Foods
Opt for the Store Brand
If you're willing to ditch your brand loyalty, you can save a lot of money by buying generic. You spend 10 percent to 70 percent less for a store brand, Elledge said. For example, a package of eight Ball Park brand buns sells for $2.46; but you can save money by buying the store brand at discount grocer Aldi for just 89 cents, Elledge said.
You don't need to worry about sacrificing quality with store brands to get a better price. "The majority of store brands are the exact same name-brand product, just with a different label on the front," said Tracie Fobes, founder of money-saving blog Penny Pinchin' Mom. That's because supermarkets typically work with major manufacturers to offer their products under private-label brands.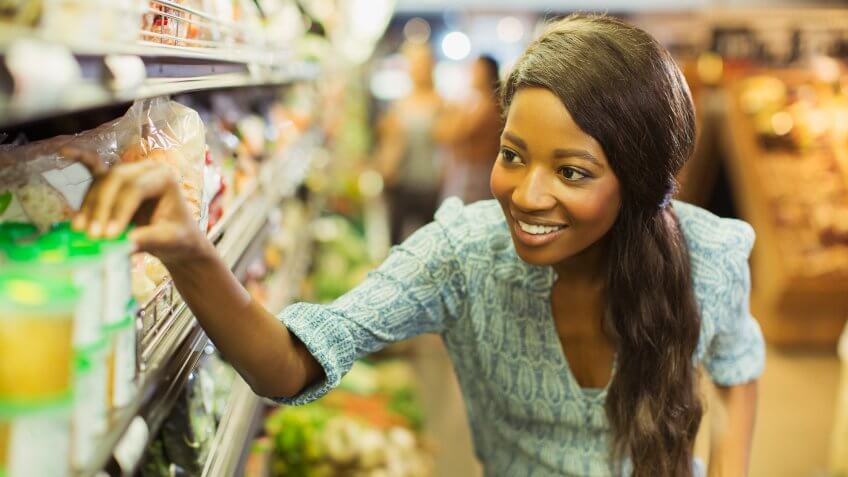 Dan Dalton / Getty Images
Shop on the Right Days
You can lower your grocery bill by shopping on the right day of the week. Many grocery stores offer sales that last one, two or three days.
"If you shop on one of these days, you will not only get those additional discounts, you will also get the regular weekly deals as well," Fobes said. "Doing this will put you in the store just one day a week, which can absolutely help you save money over shopping several times a week."
Most grocery stores also mark down their meat and fresh breads on certain days and times, said Justin Cupler, an editor at personal finance site The Penny Hoarder. Expect to save 50 percent on meats and nearly 75 percent on bread. Ask the manager or store employees when these items are discounted, then time your meat and bread purchases for this day.
"Sure, they are closer to expiration, but you can extend the meat's life by freezing it, and bread is typically fine a few days after its sell-by date," Cupler said.
Don't Miss: How to Eat for Less Than $99 This Month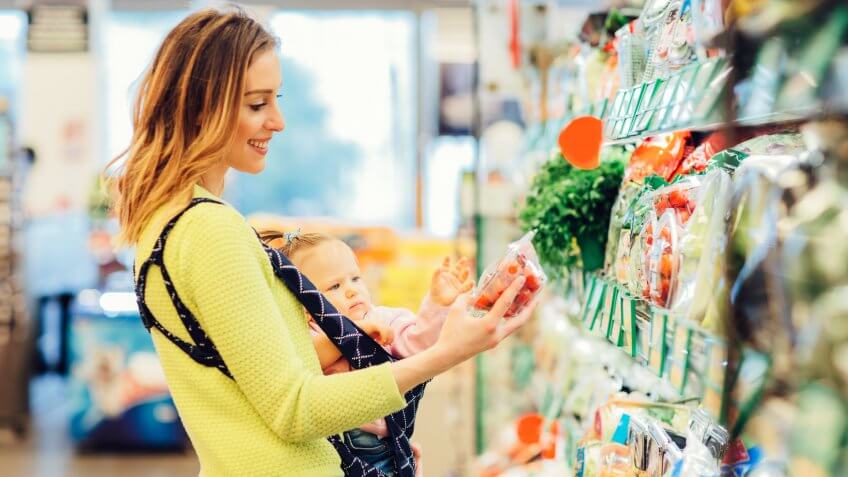 vgajic / Getty Images
Compare Price Per Ounce
Supermarkets typically list the price per ounce below the total price of items on shelves. Taking the time to look at these figures or calculate the price per ounce on your own can pay off, Elledge said.
"This tried-and-true savings method is even more true with the reduction in package sizes over the past several years," he said. No longer can you assume that the largest package is always the best value. "Sometimes it is actually less expensive — and you end up with more ounces — to buy two small packages than one large one," Elledge said.
Any time you buy a pre-packaged item — whether it's a box of cereal, a can of vegetables or a container of juice — compare the price per ounce across the various package sizes to pinpoint the best deal.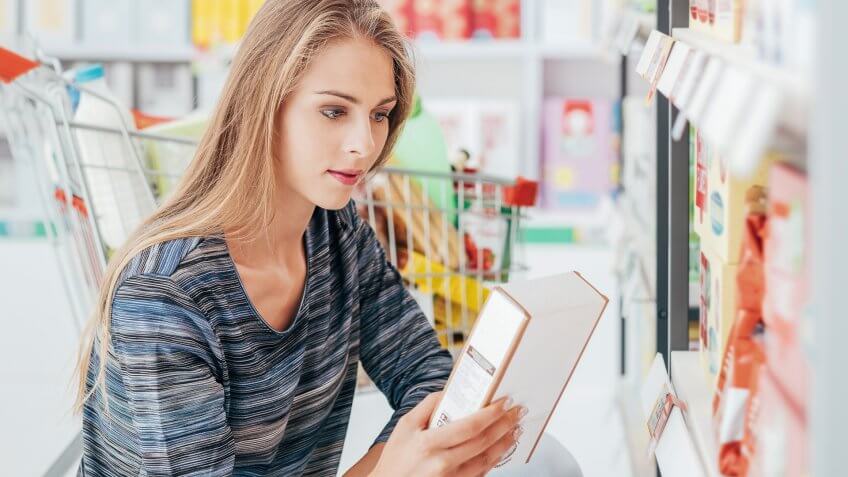 Stokkete / Shutterstock.com
Check Clearance Racks
Like other retailers, grocery stores have clearance sections for outdated or damaged items, Cupler said. "In some cases, you can snag great deals on pricey items by scanning these racks," he said. Expect to save 50 to 75 percent on clearance items.
"If you happen to see a sell-by date that has passed, don't fret," Cupler said. A sell-by date is not a safety date but rather an indication for how long a store can display a product for sale for inventory management, according to the Food and Drug Administration. However, you should check clearance items for damage or contamination before buying them, Cupler added.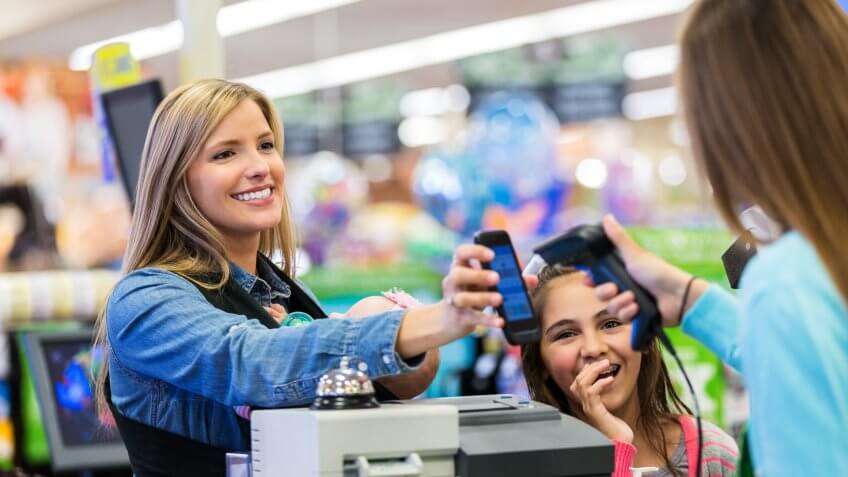 asiseeit / Getty Images
Use Cash-Back Apps
Mobile apps such as Ibotta and Checkout 51 get shoppers cash back just for buying certain items, Cupler said. It's like getting a discount without clipping or printing coupons.
Before shopping, browse cash-back offers on the apps. Buy those specific items or brands, then scan your receipt at home. With Checkout 51, you can get a check once your account balance reaches $20. With Ibotta, you can have cash deposited to a PayPal or Venmo account once your balance reaches $20, or you can get a gift card. You can save $10 to $25 per month, depending on how frequently you use the apps, Cupler said.
Related: The Top 10 Cash-Back Websites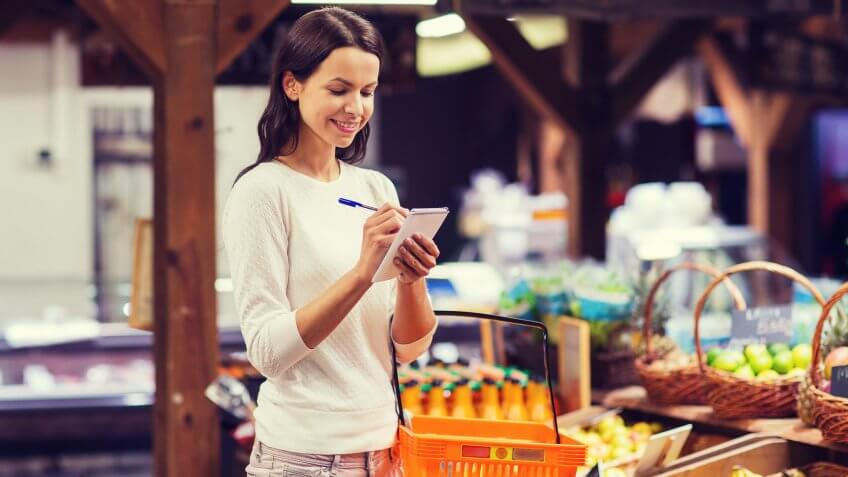 Syda Productions / Shutterstock.com
Be a Mystery Shopper
Being a mystery shopper is a good way to earn extra cash. It's also a great way to save money on groceries without using coupons, Cupler said.
As a mystery shopper, you'll be asked to perform several interactions while shopping at a grocery store, such as speaking with employees at the deli, at the bakery or in the aisles, he said. Then you simply answer a short survey and rate your experience.
"While the payments may vary, in my experience, I have earned $5 for doing the shop and a $9 reimbursement for my groceries," Cupler said. "What's more, you can buy whatever groceries you want, so long as you meet the minimum purchase and item requirements."
If you visit two stores each weekend, you could save $78 per month on groceries, he said. You can find mystery shopping opportunities through companies like Trendsource and MSPA Americas.
Kevork Djansezian / Getty Images
Frequent the Dollar Store
Although dollar stores are known for low prices, some grocery items are more expensive there than at the supermarket, Elledge said. "However, from time to time, they do get some amazing bargains," he said.
Products such as canned fruit, jams and jellies, pasta and other shelf-stable products can frequently be found for less at dollar stores. "In fact, it is not unusual for the dollar store to have 2-pound packages of pasta, making them a steal at 50 cents a pound, compared to the typical sale price of $1 per 1-pound package of pasta."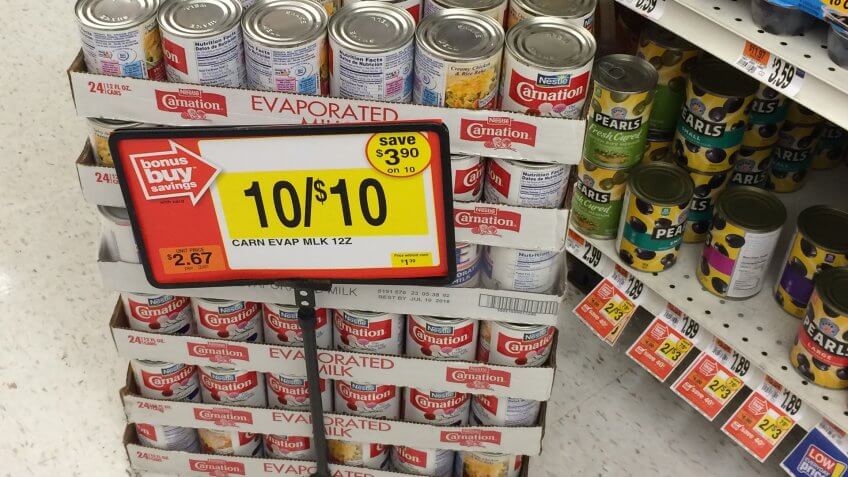 Woodleywonderworks / Flickr.com
Don't Fall for Gimmicks
Another way to save money on groceries is to avoid store tactics that trick you into spending more. For example, if you see an offer to get two of an item for $5, you usually don't have to purchase two to get the discounted price, Fobes said. If the sale price requires the purchase of multiple items, it must be in writing, she said.
Also watch out for purchase limits. "When you see 'limit 3' next to a display, it makes you think that if there is a limit, it is a must-have item and you need to get your limit," she said. "This is a common tactic used to lure you into spending more."