7 Easy Ways To Save on Groceries When Shopping for Yourself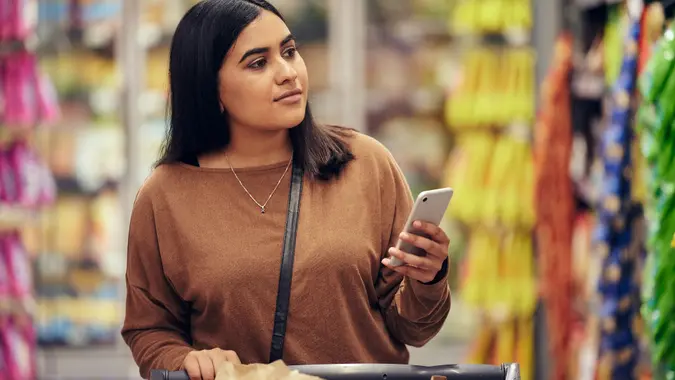 PeopleImages / iStock.com
Grocery shopping as a single person is just as challenging as shopping for multiple people. Those shopping for one need to make sure they are able to stick to a budget, invest in healthy food and ideally try to avoid any significant food waste. 
What can help keep grocery expenses down if you're flying solo? If you're shopping for one, here are seven easy ways to save on groceries. 
Make a List
Ashley Schuering, blogger at Confessions of a Grocery Addict, recommends making a list before going to the grocery store. Those who are shopping for one should review the contents of their refrigerator, freezer and pantry to see what they are currently out of and what they will need to cook meals throughout the week. 
When possible, Schuering said to organize the list by aisle. Doing so will keep you from wandering around the store and making impulse purchases. 
Buy Dry Foods in Bulk
Think uncooked rice, whole wheat pasta or high fiber dried cereal. Melissa Cid, deal expert for MySavings.com, recommends purchasing dry foods with long expiration dates in bulk when sales run at grocery stores. 
Once you have dry foods bought in bulk, you won't need to worry about buying more of them for a while. Cid said this opens up more opportunity on your weekly grocery list to buy perishable produce like fresh fruits and vegetables. 
Make Your Money Work for You
Purchase In-Season
Schuering said single shoppers who buy in-season fruits and vegetables, as opposed to out-of-season alternatives, will be able to save more money since in-season options are cheaper.
Buy Family-Size Meats
This might sound like a lot of meat for a single person, but there's grocery savvy in this purchase. Cid said shoppers can buy family packs of meats, like chicken breast and ground beef, and freeze them in individual meal size bags. You'll have meat for your next meal(s) and keep from participating in food waste.
Look for Frozen Alternatives
Want to buy fresh fruits or vegetables, but worry you won't be able to eat them before they expire? Schuering recommends looking into frozen fruits or veggie options. Not only are frozen alternatives cheaper than their fresh counterparts, but they're already prepared for you. This makes it easier to cook on the days or nights where you're on a time crunch.
Sign Up for Store Circulators
Get the most bang for your buck by signing up for grocery store circulators and using sales each week to plan meals and stock your pantry. Schuering also recommends using rewards points, store coupons and downloading rebate apps to stretch your dollars further.
Don't Grocery Shop Hungry
"If you're anything like me, when you're hungry, your impulse control is at a low, your emotions are running high and all the food looks delicious," said Schuering. "Do yourself a favor and eat a snack before hitting the aisles. Your pocketbook will thank you for it."
More From GOBankingRates
Make Your Money Work for You