Spend Just $35 a Week on Dollar Tree Groceries — Budget TikTok Explains How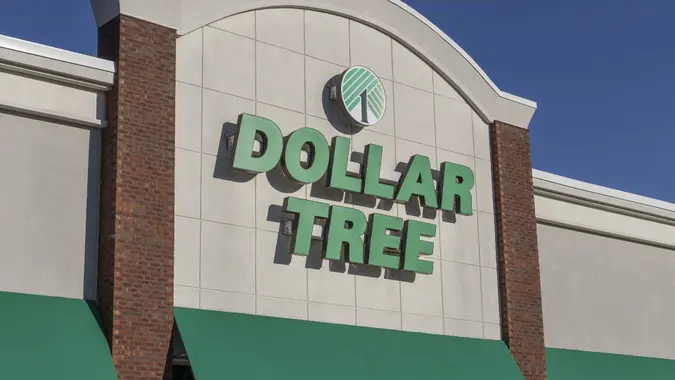 jetcityimage / iStock.com
With high food prices still a concern, many American households are getting creative with meals. This includes shopping at Dollar Tree for many staples. In fact, 20% of Americans buy at least some of their groceries at dollar stores, GOBankingRates previously reported.
One TikToker is taking dollar store shopping — and cooking — to the next level with a channel devoted to eating for just $35 a week using Dollar Tree groceries. That's just $5 per day per person.
Rebecca Chobat uses her account Dollar Tree Dinners to share meal recipes you can make using ingredients from Dollar Tree. Her account has more than 744.2K followers.
Chobat told Business Insider that her inspiration stemmed from helping people "who have to use Dollar Tree as a resource for their groceries — people with limited transportation, college students, and people who live in food deserts in the US."
Chobat revealed in one of her videos that she lives alone while her boyfriend is deployed, so she's only cooking for herself. But most of her meals feed at least three or four people, which can really help families stretch their food budget.
In her videos, she acknowledges that it's not always easy for some people to cook ahead and freeze their meals. In one video, she even explained the reason for her reliance on canned protein rather than, for instance, pre-cooking a large package of chicken in to use in multiple recipes.
Make Your Money Work for You
She said, "A lot of people who rent rooms, live in temporary housing or have small apartments often have limited to no refrigeration space. This means that they can't buy things in bulk. They can't cook things in bulk and they have to rely more on their pantry. […] The cheapest option available isn't always the most feasible option."
With this in mind, Chobat doesn't do a lot of batch cooking. But her recipes could easily be cooked in larger quantities and frozen for future meals.
In another video, she stated, "Most frequently, I get asked for Dollar Tree dinners that don't require frozen or refrigerated ingredients."   
Within these limitations, what's on the menu for Chobat?  
Chobat's menu includes a lot of tacos, chili and soup. Rice, beans and canned chicken and tuna are staples in her menu, because they are cheap and available at most dollar stores.
She relies on her multicooker for a lot of meals, including a one-pot tuna casserole and Jambayala. These recipes can also be made in a regular crockpot, InstaPot or on the stove top.
Some of the recipes on her channel include chicken pot pie, beef pot pie, Dollar Tree gumbo, sausage and gravy biscuits and smoked sausage alfredo pasta.
Make Your Money Work for You
More From GOBankingRates