States That Spend the Most and Least on Groceries

7 min Read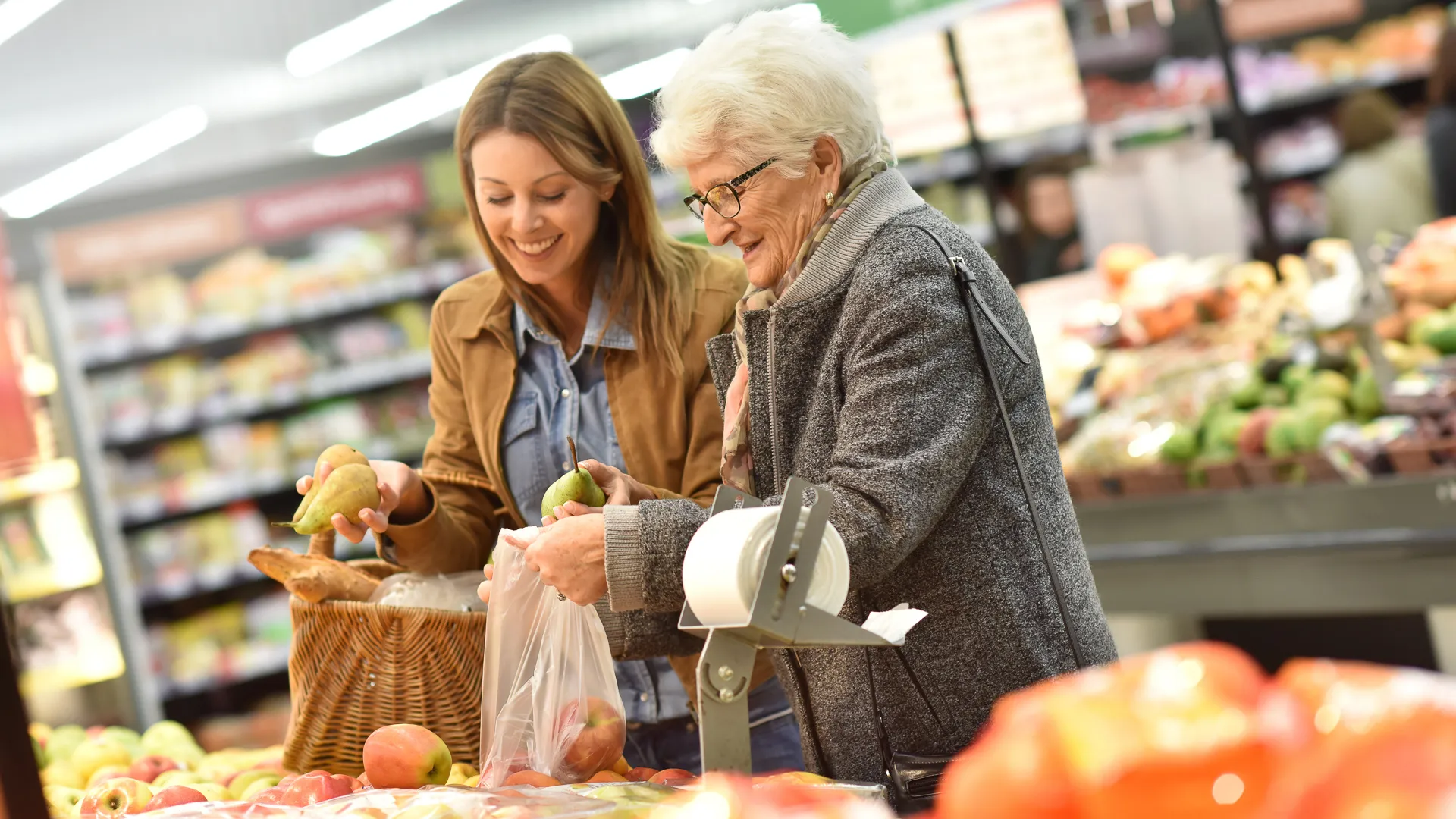 A lot of variables go into grocery bills. Some people spend as little as 8.7 percent of their income at the supermarket. Others spend one dollar out of every three they earn. Millennials tend to spend less. Women tend to spend more. One huge deciding factor, however, is where you live.
GOBankingRates examined data from the Bureau of Economic Analysis to determine what the average resident of each state pays for groceries every year, as well as other personal consumption expenditures that affect the day-to-day cost of living.
Want to learn where your state ranks in spending on groceries? Click through to find out how much America spends on groceries.
States That Spend the Least on Groceries
Although locales in the West and Southwest pepper the list of the states with cheap groceries, the South and the Midwest dominate the rankings. Interestingly, a few of these states are known to have a lower cost of living compared to others.
So, how much does the average person spend on food in the states that spend the least on groceries? Keep reading to find out.
10. Georgia: $2,697
Residents of just nine states spend less on groceries than people who live in Georgia. The state's population spent more on combined personal consumption in 2016 ― $357.3 billion ― than in any other state in the Southeast with the exception of Florida.
Stop Wasting Money: 35 Ways to Save Hundreds on Groceries
9. Missouri: $2,680
Not only are groceries cheap in Missouri, but residents of the state also spend less on housing, utilities, transportation and miscellaneous household spending on average than the American population as a whole, according to a GOBankingRates study on the cost of living in America.
Make Your Money Work for You
8. Indiana: $2,592
Indiana residents get a break not just on groceries, but also on housing — residents there spend just one-fifth of their pay on rent or mortgage, found a study by GOBankingRates that examined the likelihood of living paycheck to paycheck across America. Transportation and healthcare costs also are lower for an overall cost of living that's about 12 percent below the national average.
7. Arizona: $2,588
Not only is grocery spending relatively low, but total personal consumption expenditures are cheap in Arizona compared to the Southwest as a whole — and really cheap compared to the rest of America. A GOBankingRates study about lifestyle requirements in America's biggest cities found that if you want to live comfortably in Tucson, you'll need to make $45,414 a year. A nice life in Mesa requires $48,995.
See the Full Study: This Is How Much Money You Need to Live Comfortably in the 50 Biggest US Cities
6. Illinois: $2,567
Residents of just five states pay less for groceries than those who call Illinois home, but that's not the only category that makes the state attractive to penny pinchers. The cost of housing is nearly 10 percent lower than it is in the country as a whole, according to the GOBankingRates study on the cost of living by state.
5. Mississippi: $2,549
Cheap groceries are no outlier in Mississippi. Of the dozen states that collectively make up the region known as the Southeast, Mississippians spent less on total personal consumption expenditures in 2016 than every other Southeastern state except for West Virginia.
4. Alabama: $2,530
Wages are relatively low in Alabama but the state's $46,257 median household income goes further than it would in most states — and not just because it's in the top five for cheapest groceries. GOBankingRates' paycheck-to-paycheck study found that residents there spend less than one dollar in five on housing.
3. Arkansas: $2,529
Groceries seem to be cheap in Arkansas, but that's par for the course. Total personal expenditures are lower there than in the greater Southeast. This is especially true for housing, which is significantly less expensive than the larger region and much cheaper than it is in the country as a whole.
2. Utah: $2,487
Utah is one of only 18 states, plus Washington, D.C., with a median household income greater than $60,000 a year. Not only are wages high, but costs are low, according to GOBankingRates' paycheck-to-paycheck study. Groceries are the second-cheapest in the entire nation, and residents of no other state have more of their paychecks left over after they pay for housing.
Make Your Money Work for You
1. Oklahoma: $2,327
Oklahoma takes the title of cheapest groceries in the country. If you want a cozy life in Tulsa, however, you'll need to make $50,220, which is almost $8,000 more than the city's median household income, according to GOBankingRates research on the price of living in American big cities.
Watch and Learn: How I Spent $25 for One Week of Groceries
States That Spend the Most on Groceries
Two-thirds of the New England states combine to make up 40 percent of the list of states with the highest grocery bills. Residents of America's western, non-contiguous states also pay a hefty price at the supermarket. Here's a look at the states that spend the most on food.
Did Your City Make the List? The Cost of Living Is Quickly Rising in These 10 US Cities
10. Wyoming: $3,289
Wyoming is one of just 15 states, plus Washington, D.C., with annual grocery bills exceeding $3,000 — and it's also the No. 10 on the list of the most expensive states in the country to shop at the supermarket. Wyoming residents should follow expert shopping advice by shopping only once per week and taking inventory before they hit the supermarket.
9. Oregon: $3,359
Groceries aren't the only things that are pricier in Oregon. The cost of living in general in the state is more than 15 percent higher than the national average, according to GOBankingRates' study. Housing costs are especially prohibitive — more than 35 percent above average.
8. Montana: $3,399
The cost of groceries is high in Montana — especially considering the state's median household income of $50,027 a year is lower than the national median. The good news, however, is once you leave the grocery store, the cost of living is just about equal to the national average.
7. Massachusetts: $3,446
Although Massachusetts is the No. 7 on the list of most expensive states for groceries, that's actually a break for the residents who live there. When it comes to the overall cost of living, only four other states are more expensive than Massachusetts, according to GOBankingRates' cost-of-living study.
6. New Hampshire: $3,607
Just five states have higher grocery bills than New Hampshire, but the state is in a pricey neighborhood. When it comes to total personal consumption expenditures, New Hampshire is significantly more expensive than the country as a whole, but actually fairly cheap by New England standards.
Make Your Money Work for You
5. Hawaii: $3,784
A high grocery bill is the least of the problems for residents of notoriously expensive Hawaii. The price of paradise is a cost of living that's almost unrivaled in the entire U.S. In fact, Honolulu is one of the most expensive places to live.
4. Maine: $3,841
Although Maine is part of the expensive New England region, residents of the state spend less than their neighbors. Out of the nearly $725 billion the six New England states spent on total personal consumption in 2016, just $57.28 billion came from Maine, which spent less than all but two other states.
3. Alaska: $4,062
Although Alaska is one of just three states with $4,000-plus annual grocery bills, Alaskans — and people everywhere — can save real money by employing some useful strategies in the supermarket. This might include opting for the store brand, using cash-back apps and comparing price per ounce.
2. Vermont: $4,210
Groceries aren't cheap in Vermont. But then again, very little is — both in the state specifically or in pricey New England in general. A GOBankingRates study found that the cost of living in Vermont is more than 22 percent higher than the national average.
1. District of Columbia: $4,272
The most costly state in the country for groceries isn't actually a state — it's the nation's capital: Washington, D.C. Residents who live in the District might want to follow expert advice for saving money on groceries like sticking to a list, shopping alone and, of course, never shopping while hungry.
Up Next: The 15 Best and Worst Places to Live If You're Trying to Save Money
All data was sourced from the Bureau of Economic Analysis' news release on "Personal Consumption Expenditures by State, 2016," which was released on Oct. 4, 2017.
About the Author