The Single Best Thing To Buy at Aldi This May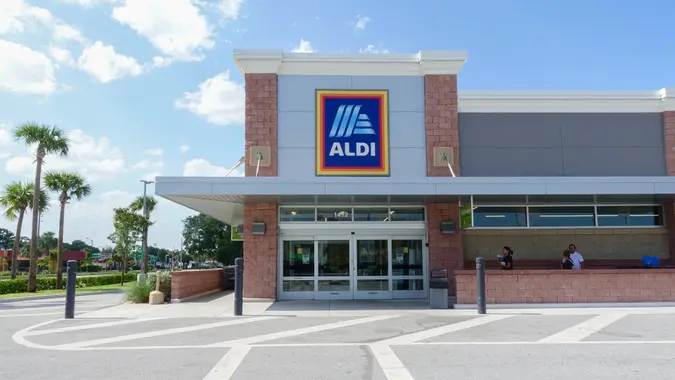 Joni Hanebutt / Shutterstock.com
Shopping sometimes feels like a sport. Getting the best price for the products you buy every day takes some strategizing. But when you shop at Aldi, you know you are getting top quality for your dollar, especially when it comes to Aldi's brand of products they carry in-house.
With so many great items at everyday low prices, you might ask yourself: What is the single best thing to purchase when you go to Aldi? GoBankingRates reached out to retail and shopping experts with that exact question. While they couldn't agree on one purchase, they did provide some great answers.
Here is what they said the best thing to buy at Aldi is.
The Best Thing To Buy at Aldi
According to retail experts, each of these items is the best thing to buy at Aldi this month.
Mama Cozzi's Thin-Crust Pizzas
Price: $5
Availability: In-store
"I try to eat grown-up food once in a while," jokes Nick Valentino, VP of market operations at Bellhop Atlanta Movers. "But there are definitely days when a frozen pizza is the only thing I have the time or energy for, and Mama Cozzi's thin-crust pizzas from Aldi are my new favorites. I got half a dozen of their new buffalo chicken flavor for only $5 each."
Make Your Money Work for You
Friendly Farms Nonfat Blended Greek Yogurt
Price: Less than $2 (depending on location)
Availability: In-store
"Greek yogurt is the best thing to buy from Aldi in May," says James Green, the owner of Build A Head. "It's a great source of protein, can be used to create many healthy snacks and meals and is incredibly cheap at Aldi. It's not even $2. It comes in numerous flavors, some of which are nice and refreshing for the summer."
Happy Farms String Cheese
Price: Varies depending on store
Availability: In-store
"It is my opinion that even though they may not be the ones really doing the shopping, Aldi's youngest customers nonetheless have a role in the selection of customer favorites," suggests Mark Valderrama, the CEO and founder Aquarium Store Depot. "Happy Farms string cheese, which has been on the winners list for the past three years in a row, is a favorite among young people and those who still have a childlike spirit."
Moser Roth Dark Chocolate Bars
Price: Varies depending on store
Availability: In-store
"Ah, Aldi, the treasure trove of unique finds!" exclaims Dustin Sitar, CEO of The Groom Club. "This May, I highly recommend grabbing a pack of their limited-edition gourmet chocolate bars. These delectable treats are crafted with high-quality ingredients and come in a variety of irresistible flavors like sea salt caramel, raspberry dark chocolate and coconut almond. Indulging in one of these heavenly bars is the perfect way to satisfy your sweet tooth and elevate your snacking experience."
Similar Aldi Products 
Aldi has a huge line of other goods and items that consumers might also be interested in beyond the month of May and into summer. Next time you go to Aldi, check out:
Make Your Money Work for You
Smithfield Fresh St. Louis Pork Spareribs
Price: $2.29 per pound
Availability: Online and in-store
Delicious, thick, and juicy – perfect for throwing on the grill or slowly smoking. When you want finger licking good spareribs, head into Aldi to get the best price for fall-off-the-bone taste.
Baker's Corner Giant Marshmallows
Price: $2.99 for 24-ounce bag
Availability: Online and in-store
S'more season has officially begun! Bring a bag of Baker's Corner light and fluffy marshmallows to your next campfire or throw it on top of some sweet summer treats.
Belavi 4-Piece Conversation Set
Price: $119.99
Availability: Online and in-store
Are you looking to create or enhance your outdoor space? Pick up this patio set that includes two chairs and a loveseat with textilene backs and seats for durability and comfort. Add the glass table in the middle and invite all your friends over for your next backyard party.
More From GOBankingRates