Trader Joe's Food Deals: What To Look For in March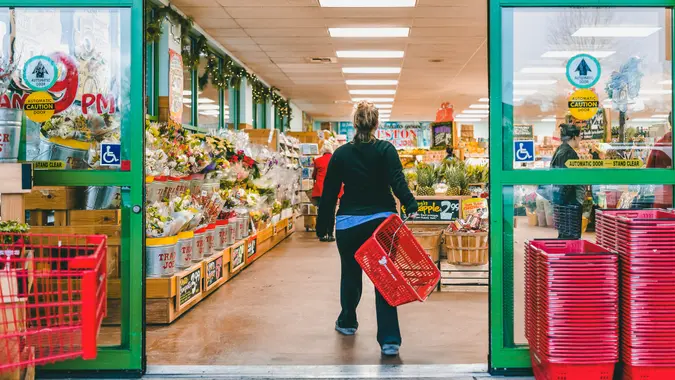 krblokhin / Getty Images
In these days of high inflation, going to the grocery store often means girding yourself for a painfully expensive checkout. Thankfully, Trader Joe's continues to lead as a source of affordable food.
$2,000 Quarter? Check Your Pockets Before You Use This 2004 Coin
See: 3 Signs You're Serious About Raising Your Credit Score
What's more, they're known for having unique options you can't find elsewhere and lower prices on things you can, such as dairy and beverages. Here are six products sure to make your March merry, keep your wallet happy and your bellies deliciously full.
Meatless Ground Crumbles
Even if your family isn't vegetarian or vegan, many people have been trying to reduce the amount of meat they eat or phase it out altogether. Trader Joe's Meatless Ground Plant-Based Crumbles are a great way to make that transition.
Even better, unlike actual beef, these crumbles don't require refrigeration, because they're dried, can be stored at room temperature, and will rehydrate with water during cooking into the equivalent of a pound of ground meat. They're made with textured pea protein plus savory spices. This 3.3-ounce pouch is just $3.99.
Make Your Money Work for You
Squiggly Knife Cut Style Noodles
Cooking dinner is a necessity for many, but sometimes it's nice to be able to cut corners and make a meal quickly without sacrificing quality or flavor. Trader Joe's has a new product called Squiggly Knife Cut Style Noodles with soy and sesame sauce.
Inside each package are four individually wrapped noodle packets, which cook up in just four minutes in boiling water. Toss on the soy and sesame sauce, or add your own. They can stand alone as a quick meal or you can add to a stir fry or make your own ramen. Just $4.99 for 13.55 ounces of pasta goodness.
Take Our Poll: How Much of a Tax Refund Do You Expect in 2023?
Pizza Sprinkle Seasoning Blend
It's easy to get into a cooking rut, where you make the same things over and over because it's easier than meal planning. Sometimes all you need to wake up your same old dishes is a new seasoning.
Trader Joe's Pizza Sprinkle Seasoning is a delicious, savory way to refresh pastas, baked potatoes, casseroles, chicken and more with a hint of pizza flavor. This seasoning doesn't just have the spices you associate with pizza — such as oregano, basil and paprika — it's steeped in a tomato powder and granulated garlic base to really call up the flavor of pizza. Get this delicious flavor addition for just $2.99 for 2.2 oz.
Make Your Money Work for You
Joe Medium Roast Ground Coffee
For the cost of a Grande latte at Starbucks, you can get an entire 14 oz. bag of Joe's medium roast ground coffee. The lighter roast means you get more caffeine per cup, with a milder flavor.
These 100% arabica beans hail from South America, where coffee is grown with extreme care, producing a flavor profile that will make your morning that much better. The price can't be beat, and you don't even have to grind your own beans.
Reserve Syrah Wahluke Slope 2021 Lot 237
Trader Joe's has long been known for its almost ridiculously affordable wine and spirits. After all, they put "two-buck Chuck" (Charles Shaw) wine on the map.
However, you can also get high quality wines for a steal, like this Wahluke Slope Reserve Syrah. The name is actually a Native American word for "rise," which is what your taste buds and spirits will do after sampling this delicious blend, which is 96% organic Syrah and 4% Merlot, grown near the Columbia River in Washington state. Delight your palate with a bottle for just $9.99.
Make Your Money Work for You
Strawberries & Cream Gelato
Spring may not officially be here yet, but she'll be making herself known sooner than later in some parts of the country. And with warmer temps will come a taste for cool treats.
Trader Joe's capitalizes on the popularity of the Italian version of ice cream — gelato — and mixes two perfect dessert complements, Strawberries & Cream, for a dessert that is perfect on its own or pairs nicely with cookies and cakes. It's comprised of strawberry puree, candied strawberry pieces and real vanilla bean (whose flecks you can see). Get a pint for just $3.49.
More From GOBankingRates
Make Your Money Work for You