Walmart's Grocery Prices Are 20% Lower Than the Average Store in Some Markets — How They're Winning the 'Grocery Inflation' Wars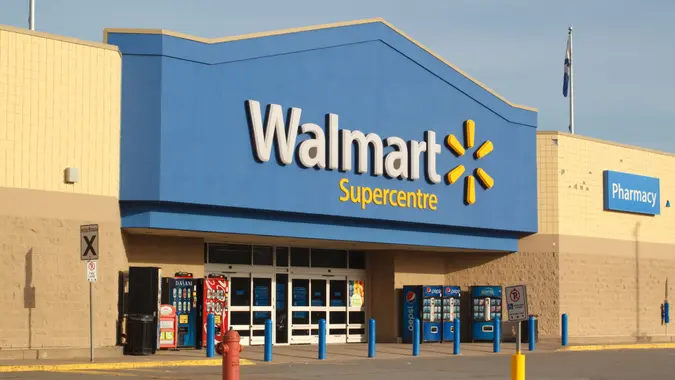 Kevin Brine / Getty Images
As with other retailers that sell groceries, Walmart has put much of its focus on how to deal with historically high food prices for everything from eggs and cereal to bakery and dairy products. The difference is, Walmart has built its brand on offering lower prices than rivals — and the massive discount chain has largely succeeded because it has the size and buying power to undercut the competition.
Walmart's grocery prices are at least 13% lower than the overall store average in a handful of U.S. markets analyzed last year by Consumers' Checkbook, a nonprofit organization that researches prices on a variety of products. In at least one market, Walmart beat the grocery average by 20%.
Here's how Walmart fared in terms of grocery prices in these markets, according to Consumers' Checkbook:
Minneapolis-St. Paul: 20% lower than the average
Boston: 19% lower
Delaware Valley (greater Philadelphia): 17% lower
Washington, D.C.: 16% lower
Chicago: 13% lower
Although these markets make up only a small portion of the total U.S., they presumably offer a representative sample of how Walmart fares elsewhere in the country.
There's no great secret to why Walmart can offer lower prices than most other grocery stores. As the Daily Meal website noted, Walmart is easily the country's largest retailer — and grocery chain — which gives it the ability to negotiate lower prices with its own vendors. Because Walmart gets better deals at the wholesale level, it can pass those savings on to its own shoppers.
Make Your Money Work for You
"Walmart can demand the lowest price from vendors and manufacturers and get the lowest price from them because they have so many stores," grocery store analyst John Karolefski told the Daily Meal.
Walmart has more than 5,300 hundred stores in the U.S. alone, according to a company fact sheet. And although it's not technically a supermarket chain, Walmart is still the largest grocery retailer in the United States. Grocery sales make up about 56% of overall annual revenue at Walmart, CNBC reported, which translates into hundreds of billions of dollars a year.
This doesn't mean Walmart can skip past the issues other grocery retailers face in the current inflationary environment. The retailer still has to pay close attention to eking out the right profit margins on many goods. And company executives are well aware of the problems consumers face affording even basic food items — despite a recent decline in the overall inflation rate.
"If you look at the headline numbers – sure, inflation is coming down because we're lapping higher prices last year," Chief Financial Officer John Rainey told Yahoo Finance following the retailer's latest quarterly results. "But if you're a consumer going to buy a basket of groceries, prices are still high."
Prices are so high that Walmart has begun to draw business from higher income and younger shoppers, Yahoo Finance reported – two groups that don't make up the retailer's traditional customer base. This has helped Walmart gain even more market share in the grocery segment.
Take Our Poll: Who Has Given You the Best Money Advice You Have Ever Received?

Make Your Money Work for You
"We're seeing trade downs in terms of buying less expensive meats, or instead of buying a pack of 12, they're buying a pack of six," Rainey said. "You can see that their wallets are being stretched more thinly."
More From GOBankingRates