Walmart Is Attracting More High-Income Earners — Here's Why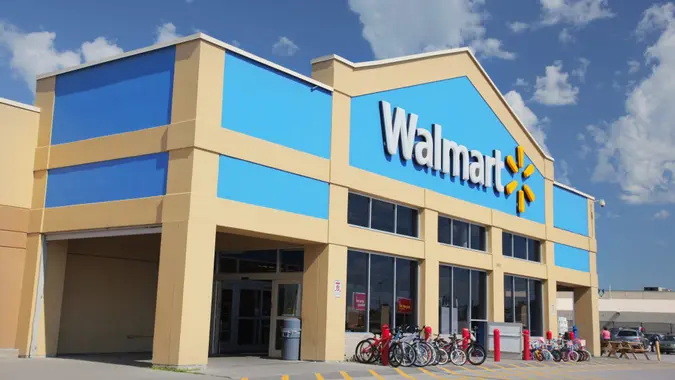 buzbuzzer / Getty Images
With stubborn inflation reflected in prices rising everywhere — even though it decreased to 7.7% in October — even high-income shoppers are looking for bargains and trying to stretch their dollars. With the consumer price index (CPI) food index rising 0.6% in October — a whopping 10.9% annually — it's no wonder that even those with more money are turning to big-box retailers such as Walmart to buy groceries. 
Good To Know: 9 Costco Brand Items That Aren't Worth the Money
See: 3 Easy Tips To Turn Your Credit Woes Into Wows
Inflation Affects Everyone
"Retail sales were up 1.3% in October, so the good news is that Americans are spending," said Kate Cheesman, vice president of customer success, DailyPay. "Of course, high-income earners feel the pinch of inflation like everyone else. More and more people are committing to shopping smarter and more efficiently, especially around the holidays. Walmart, Target, and Dollar Tree are great examples of retailers who provide a wide selection of products at competitive prices. Those at all income levels relish the opportunity to secure a great deal."
Make Your Money Work for You
To put this in context, 90% of Americans say they are concerned about food prices, according to a Harris Poll survey, while a survey from Numerator shows that inflation is indeed changing shoppers' habits.
In turn, Walmart — which reported annual U.S. sales growth of 8.2% for the third quarter — has been attracting higher income shoppers for the past few months, as explained by its executives during the company's' most recent earning calls.
"Customers that came to us less frequently in the past are now shopping with us more often, including higher-income customers," said CEO Doug McMillon on the call, according to the transcript of the Nov. 15 call.
And CFO John David Rainey added that while the chain is seeing continued gains in the grocery market share from households across income demographics, "nearly three-quarters of the share gain [is] coming from those exceeding $100,000 in annual income."
Take Our Poll: How Has Inflation Impacted Your Holiday Shopping Plans?
Why Is Walmart Such a Draw?
So what makes Walmart different and attractive?
According to Food Industry, Walmart — while not technically a supermarket — dominates the U.S. grocery market as it is the largest food retailer in the country and the No. 1 grocery chain. It was the leader in grocery sales — accounting for more than one-quarter of all grocery revenues in the U.S., Food Industry added. And its footprint is also impressive, as the chain operates 10,586 stores and clubs under 46 banners in 24 countries.
Make Your Money Work for You
In turn, Walmart's dominance means it can offer lower grocery prices as it has more leverage when dealing with vendors. "Walmart can demand the lowest price from vendors and manufacturers and get the lowest price from them because they have so many stores," John Karolefski, grocery store analyst and editor of Grocery Stories, told CNBC.
"No one wants to pay more when they can pay less and this extends to high income families. Everyone wants a deal," said Bobbi Rebell, author of "Launching Financial Grownups" and personal finance expert at Tally. "We also are in a time when even high-income earners are concerned about the economy and are looking to boost their savings and create as much financial security as possible. That means being smart when it comes to spending. Just because you can pay more, doesn't mean you should."
More From GOBankingRates
Make Your Money Work for You