I Buy All My Groceries at Aldi: Here's Why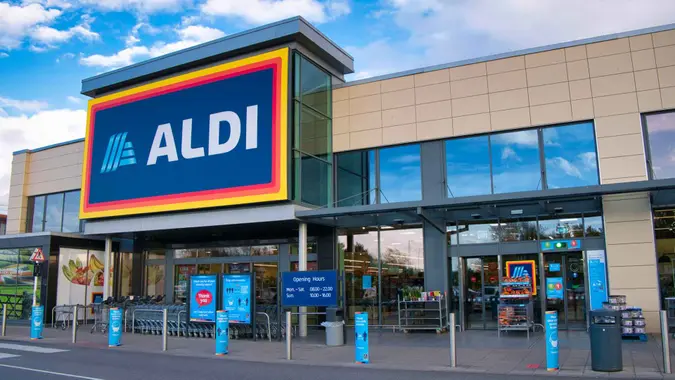 Alan Morris / Getty Images
Aldi offers low prices on household essentials and groceries, but people shop at this grocery store for more reasons than just that. The store's wide aisles, simple aesthetic and high quality products all draw in customers. These — as well as several other factors — make for some loyal shoppers who buy all or most of their groceries from Aldi every week (or month).
Loyal Aldi shoppers Mario E., founder of Being Human, and Eric Sornoso, CEO of MealFan, spoke about how they purchase almost all of their groceries from Aldi. Here's why they do it.
Simple Store Layout
Aldi has an easy-to-navigate layout with wide aisles that make shopping at the store hassle-free, even at busy times. Customers can go down different aisles without worrying about bumping into one another or having to wait for someone to move before they can get something from the shelves.
"Aldi stores are designed for efficiency," said Sornoso. "They're smaller and less overwhelming than some larger supermarkets. This makes shopping quicker and more convenient, especially for busy professionals."
With such a simple layout, people who might get overwhelmed in larger or more complicated stores can rest easy whenever they shop. It's also easier to learn where everything is, which can make shopping a breeze.
Make Your Money Work for You
"Aldi stores are thoughtfully designed with an open layout and clear signage, making it easy to navigate and find what I need," said Mario E. "The store is smaller in size compared to other supermarkets, making it a more manageable shopping experience."
Limited Selection
While having a limited selection might be a downside for some, it's a definite perk for others. Since Aldi doesn't stock its shelves with countless brands offering the same items, shoppers who don't want to have to make a lot of decisions can find what they need quickly and easily. This could also improve their overall shopping experience.
"While some may see this as a downside, I actually appreciate Aldi's limited product selection," said Mario E. "It makes grocery shopping much more efficient, as I am not bombarded with endless options and can quickly make my choices. The reduced selection also allows Aldi to focus on offering high-quality products at lower prices."
According to Aldi's official website, around 90% of its products are offered by Aldi-exclusive brands. The rest are from national brands. In other words, just because the selection is limited, doesn't mean you can't find what you need — or a very close alternative.
High Quality Groceries
Aldi might emphasize affordability over a massive selection of items, but that doesn't mean it's compromising on quality. Many of the groceries at Aldi are both budget-friendly and of comparable quality to what you'd find at more expensive supermarkets.
Make Your Money Work for You
"I've found their private-label items to be as good, if not better, than well-known brands in taste and quality," said Sornoso.
This is even true with Aldi's selection of fresh and organic produce. "Aldi carries a range of fresh produce and offers organic options at affordable prices," added Sornoso.
Plus, Aldi strives to be consistent in the quality of its goods.
"They have a strict quality control process and source their products from reputable suppliers," said Mario E. "I have been consistently impressed with the freshness and taste of their produce and other products."
Take Aldi's Simply Nature line as an example. This brand includes organic foods, which have a seal showing they're non-GMO or USDA Organic — depending on what you're looking at. Aldi even has a liveGfree line that includes gluten-free foods ranging from bread to cookies to pasta.
Sustainable and Environmentally-Focused
Another major reason why both Sornoso and Mario E. shop at Aldi is the store's focus on sustainability.
"They aim to use environmentally responsible practices, such as reducing plastic packaging and energy-efficient store designs," said Sornoso.
"Aldi has a strong commitment to sustainability and has made significant efforts to reduce packaging and promote environmentally-friendly practices," added Mario E.
On Aldi's website, it lists ways in which it's trying to promote sustainability. For example, Aldi has invested in environmentally-friendly refrigeration systems to reduce carbon emissions. It also has plans to make 100% of its packaging recyclable, compostable or reusable. This is good news for anyone who's particularly conscious about where they shop or wants to stick with stores with sustainable practices.
Make Your Money Work for You
Affordability
And last but not least, perhaps the most well-known reason why people like Sornoso and Mario E. shop at Aldi, is the overall affordability of its groceries and other household essentials. Aldi's competitive prices are hard to beat, especially when compared to other major supermarkets.
"One of the primary reasons I chose Aldi is the competitive pricing," said Sornoso. "Aldi consistently offers lower prices compared to many other grocery stores. This is a significant advantage for individuals and families looking to save on grocery bills."
Mario E. added, "The biggest draw for me is the unbeatable low prices at Aldi. Their efficient supply chain and no-frills approach allow them to offer their products at significantly lower prices compared to other grocery stores. This means I can stretch my grocery budget further without compromising on quality."
Part of the reason why Aldi is able to offer such low prices is because it has its own brand for many of its products. This helps Aldi avoid or eliminate costs — like marketing — associated with purchasing items from larger, national brands. Aldi also uses other measures, like a $0.25 deposit for shopping carts and limited store staff, to keep costs down. This all results in lower prices and more savings for the customer.
More From GOBankingRates
Make Your Money Work for You