Amazon 2023 Black Friday Deals You Shouldn't Pass Up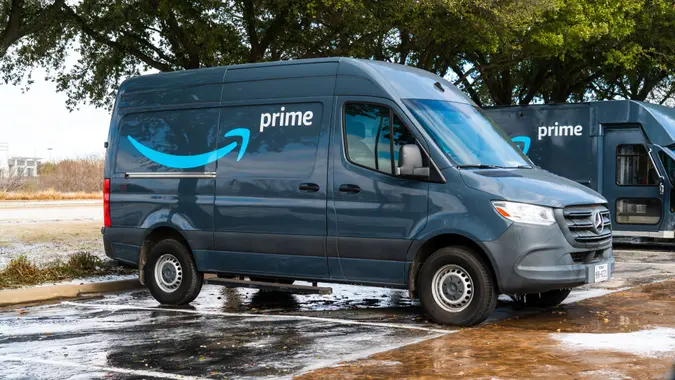 RoschetzkyIstockPhoto / Getty Images
Already a popular online retailer, Amazon is the go-to shopping destination for bargain hunters. Known for its fast shipping, everyday deals and Prime membership program, Amazon also happens to offer some of the best deals for Black Friday, which start on Nov. 17th this year. According to Julie Ramhold, consumer analyst at DealNews, ​​Amazon's "Black Friday ads are always notoriously vague," but with her help, GOBankingRates was able to pull together the best finds.
Here are some of the hot savings to be on the lookout for on — and leading up to — Black Friday.
Amazon Devices
Normal Price: $49.99 – $229.99
Sale Price: 70% off
"Alexa, can you tell me the best Amazon Black Friday deals?" Expect to save big on Amazon devices for Black Friday this year.
"This also includes the bundles they usually offer during their big shopping events," shared Ramhold. "Bundles this year should include things like the Echo Pop with free smart bulbs, Ring doorbells with Echo Show 5 and more."
Ninja Kitchen Appliances
Normal Price: Varies
Sale Price: Up to 44% off on select Ninja kitchen appliances
"This is a popular brand that tends to already be affordable, so the extra savings just make it better," said Ramhold. "While we don't know exactly what will be included in this Black Friday deal, it's enough to know it's worth checking out when the sale begins."
Make Your Money Work for You
Amazon Music Unlimited
Normal Price: $9.99/month
Sale Price: Free for three months
"Amazon customers that haven't tried the service yet can get three months for free," said Ramhold. The service provides access to more than 100 million songs and podcasts ad-free, on-demand and in high-quality streaming audio.
"Alternatively, new Amazon Music Unlimited customers can get four months of the service free with the purchase of select Echo devices."
De'Longhi Coffee and Espresso Machines
Normal Price: Varies
Sale Price: Up to $400 off on select De'Longhi coffee and espresso machines
Looking for the perfect gift for the coffee lover in your life? De'Longhi coffee and espresso machines are a steal this Black Friday on Amazon. De'Longhi is known for its high-quality, user-friendly machines that produce cafe-style drinks at home. Models like the De'Longhi La Specialista feature advanced technology for extracting rich flavor and creamy espresso. Compact designs like the De'Longhi Dedica Deluxe Bar Pump Espresso Machine save precious counter space.
With prices slashed for Black Friday, there's no better time to get your hands on these top-rated espresso makers that will turn your kitchen into a coffeehouse.
Le Creuset Dutch Ovens and Cookware
Normal Price: Varies
Sale Price: Up to 33% off on select Le Creuset Dutch ovens and cookware
For cooks who value versatility and durability in the kitchen, Le Creuset Dutch ovens and cookware are a fabulous Black Friday deal on Amazon this year. Le Creuset is beloved for its beautiful enameled cast iron that distributes heat evenly and retains moisture perfectly for braising, roasting, baking and more. From toughened nonstick frying pans to the iconic round Dutch oven, these kitchen staples from Le Creuset will become family heirlooms.
Make Your Money Work for You
And with deep discounts for Black Friday, it's the ideal time to invest in cookware that will last a lifetime.
Dyson Vacuums and Air Purifiers
Normal Price: Varies
Sale Price: Up to 30% off on select Dyson vacuums and air purifiers, Nov. 22-27
Dyson is known for engineering ingenious home appliances that outperform others with patented technology. Their lightweight, maneuverable vacuums feature ball steering and powerful suction to lift deep dirt and dust from carpets and hard floors. Their intuitive air purifiers use HEPA filters to capture pollutants and circulate clean air.
Whether you need to deep clean your floors or create a healthier home, Dyson devices deliver results. This Black Friday is the perfect opportunity to save on these game-changing appliances that make home care a breeze.
Ruggable Washable Rugs
Normal Price: Varies
Sale Price: Up to 25% off on Ruggable x Sarrah and Verena washable rugs
Ruggable's machine-washable rugs are a must-have Black Friday deal on Amazon. Made in collaboration with popular interior designers like Sarrah and Verena, these stylish rugs can handle life's messes. Just vacuum regularly and throw in the washing machine as needed — no heavy rug cleaner rental required.
Kaitlin Willow contributed to the reporting for this article.
More From GOBankingRates