15 April Fools' Day Deals and Freebies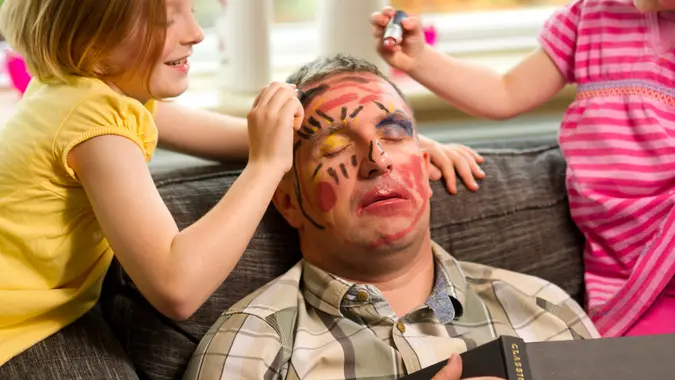 sturti / Getty Images
Pranksters rejoice: April Fools' Day is drawing near, which means it's almost your chance to trick your friends into believing something that isn't true before shouting, "Just kidding — April fools."
No one is exactly sure when the trend of pranking others on the first day of April began. Some historians trace the tradition all the way back to the Council of Trent in 1582, which makes perfect sense considering how lighthearted and funny daily life was during the Dark Ages in Medieval Europe (just kidding; April fools). Today, retailers, restaurants, stores and businesses honor the day of joking by offering serious discounts, freebies and deals.
Here's where you'll find the best deals for April Fools' Day.
Cheap Flights and Other Discount Travel Specials
Looking to get away this spring? April Fools' Day deals on lodging and rental cars are yours for the taking.
Best Western:

 

Best Western is giving away $10 gift cards to Best Western Rewards members who stay at the chain through April 29.
Dollar Rent A Car:

 

Sign up for emails and you'll get a 15 percent discount on the base rate of your next rental on April Fools' Day and beyond.
Orbitz: Use coupon code JUSTLIKETHAT to save an extra 15 percent on select hotels through April 22.
Vacation Express: The April Sale includes steep discounts on travel packages throughout the Caribbean.
Don't Miss: Flight Attendants Dish Their Best Money-Saving Travel Tips
Make Your Money Work for You
Aprils Fools' Restaurant and Food Deals
You can score a food discount at plenty of eateries and restaurants on and around April Fools' Day. Here's where to save on food this April 1:
Hungry Howie's:

 

Use coupon code 99CHEEZ to get 3-Cheeser Howie Bread for 99 cents on online orders of $12 or more.
Marco's Pizza:

 

Register with Marco's and you'll get 10 percent off your first online order.
Olive Garden:

 

Olive Garden is advertising a range of classics starting at $11.99 as well as several early-bird specials. Also, first-time email subscribers get their choice of a free appetizer or dessert with the purchase of two entrees.
Papa John's:

 

The Lucky 7 special gives you the chance to get two large, one-topping pizzas for $7.77 each. Also, if you use coupon code THANKSME on an order of $20 or more by March 25, you'll get a free large, three-topping pizza anytime between now and April 8.
Pizza Hut:

 

You can get a large, two-topping for just $7.99, but only if you order online.
Wingstop: You can sign up for emails

 

and get a free order of fries for your troubles.
Merchandise and Clothing Deals on April Fools' Day
Spring is the perfect time to re-up on your warm-weather wardrobe, especially considering how many April Fools' Day apparel deals are available. Here's where to save on clothes:
American Eagle: All jeans and shorts are buy one, get one 50 percent off at all U.S. stores and online.
April Cornell: The Attic Sale is here, where you can save on past-season collections for girls' and women's clothing, home decor, linens and more. Plus, you'll save 10 percent on orders of $75 or more when you sign up for emails.
Dope:

 

The Dope April Sale has been announced, but merchandise deals have not yet been added. When they do arrive, remember that orders over $50 get free shipping.
Forever 21: Sign up for emails and you'll get 10 percent off your first purchase.
Guess: If you're a Guess List member, you can save $25, $50 or $75 when you spend $125, $200 and $250, respectively, now through April 12. Sign up for emails and you'll also get 15 percent off plus free shipping on your first order.
Revolve:

 

Although Revolve hasn't yet announced its April Sale, RetailMeNot predicts you'll be able to save up to 50 percent throughout the month. Also, you'll get an extra 10 percent off when you sign up for the Revolve newsletter.
Make Your Money Work for You
Save the Dates: From Coach to Zara — 20 Yearly Sales to Add to Your Calendar Today
April Fools' Day Freebies and Discounts for Everything Else
If you're interested in more than saving on travel, food and clothing, check out these other April Fools' Day freebies and discounts:  
Best Buy:

 

Audiofest is here, which means savings across virtually every category that involves sound — and several items that don't. RetailMeNot is offering a

 

Best Buy coupon

 

that you can print and bring in to increase your savings through April 7.
Sephora:

 

The annual spring sale is almost here. Although exact dates haven't yet been announced, it will be sometime in April. Beauty Insiders will be able to save 10 percent and VIB Rouge members will save 15 percent.
Samuels Jewelers: Diamonds are the April birthstone and Samuels is offering discounts on diamond pendants, necklaces, bracelets and more.
SportChek: Save up to $70 on select Garmin fitness trackers when you buy by April 2.
Up Next: Things Successful People Never Pay Full Price For