Best Walmart Thanksgiving Shopping Deals for 2023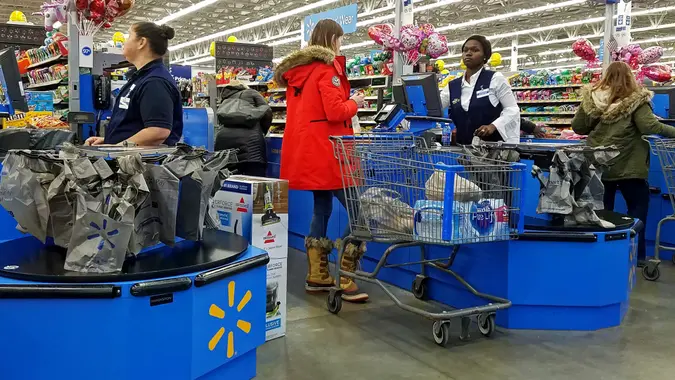 QualityHD / Shutterstock.com
With Thanksgiving just around the corner, now's the time to score some great deals for the upcoming holiday season. One place to shop for these deals is Walmart — both in-store and online.
Around this time, you might be able to find major markdowns on items like kitchen appliances, electronics, apparel, and sports gear at Walmart locations nationwide. While the exact sales might not be widely available yet, it's still worth checking out some of these Thanksgiving and Black Friday shopping deals as they come up.
Televisions
Black Friday and Cyber Monday, which take place shortly after Thanksgiving, are great days to shop for televisions at Walmart and other major retailers. Not only can you find some major discounts, but you can also start shopping early.
"This year at Walmart, I snagged an awesome deal on a 4K TV, marked down by 30%," said Nikita Sherbina, co-founder of Aiscreen.io.
Kimberly Wall, co-founder of BibleKeeper, added, "For those who are upgrading their home entertainment systems, Walmart often slashes prices on LED Smart TVs during the Thanksgiving period. You can expect to find certain models for hundreds of dollars less than their regular price"
Electronic Gadgets and Gizmos
Whether you're in the market for a new iPad, smartphone, smartwatch, or another small electronic device, there's a good chance that you'll find some great shopping deals at Walmart this Thanksgiving.
"These [devices] often feature discounts ranging from $30 to $100," said Eugene Klimaszewski, president of Mammoth Security. He said this Thanksgiving is "an ideal opportunity to grab tech gifts for the family or enhance your own gear affordably."
Make Your Money Work for You
Michael Chien, CEO and marketing director at 101Karaoke, added that you're bound to find some great discounts on other electronics as well. This includes smart home devices, entertainment consoles, and much more.
I Stopped Shopping at Aldi: Here's Why
Sporting Gear
Most Walmarts sell an array of sporting gear, such as footballs, nets, basketball hoops, bicycles and other fitness equipment. Around this time of year, the retailer also tends to mark down some of their prices on these items.
"By offering discounts on sports gear, Walmart promotes an active lifestyle accessible to everyone," said Yuliya Frolova, CEO and co-founder of ActiviFinder Inc. Sporting goods can make for great gifts as well. So, if you're doing some last-minute holiday shopping, keep an eye out for store-specific sales.
Smart Home Devices
Modern technology and smart home devices have allowed people to make their homes more secure and private. They also make it easier for people to schedule appointments, play music, adjust their lighting and more.
Walmarts sell various smart home devices, so if you're looking for ways to upgrade or secure your home but want to save money, check out the retailer's upcoming deals.
"Smart home gadgets like voice assistants and automated vacuum cleaners have been highly sought after," said Mollie Newton, founder of PetMeTwice. "Walmart has a history of slashing prices on these helpful devices, making [Thanksgiving] a wise time to upgrade your home technology."
Vitamins
Walmarts everywhere sell an assortment of vitamin supplements and other healthcare products. While discounts vary by location, you're bound to find some of these items on sale around the holiday season.
Make Your Money Work for You
"As a healthcare marketplace expert, I appreciate [Walmart's] emphasis on health during the holiday season," said Akshaya Srivatsa, CEO and co-founder of care better. "The great deals on vitamins not only make essential supplements more accessible but also contribute to promoting a healthier community."
Kitchenware
Kitchenware and other home appliances are worth checking out if you're looking for some great Thanksgiving deals. This is because Walmart typically slashes their prices on these types of items around this time of year.
Walmart offers "incredible deals on select cookware sets, with discounts of up to 50% off," said Wall. "These sets typically include essential pots, pans, and lids — perfect for preparing your holiday feast. A quality set that usually retails for around $100 might be available for just $50, offering great value for those looking to upgrade their kitchen arsenal."
"This year, look out for deals on slow cookers and air fryers, sometimes up to 50% off," added Klimaszewski. "That means you could snag a quality slow cooker perfect for those hearty Thanksgiving dishes for as low as $20."
Not all kitchen appliances will benefit from as steep of discounts. However, you could still find deals of around 30% off on various kitchenware at your local Walmart.
Home Decor
Walmart sells an array of home decor items that can transform your living space, including seasonal items and holiday decorations. As each holiday passes, certain items drop in price as the retailer swaps out its merchandise.
"There's something magical about stumbling upon discounts on holiday decorations and home decor. It's like adding a touch of festive cheer without the hefty price tag," said Riley Annen, property investor at Companies That Buy Houses.
So, how much can you save? Well, this depends on where and when you shop — and for what. "From table settings to festive decorations, expect to save anywhere from 20% to 40%. You could find beautiful centerpiece items or themed linens at a great value, sometimes under $10," said Klimaszewski.
Outdoor Equipment
Walmart also sells outdoor equipment, which is great for anyone who loves the great outdoors. During the holiday season, the retailer sometimes lowers their prices on these types of items, making for some solid savings opportunities.
Alexander Havkin, regional sales manager at Ecoline Windows, pointed out that Walmart often has sales during Thanksgiving on camping gear, fishing tackle and sports equipment. These deals, according to Havkin, "come at the right time for the off-season, making it an excellent opportunity to prepare for next year's adventures."
Clothing
As Walmarts start switching out current selection of apparel to suit the current and upcoming season, you might also be able to find some great shopping deals if you're looking to update your current wardrobe — or buy gifts for loved ones.
"Look for significant discounts on clothing for the entire family. With rollback prices on winter essentials like coats, boots, and accessories, Walmart makes it budget-friendly to outfit your family for the upcoming colder months," said Havkin.
Grace White, head of design and development at Lilo, suggested looking into men's sweaters as you can often find deals for up to 25% off. The same goes for dresses, which can be as much as 30% off.
More From GOBankingRates