More Room, Less Spend: Top 8 Affordable Home Expansion Ideas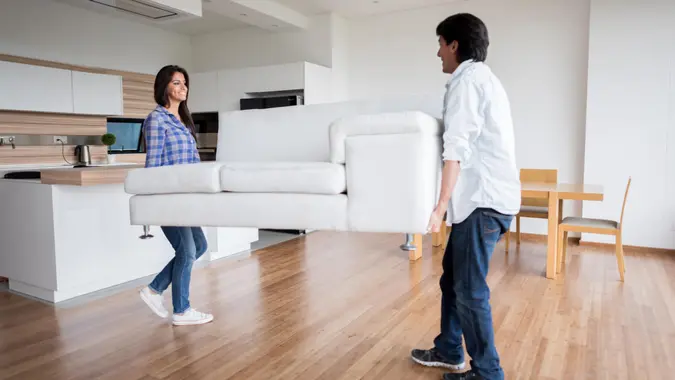 andresr / Getty Images/iStockphoto
If you've outgrown your home but aren't ready to trade up to a larger one, you might've considered building an addition. Although that's one way to expand your living area, it comes at a high cost — anywhere from $90 to $210 per square foot. Other options achieve the same goal for a lot less money. Keep reading to learn more.
8 Affordable Ways To Expand Your Living Area
The following eight ideas for expanding your home cost much less than adding an addition, and they're faster and easier to execute:
Enclose your porch or patio
Finish your basement
Finish your attic
Convert your garage
Bump out a room
Change up your floor plan
Add an accessory dwelling unit
Add a sunroom
Before you start any construction project, indoors or out, check with your homeowner's association and local zoning office to find out about permits, zoning and code requirements.
1. Enclose Your Porch or Patio
Your porch or patio already has a floor structure. Add walls and a ceiling, and you've got an entirely new room for a lot less than the cost of adding on. The job can be as simple as adding a screen or three-way window system or as complex as a fully framed-in glass enclosure.
Costs vary with the complexity of the job and the materials used. Design Buildings Inc., a home improvement contractor, notes on its website that jobs in that market range in price. Here's a look:
Straightforward enclosures can be around $7,000.
More complicated jobs with new rails, trim work, stairs or landings can cost up to $15,000 or more.
Make Your Money Work for You
2. Finish Your Basement
Finishing your basement might be the most cost-effective way to add a lot of space to your home. Because the electrical and plumbing are already roughed in or even finished, and the full structure is in place, the job is much easier and less expensive than constructing a room from scratch.
The major costs involved in finishing a basement include drywall, insulation and windows providing a way out of the home in case of an emergency. However, you can take the job a step further and add a bathroom or create separate living areas. You can expect to pay the following, according to HomeGuide:
$30 to $50 per square foot.
$15,000 to $75,000 for a 500-square-foot to 1,500-square-foot basement.
With finishes, one bedroom in the basement could run you $3,000 to $12,000.
3. Finish Your Attic
If your attic is accessible by stairs or adjoins another room in your home, finishing it could add space suitable for use as a bedroom or guest room, office or playroom. If the peak of the ceiling is low, a dormer could add enough height to allow an adult to stand upright.
You'll have to ensure that your home is structurally capable of bearing the extra weight, and you'll have to work around your HVAC system. Here are the costs to consider, according to Angi:
Finishing your attic could cost $30 to $100 per square foot.
Adding just a dormer costs between $2,500 and $20,000, depending on the size.
4. Convert Your Garage
As nice as it is to have a clean, dry place to store your car, sports equipment and other items, perhaps your garage would serve you better as a finished room. Depending on the size of your garage, you could convert the entire thing or just part of it so that you still have storage space.
A basic conversion costs about $6,000 to $26,000, depending on the size, the scope of the work and the materials used.
Adding electric, HVAC and/or plumbing will increase the costs.
Make Your Money Work for You
5. Bump Out a Room
A bump-out is a small addition that expands the size of a room without expanding your home's foundation. Most are just a few feet deep, which makes them a good choice for enlarging a bathroom, adding a dining nook to a kitchen or creating a walk-in closet in a bedroom.
Factors that influence the cost of a bump-out include the size, the materials used, the number of windows, if any, and any electrical work that needs to be done. According to HomeAdvisor, you can expect the following:
Prices start at about $1,700 to $4,200 for a 20-square-foot addition.
A 90-square-foot space could cost $7,650 to $18,900.
6. Change Up Your Floor Plan
Reconfiguring your floor plan could eliminate the need to expand your home beyond its current footprint by improving traffic flow and making more efficient use of the space. Dave Fox notes that rearranging kitchen and bathroom floor plans can have an especially strong impact on flow and usability. Other ideas include:
Turning a bedroom closet into an en suite bathroom.
Eliminating walls to combine rooms.
Open up awkward hallways to create a more open layout.
The cost of a floorplan change varies widely depending on many factors, including the scope of the job, the materials used and whether or not you're adding bathrooms. As a general rule of thumb, expect to pay between $60 and $150 per square foot.
7. Add an Accessory Dwelling Unit
An accessory dwelling unit is a separate living area built on your property that is not attached to your home. You can use an ADU as a guest room, recreational space, home office or studio or even an in-law suite — or "granny flat."
An ADU intended for use as a living space is a more costly option. Here are some key takeaways to know:
ADU prices start at about $30,000.
These spaces can be as simple or elaborate as your budget allows.
You might not need to build one from scratch — a properly converted shed or other outbuilding might work just fine.
A shed installation averages about $4,500.
It'll cost another $500 to $12,500 to run underground electrical wires and wire the interior.
8. Add a Sunroom
A three- or four-season sunroom costs far less than a standard room addition because the walls are mostly glass. Since the room typically isn't connected to your home's plumbing, heating and air conditioning systems, you can expect to save money on those updates. Instead, you can control the temperature with insulation and portable heating and a/c units.
The cost to build a sunroom ranges from around $8,000 to $80,000, depending on the size, style and materials.
Going with a prefab model can save you money.
Good To Know

A screened porch is a budget-friendly alternative to a sunroom. While best suited for warm climates, the $2,000 to $2,800 price tag could be worth it even if you can only use it for the warmer months of the year.
How To Get More From the Space You Already Have
Making better use of the space you already have could save you the cost of a major remodel. Here are a few ideas:
Built-ins: Wall studs can support recessed shelving that expands your storage area without taking up floor space. Consider them for unused wall space in hallways and foyers in addition to the main living areas of your home.
Under-utilized space: Turn an unneeded closet or the unused space beneath your staircase into a built-in shelving unit, or convert it into a play area, reading nook or home office.
Storage furniture: Benches, beds, coffee tables and ottomans all come in styles with built-in storage. They can expand your current storage space and might eliminate the need for separate cabinets and dressers.
Data is accurate as of Sept. 27, 2023, and is subject to change.
Our in-house research team and on-site financial experts work together to create content that's accurate, impartial, and up to date. We fact-check every single statistic, quote and fact using trusted primary resources to make sure the information we provide is correct. You can learn more about GOBankingRates' processes and standards in our editorial policy.