6 Affordable Home Renovations You Can Do With Costco Finds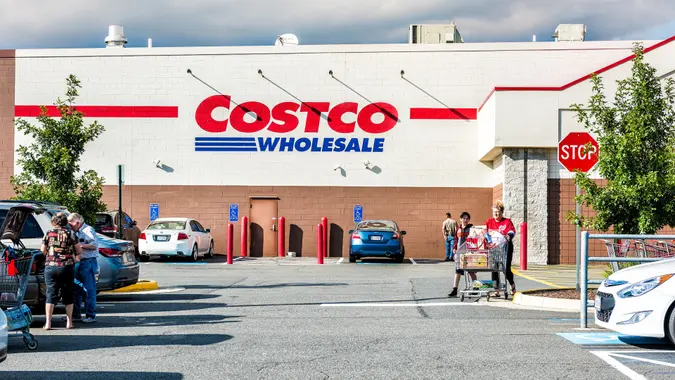 855684128 / iStock.com
The popular members-only warehouse club Costco is more than just the go-to place for bulk buys and a great deal on hot dog and a soda. It's also a solid option for homeowners looking for affordable, high-quality supplies for their DIY home renovation projects.
Among other things, Costco has an assortment of hardware, lighting, flooring, cabinetry and other accessories that can spruce up your home. Many of these deals are perfect for minor aesthetic home improvements, but some are also highly functional — perfect for the more pragmatic DIYer.
Whether you're thinking about selling your home and want to up its value, or you simply want to make your home feel more like you, here are some affordable home renovation projects you can do with finds from Costco.
Refresh Your Interior or Exterior Walls
Giving your home a fresh coat of paint can increase its curb appeal and raise its market value. This is especially the case with older homes where the current paint has visible signs of age.
Make Your Money Work for You
"The most basic home renovation project which will make a big impact is to give your walls a fresh coat of paint. Repainting walls, ceilings and trim can give your home a fresh, clean and sleek look. Choose a neutral or trending color to create an updated atmosphere," said Kat Christie, licensed contractor, DIY expert and founder of She Fixed That. "Remember, if you are going to be painting, to get the proper materials to keep the space safe for you and any animals!"
Christie added that you can get different painting supplies at Costco and other big box stores. Although Costco doesn't generally sell paint, the warehouse club does have affordable paint sets. For example, the Vaughan 21-piece Paint Set costs $29.99 and comes with several brushes and rollers you can use for your home painting project.
Upgrade Your Lighting Solutions
Another inexpensive home improvement project you can do yourself involves updating the lighting. Not only does this serve a functional purpose, but it can also significantly improve the room's overall atmosphere and add value. And if you go with energy-efficient lighting solutions, you can lower your energy bill and save money in the long run.
Make Your Money Work for You
"If you are just looking to update one space in your house, you can replace the lighting fixture for an updated and fresh look," said Christie. "You can get lighting fixtures at Costco, and replacing outdated light fixtures with more modern ones can instantly change the ambiance of a room."
One Costco product is the Artika Skyler Bubble Glass Sconce, which you can get for $36.99. It doesn't require light bulbs. It also provides 600 lumens of light for around 50,000 hours.
Alternatively, there's the Energetic Lighting 14″ LED Flush Mount Fixture for $29.99. This option is great for homeowners who want a more minimalistic ceiling light solution.
Costco also sells light bulbs. For example, the retailer sells a 12-pack of Feit Electric LED BR30 Flood Bulbs for $39.99. They also have the Feit Electric 100W Replacement 5-CCT LED A21 Bulbs for $42.99. Just make sure any bulbs you buy work with the light fixtures you have.
Put in New Doorknobs and Faucets
If you live in an older home and want to update the style, you might want to get some new hardware and faucets. Upgrading your hardware using some things you can find at Costco and similar stores is a great way to improve your home.
Make Your Money Work for You
Take, for instance, the handles of your cabinets and doors.
"Another great budget-friendly way to update a space is to replace and refresh doors, handles and hardware," said Christie. "Costco has both interior and exterior door handles and hardware, and replacing doors or updating knobs and handles on doors and cabinets can give your home a modern look on a budget."
Brittany Zalkin, a real estate agent at MZB Properties, added, "I have bought some gorgeous handles from Amazon, Home Depot and Costco and replaced them with just a screwdriver."
In terms of doorknobs, Costco has several options, such as the four-pack of Kwikset Halifax Passage Door Levers for $109.99. If you're looking for cabinet handles, there's the Octa Series Modern Cabinet Pull, which comes in a pack of five for $29.99.
Costco also has several types of faucets available for purchase. For instance, the Kraus 18″ Pull-Down Commercial Kitchen Faucet with Matching Soap Dispenser is a great addition to any sleek, modern kitchen. It costs $199.99.
Install New Flooring
Installing new flooring might be on the more expensive side when it comes to home renovations, but it can also be very worthwhile.
Make Your Money Work for You
"While it may be one of the more expensive DIY home renovation projects, installing new flooring can give your home a completely new look and feel," said Nick Lopez, founder of LIME Painting. "If you're looking for a cheaper alternative to hardwood floors, consider laminate or vinyl plank flooring. For around $1,000 to $2,000, you can install new flooring in a medium-sized room."
You might be able to get some cheaper flooring options at Costco than you can at other locations.
"Believe it or not, Costco can be an excellent source of low-cost home renovation supplies," said Todd Saunders, CEO of FlooringStores. "The wholesaler carries everything from light fixtures to flooring and is a great alternative to traditional home improvement stores. Even on a tight budget, you can still complete plenty of small projects that will make your home feel updated."
One flooring option at Costco is the Golden Arowana Bleached Sand 7mm Thick HDPC Waterproof Engineered Wood Floor. It costs $64.99 and covers around 16 square feet.
Make Your Money Work for You
Install Smart Home Accessories
Smart home accessories can include both energy-efficient devices and those that improve the safety and security of your home. These devices are not only handy, but they can increase your property's value with minimal effort.
"Many of us already use Alexa or Siri," said Zalkin. "Making your home run off an app can help you save on your electric bill, help with security and is simply just easier to use. Smart light bulbs, light switches, thermostats, music systems and more can all be purchased easily at Costco, Amazon, Home Depot, etc. Just make sure they are all compatible on the same app to ensure seamless usage."
For instance, Costco sells a three-pack of indoor and outdoor Ring security cameras with adjustable mounts for $249.99. The retailer also carries the Google Nest Learning Thermostat with Nest Temperature Sensor.
Put in Some New Cabinetry
"The focal [point] of every home is the kitchen. It's the place we spend the most time," said Zalkin. "Costco offers full design and remodel — at no additional cost — to install brand new cabinets and even countertops. Plus, when you use their home improvement service, you receive a Costco Shop card that is equal to a percentage of the pre-tax amount spent on the renovation, which is about 10% to 15%. I just used them on a recent project and was very pleased!"
Make Your Money Work for You
When it comes to cabinetry, Costco has a few options. For example, there's the NewAge Products Bold 3.0 Series Storage Cabinet 8-piece Set for $1,599.99. This set is constructed from heavy-duty steel and is a great addition to a modern mudroom, garage or kitchen. Another cabinet set is the Home Wine Bar Cabinet 5-piece Set with Display Shelf for $1,799.99.
More From GOBankingRates