9 Best Spring Cleaning Products Under $10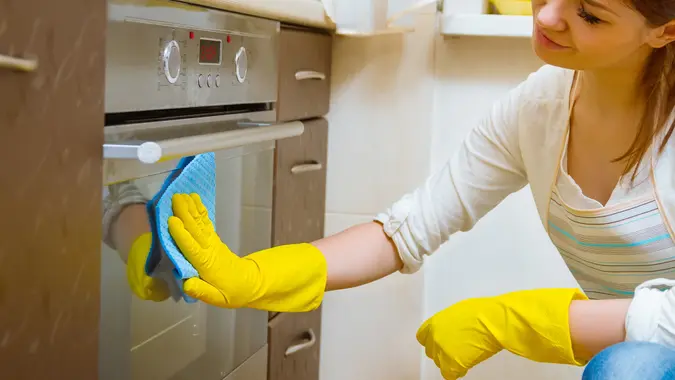 ©Shutterstock.com
It's that time of year. Get ready to give everything in your home a deep clean.
Though it might not always be the most enjoyable activity, it can be made a lot easier and faster with the right products. Here are the solutions that will get the job done well and won't cost an arm and a leg.
Dawn Dish Soap
Price: $2.94 for 18 ounces at Walmart
Of course, Dawn is great for dishes, but it actually has a ton of other great uses, too. You can use it to pre-treat laundry stains, clean greasy tools and car wheels and remove grease. Reviewers also say that, in addition to effectively cutting through grease, it doesn't bother people with allergies. 
Stardrops The Pink Stuff: The Miracle All Purpose Cleaning Paste
Price: $5.97 on Amazon
What can't The Pink Stuff do? The vegan and cruelty-free paste is said to remove stains, grease and grime from stoves, kitchen floors, metal, ceramic, porcelain, marble, wood, silverware, jewelry, shower doors, stove tops, toilets and more. One satisfied review reads, "I tested one of my shower doors to see the difference and Holy Moly! I've NEVER been able to remove soap scum like this! I'm so glad I purchased The Pink Stuff!"
Make Your Money Work for You
Microfiber Duster With Extension Pole
Price: $9.99 on Amazon
The advantage of this duster is its ability to reach spots that are very high or otherwise hard to get to. The pole lets it reach 100 inches when fully extended. The microfiber head is flexible and bendable to reach all angles. This duster has more than 2,900 5-star reviews on Amazon. 
Bar Keepers Friend Cleanser Powder
Price: $2.13 for 21 ounces at Walmart
Say goodbye to grime with this cheap but effective scrub. Use it to get rid of rust, lime, hard water and mineral deposits. It works to clean, shine and restore stainless steel, copper, brass, ceramic, porcelain, chrome, fiberglass and other hard non-stone surfaces.
One satisfied review reads: "I've been using it on my Berghoff stainless steel cookware for 10 years now, and it still looks brand new. Awesome stuff and a great value."
OxiClean Washing Machine Cleaner 
Price: $7.49 for 4 on Amazon
Did you know your washing machine needs to be cleaned? Luckily, it doesn't cost too much to do it with these. They help remove odor-causing residue left over from wash cycles.
One review reads: "These little packs of cleaner get rid of all the build-up and make it smell pretty again. They are so easy to use. Just open packet, throw contents into machine, run through a cycle."
Make Your Money Work for You
Howard Products Wood Polish
Price: $8.99 for 8 ounces on Amazon
Give your wood surfaces a shine with this affordable polish that prevents them from drying. It's made with a protective coating of Carnauba Wax and Beeswax to prevent cracking. Customers love it, saying it's easy to use and a little goes a long way.
Sprayway Glass Cleaner
Price: $2.48 for 19 ounces at Walmart
Keep mirrors and windows sparkling with this ammonia-free glass cleaner that customers absolutely love. "Great value! It leaves no streaks and the odor is pleasant," reads one of more than 1,900 5-star reviews. 
Vastar Drain Snake 
Price: 4 for $5.07 on Amazon
Constantly clogging your drains? Pick up these 19.6-inch drain snakes that will help remove hair and other blockers in your sinks and showers. They're less expensive than liquid drain cleaners, and they are super easy to use.
Scrub Daddy Sponge
Price: 3 for $9.98 on Amazon
Scrub Daddy has been making a splash on TikTok — and for good reason. Their sponges are super effective and affordable. One customer explains how multifaceted the sponges are: "It's not like a typical sponge. It doesn't get the smell of a typical sponge. It's not a sponge in the sense of cleaning up spilled liquid; it's more for scouring. The eyes and smiles of the Scrub Daddy can be used for utensils and the sink spigot."
Make Your Money Work for You
Editor's note: All prices as of March 28, 2023.
More From GOBankingRates