Clean Every Nook and Cranny With These DIY Home Cleaners
DIY cleaning supplies offer a cheaper and healthier alternative to store-bought products.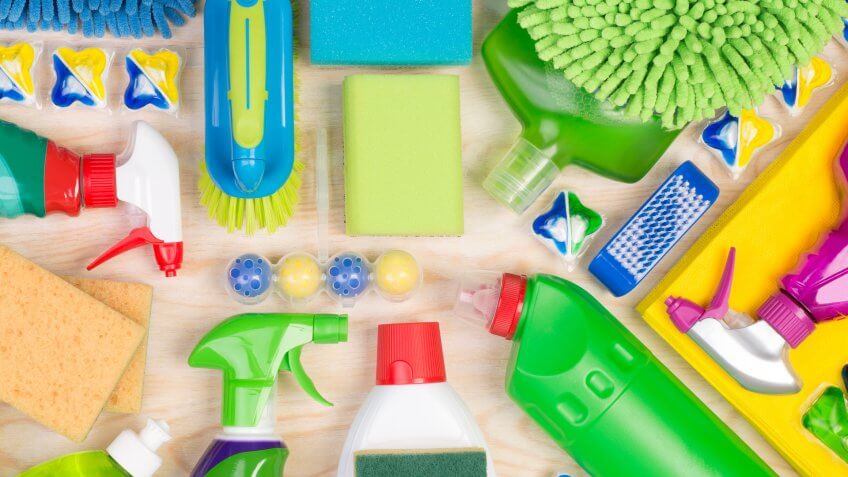 ©Shutterstock.com
The shelves of your local supermarket are likely packed with cleaning products of all varieties. Unfortunately, not all those cleansers and solvents are created equal. And few of them come cheap.
According to Statistic Brain, the average household spends $42 per month on cleaning supplies — that's a whopping $504 per year. Additionally, the American Lung Association warns that many popular household cleansers release dangerous chemicals that can cause health problems, such as respiratory issues, allergic reactions and headaches.
Luckily, you can save your health and your budget by making your own cleaning products from common household supplies. If you want a squeaky-clean living space, check out these seven DIY recipes for effective home cleaning.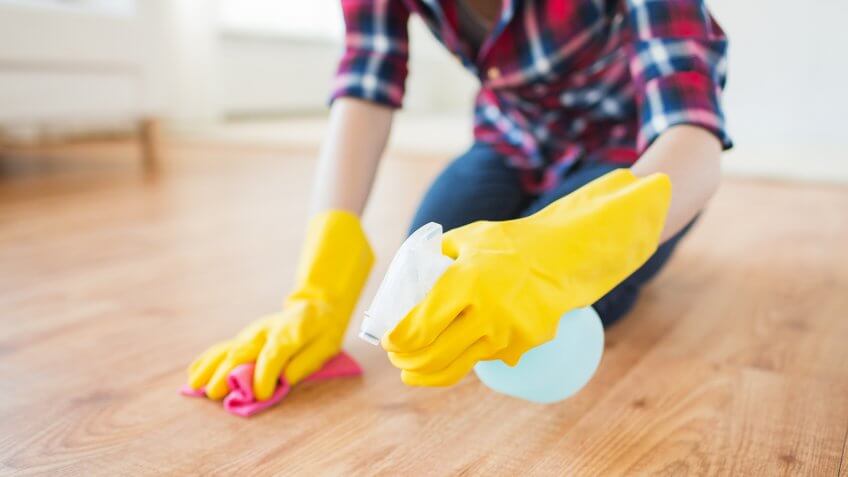 Syda Productions / Shutterstock.com
1. Multi-Purpose Floor Cleaner
What you'll need:
1 cup white vinegar
1 tablespoon Castile soap
15 drops essential oil (optional)
1 bucket of water
A DIY cleaning recipe created by The Paleo Mama, this concoction will leave your floors sparkling. And making it couldn't be easier. Simply combine all the above ingredients in a bucket, and you're ready to get started.
These ingredients can be used on just about every type of flooring, including tile, hardwood, linoleum, ceramic, laminate and vinyl. While optional, the essential oils make the cleaning process much more enjoyable, as vinegar isn't known for its delightful scent.
You might already have these ingredients lying around your house, but if not, they're easy to find at your local store. Of course, you'll need to invest in the entire bottle of each item — not just the amount needed to make one batch of solution — but this should cost less than $16, if you spring for the essential oils and just over $8 if you don't.
Don't Miss: 10 Ways to Make Money Off What You Already Have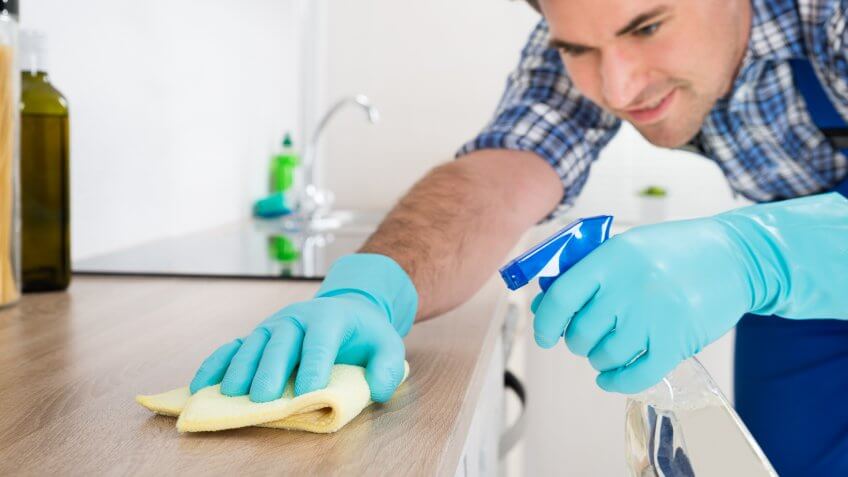 Andrey_Popov / Shutterstock.com
2. Countertop Cleaner
What you'll need:
Vinegar, rubbing alcohol or vodka
Water
HouseLogic, a site from the National Association of Realtors, has a DIY cleaning recipe sure to disinfect your dirty countertops. To whip up a batch, combine equal parts vinegar and tap water. When you're done, put the solution in the microwave to make it even more powerful.
The smell can be potent, but household vinegar contains acetic acid, an antimicrobial that can kill bacteria commonly found in kitchens, such as salmonella and E. coli. While effective on most surfaces, the acidity in vinegar can scratch the surface of marble, granite and stone countertops. If you're cleaning one of these surfaces, Good recommends swapping out vinegar for rubbing alcohol or vodka.
Whatever recipe you choose, DIY cleaning is cheap. If you go the vinegar route, you'll pay less than $1 for the entire bottle. Slightly pricier, a bottle of rubbing alcohol will cost around $3, while a bottle of inexpensive vodka will set you back about $11. The number of uses you'll get from each bottle will depend on the size of the batches you're making, but this technique will definitely save you money.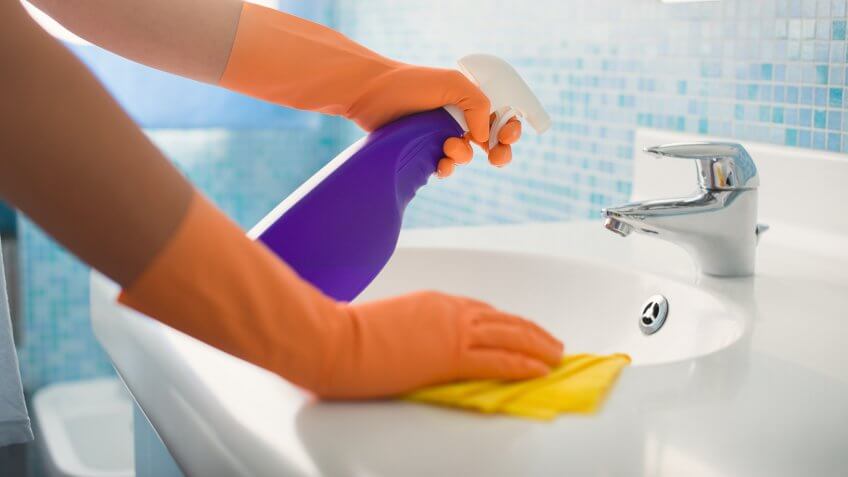 Diego Cervo / Shutterstock.com
3. Bathroom Cleaner
What you'll need:
1 tablespoon liquid Castile soap
1/3 cup baking soda
Real Simple offers an effortless DIY cleaning solution for your sinks, showers, tubs and ceramic tile. This recipe is the next easiest thing to opening a bottle and spraying a surface. Simply combine the ingredients above, and you're ready to start scrubbing.
At a price of around $9 for a bottle of Castile soap and a box of baking soda, this recipe offers an economical alternative to purchasing standard cleaning supplies. The number of batches you'll need to make will vary based on the size of the area you're cleaning and the stubbornness of any stains present.
One of the best things about DIY household cleaning products is that the ingredients are often used in many different recipes. Instead of having a bunch of random cleaning bottles taking up space in your home, you can keep just a few common ingredients under the sink. Make up a large batch to save or just create a small amount of the mixture every time you clean.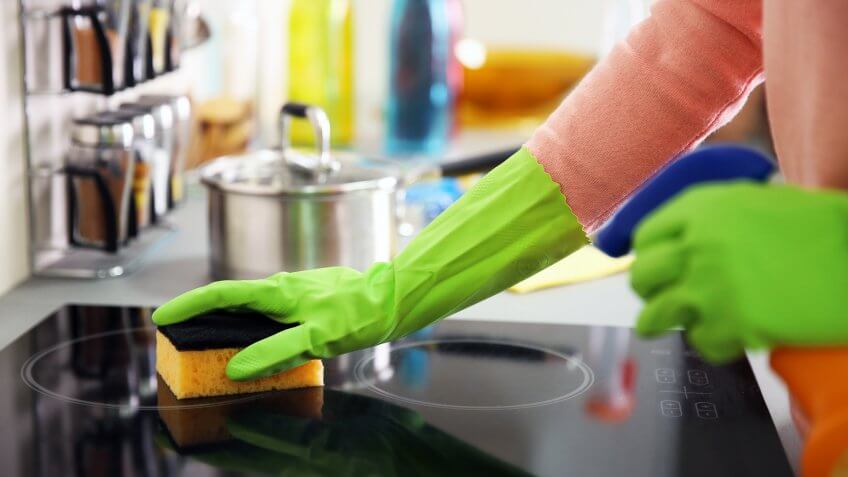 Africa Studio / Shutterstock.com
4. Stove Top Cleaner
What you'll need:
1 tablespoon baking soda
3 drops orange essential oil
Water
Grease and grime can build up quickly on a stove top, but store-bought cleaners aren't the only way to remove them. The Pinning Mama has a DIY cleaning method sure to remove even the peskiest leftovers.
To make up a batch, mix one tablespoon of baking soda with a half tablespoon of water to form a paste. Next, add three drops of orange essential oil. When you're ready to start cleaning, simply apply the paste directly to the stain you're trying to remove. Scrub with a non-abrasive sponge, and when you're done, your stove top will look brand new. If a heavily soiled surface doesn't come entirely clean after one pass, reapply for a second round.
Not only will the orange essential oil leave your kitchen smelling delightfully fresh, but citrus oil is also considered a natural degreaser. Plus, it has anti-fungal and anti-bacterial properties, so your cook space will be squeaky clean.
All the ingredients for this DIY cleaning approach cost approximately $8. The number of uses you'll get will depend on the size of the batches you make, but you'll definitely get your money's worth.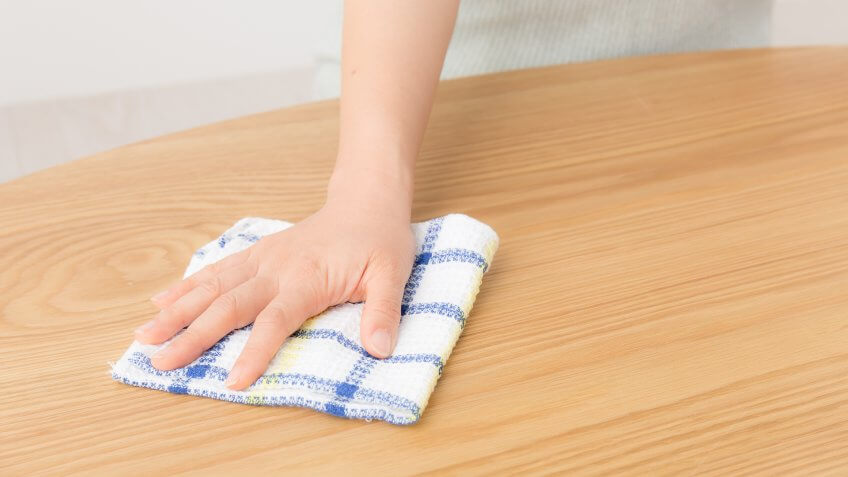 polkadot_photo / Shutterstock.com
5. Furniture Polish
What you'll need:
3/4 cup olive oil
1/4 cup distilled white vinegar
1 teaspoon lemon juice
Furniture is a major investment, so you want yours to look great and last for years. This homemade furniture polish recipe from PopSugar will shine up your dressers, tables and desks for less.
Combine the olive oil, vinegar and lemon juice in a container with a lid. Before using the mixture, give it a few strong shakes. Then apply a small amount to a soft, clean cloth and carefully polish the wood. You can either allow the furniture to air dry or wipe it with a clean cloth.
If you don't use all the polish at once, put the lid back on the container and store it in the refrigerator. There's a good chance you already have all the ingredients to make this furniture polish lying around your house, but if not, all three will cost you less than $10.
Polishing your furniture with store-bought cleaners can be nerve-wracking, because you don't know what's in them. DIY cleaning gives you the confidence of knowing exactly what you're applying to your favorite pieces.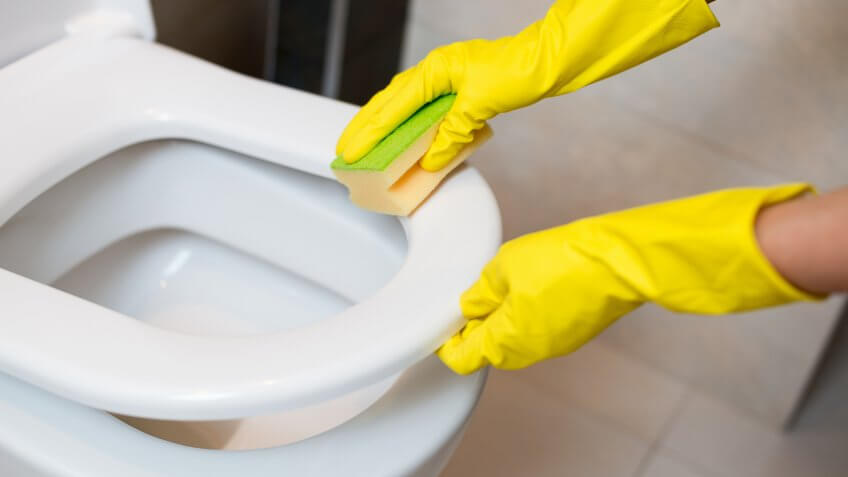 Daniel Jedzura / Shutterstock.com
6. Hardcore Toilet Cleaner
Ingredients:
3/4 cup borax
1 cup white vinegar
10 drops lavender essential oil
5 drops lemon essential oil
This homemade toilet cleaner from DIY Natural is designed to give your commode a seriously tough spring cleaning. If your toilet has rings or an unpleasant odor, you can count on this hardcore DIY solution to clean up its act.
Mix all the ingredients together in a bowl. You probably already have at least some of the items needed for this recipe in your home. If not, it will cost roughly $20 to buy them all. Use a toilet brush to wet the toilet bowl or just flush it. Pour the mixture into the toilet bowl and let it sit for several hours or overnight.
Shut the door and instruct everyone to use a different bathroom while the cleanser does its work. Then, scrub the bowl and flush to reveal your fresh, clean commode. Intermittent use of this technique will leave your bathroom squeaky clean and smelling great for the long haul.
Andrey_Popov / Shutterstock.com
7. Oven Cleaner
What you'll need:
1/2 cup baking soda
A few drops of white vinegar
3 tablespoons water
Spray bottle
Damp dish cloth
Rubber gloves (optional)
Plastic or silicone spatula
If your oven doesn't have a self-cleaning feature or you'd rather not use it, make this DIY mixture from The Kitchn. You probably already have the white vinegar and baking soda needed for this solution, but if not, they cost approximately $2 combined.
First, remove all the oven racks and anything else inside. Then mix the baking soda with a few tablespoons of water. Adjust the quantity of each as needed until you've created a spreadable paste.
Apply the paste all over the inside of your oven, except for the heating elements. You might want to use the rubber gloves for this part. Allow the paste to sit at least 12 hours or overnight to work its magic. After, use a damp dish cloth to wipe the dried paste off. You might need the spatula.
Pour a small amount of vinegar into a spray bottle and spritz it on spots where stubborn residue remains. The vinegar will gently foam on contact. Use the damp cloth to do another pass of the oven. Keep going until all the baking soda residue has been removed.
Next Up: How Decluttering Helps Me Make and Save at Least $500 a Year