7 Expensive Home Renovations You Shouldn't Put Off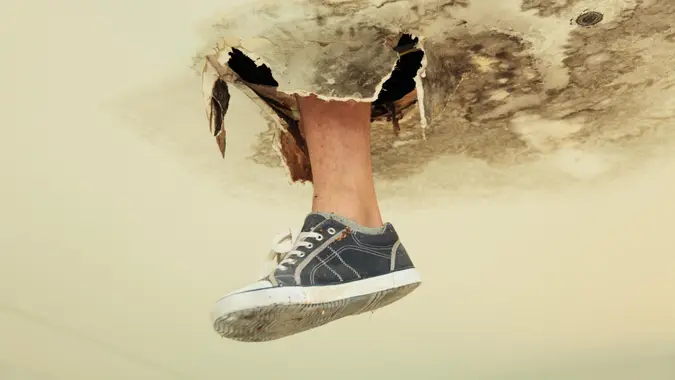 Beano5 / iStock.com
Home renovations entail a lot of time, patience, and a lot of money. And at an average of $15,000 per renovation project, according to Rocket Mortgage, it's understandable why some homeowners can procrastinate or delay the start of their renovations.
Yet, according to several experts, there are some renovations that, while expensive, should not be put off at the risk of ending up costing you even more money if left unchanged. And another benefit is that it will increase the value of your home if you ever want to put it on the market.
Here's a list of some repairs that you might regret putting off, according to experts.
Roof Repairs
A big one has to do with roof inspections and repairs, as most people rarely examine their roofs, said Peter C. Earle, an economist at American Institute for Economic Research.
"Let's face it: If water isn't pouring through the ceiling, we usually don't think about them," Earle said. "But water can slowly work its way under shingles, roofing nails may rust, leaks can cause attic insulation to become damp or wet, and more."
Make Your Money Work for You
In turn, a lot of problems with long-term consequences can occur and go unnoticed for a long time. Yet, periodic inspections can help keep on top of those issues so they don't become a jarring and expensive surprise when it's time to sell, according to Earle.
Several experts agree that the one thing you should never put off repairing is your roof.
"If you decide to skimp on repairs, patches or replacements then you will certainly pay the price down the line," said Doug Greene, owner and operator at Signature Properties.
Indeed, without a water-tight roof, you will start to see water damage throughout the home, which can then show up in wall cavities, attics or even in between layers of shingles and underlayment, he explained.
"Moisture leads to mold," he said, "which is expensive to remediate, and almost always requires more investment to replace drywall and framing that has been damaged."
Foundation Repairs
Putting off foundation repairs would be a very poor choice to delay or ignore, compared with most other renovations or projects, Earle said.
Make Your Money Work for You
"Cracks in the interior or exterior foundation, walls that show signs of bowing, sinking or sloping basement floors and the like can be very expensive to address, especially in an inflationary period," he said. "But unrepaired foundation issues can become severe structural issues, which ultimately have very real safety implications."
Tree Landscaping
Another occurrence that is less common but could end up being extremely costly is letting trees grow too close to the house.
"Too many foundations have been compromised by tree roots which can literally upend the home's structure," Greene said. "I've purchased homes with basement walls that are bowing and cost the seller tens of thousands of dollars in value. No one wants to buy a home that doesn't have a level, solid foundation. Don't let a small tree continue to grow too close to home — you will regret it."
Gas Stove to an Induction Stove
Several states are considering laws to ban gas stoves for environmental purposes. New York, for instance, passed a law in May banning them, encouraging "the use of climate-friendly appliances such as heat pumps and induction stoves in most new residential buildings across the state," CNN reported.
So if you need to replace your stove, experts recommend proceeding with caution, as you might regret your purchase.
"With lots of local, state and possible federal rulemaking coming down regarding gas stoves versus electric stoves and so on," Earle said, "homeowners should proceed cautiously in the face of potential bans or modified bans based upon political compromises, such as age of stove, size of house and other details."
Make Your Money Work for You
Electrical and Plumbing Systems
Electrical system updates are crucial to prevent potential fire hazards and accommodate modern appliances, said Greg Batista, founder of G. Batista Engineering & Construction. 
"Don't skimp on electrical and plumbing work," Batista said. "Cutting corners can lead to safety issues and expensive future repairs."
Investing in energy-efficient windows and good insulation can drastically reduce energy costs in the long run. Ensure roof repairs and replacements use durable materials to prevent leaks and potential water damage.
Your HVAC System
Not replacing your HVAC system that has a broken furnace or putting off fixing it could result in damages, which could end up costing you a lot, said Sebastian Jania, owner of Ontario Property Buyers. He stated that over time a broken furnace not providing proper cooling or heat can result in further damage to a house.
Your Appliances
According to Greene, since water is the biggest enemy of a home, you'll want to stay on top of the condition of each of your appliances that use or run on water, such as refrigerators, washing machines and dishwashers.
"These appliances should be replaced as needed, otherwise small leaks and damaged seals can create soft spots in floors or even damaged foundations," he said. "I've seen it in some of the homes we buy. You will certainly regret not repairing any of these types of appliances when you go to sell the house in the future and the next buyer hires a home inspector to examine things."
Make Your Money Work for You
More From GOBankingRates