8 Home Decor Items That Are a Waste of Money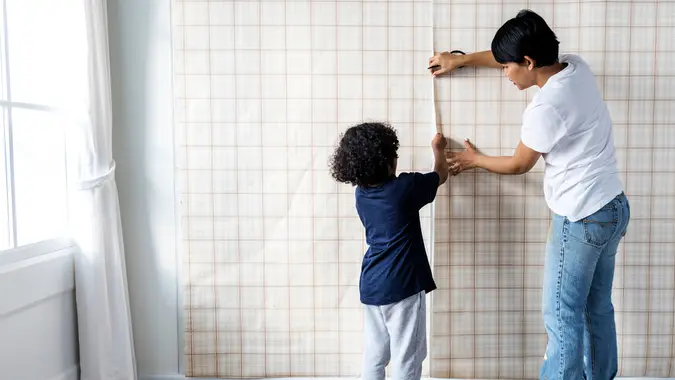 Rawpixel.com / Shutterstock.com
We all want our homes to look attractive and reflect our personal style, and we choose décor items to achieve both goals. Sadly, that sometimes means facing a substantial decorating or renovation cost.
If you plan to live in the house you own for years and years, decorate as you see fit. However, if you live in a rental and could move at any time, or if you plan to sell your home, think twice before investing in furniture, art or any fixtures you can't take with you. The décor you choose today might not fit the vibe of your next home — forcing you to start all over — and if you plan to sell, some of the choices you make could turn off potential buyers.
GOBankingRates reached out to people in the real estate and design fields to ask their advice about which décor items are a waste of money. Eight of their ideas follow.
Wallpaper
Wallpaper was a staple in homes in the 1960s and '70s — look for it the next time you watch a rerun of "The Brady Bunch" or "Columbo" — but it fell out of favor. While you'll see designers on HGTV shows incorporate wallpaper on some projects today, it's usually on a sparse basis.
"Wallpaper patterns can quickly become outdated as design trends evolve. Opting for wallpaper with bold patterns or motifs that are currently in vogue might be appealing to you at the moment, but it could potentially look dated in a few years, making the room feel less attractive and in need of updating," said Boyd Rudy, Michigan real estate associate broker with the MiReloTeam through Keller Williams.
Make Your Money Work for You
Themed Décor
Wendy Wang, a home design and renovation specialist, said it's wise to resist the temptation to decorate according to a theme.
"For instance, a nautical theme with anchor accents, a sailing artwork or a beach theme with shells everywhere; they may seem appealing at first, especially to complement a certain environment or to show personal interests," said Wang, owner of F&J Outdoor. "These items usually make a room look tacky rather than chic and sophisticated. They also age a space pretty quickly as the novelty wears off."
Instead, she said to use the themed pieces as a complement, not a focal point.
"I would recommend investing in timeless, classic pieces and incorporate smaller accents to bring out the theme subtly. It's really about balancing taste and personality with broader appeal," she added.
Expensive Window Treatments
When it comes to covering windows, one home-design expert thinks you should keep it simple.
"Many people waste money on buying expensive and elaborate curtains to decorate their homes," said Jessica Wilson, the editor and co-founder of InYouths LED Mirrors. "While these pieces may add visual appeal, they are often a wasteful investment. Fancy curtains can be difficult to clean and maintain, leading to a shorter lifespan compared to simpler window treatments. Additionally, these curtains may not complement future home décor, making them bad for resale value. Their intricate design can also make a room appear cluttered and unattractive. Instead, opt for simpler and more cost-effective window treatments to create an inviting and timeless home."
Make Your Money Work for You
Artificial Plants
If you want greenery in your home, real estate industry veteran Pete Evering said you should grow and care for real plants instead of buying artificial ones — especially if you plan to sell your home anytime soon.
"While faux plants may not significantly impact resale value, they can leave a negative first impression on your home, making it look cheap and lacking authenticity," said Evering, the business development manager at Utopia Property Management. "Their manufactured appearance doesn't give a natural feel and diminishes the overall visual appeal of the space. Visitors or potential buyers may perceive them as a sign of neglect or a shortcut taken in decorating. Instead of providing the freshness and vitality that real plants offer, faux plants can make a room feel lifeless and uninviting."
Wall-to-Wall Carpeting
On some of those older TV shows, you'll see carpeting — not wood, tile or luxury vinyl — on the floors. Sometimes even in the bathrooms. But real estate expert Roman Smolevskiy, the owner of A+ Construction and Remodeling in Sacramento, California, recommended making another choice.
"From a resale standpoint, wall-to-wall carpeting can be a detriment. Many buyers today prefer hardwood or tiled floors, both for their aesthetic appeal and their durability. Carpeting is often associated with allergens and can hide dust, dirt and other pollutants, causing potential health concerns. This can turn off health-conscious buyers or those with allergies.
"Design-wise, carpeting can make rooms appear smaller and dated, affecting the overall attractiveness of the house. With the current trend leaning toward minimalist and modern interiors, carpeting can seem out of place and hopelessly old-fashioned."
Ornate Light Fixtures
"Picture a lavish crystal chandelier in a minimalist living room or an industrial-style pendant in a classic Victorian. It seems stylish at the time of purchase but is a waste of resources because it can clash with the home's overall design," said Zackary Smigel, the founder of Real Estate License Wizard.
"Aside from the aesthetic discord, such a statement piece can be a double-edged sword regarding resale. Potential buyers may find it overbearing or at odds with their taste, forcing them to consider the replacement cost even before purchase. I've had clients who loved a house but hesitated because of an ornate, expensive lighting fixture that needed to match their style."
Water Fountains
Like wallpaper and light fixtures, beauty is in the eye of the beholder when it comes to water fountains.
"Yes, a beautiful water fountain near your home's entrance or in the center of your backyard can add a touch of elegance to your property and promote a relaxing ambiance," said Benas Leonavicius, the founder of HomeCaprice.
"However, water fountains can be very expensive décor items in terms of initial expense and installation. If you plan on selling the property in the future, you should also know they don't add any monetary value to your home. In fact, they could even decrease the value of your home in the eyes of some homebuyers since prominent water features like this require frequent upkeep that could easily outweigh its merely aesthetic benefits."
Throw Blankets
"One item that I often see people wasting money on when decorating their home is expensive designer throw blankets," said Pieter Runchman, a Los Angeles interior designer who is the founder and CEO of Floor Theory. "Sure, they may be made with luxurious materials and have a trendy design, but the reality is that most people don't want to deal with the hassle of getting them professionally cleaned every time they need a refresh. It's like having a beautiful piece of art that you can't touch or enjoy without fear of ruining it."
More From GOBankingRates